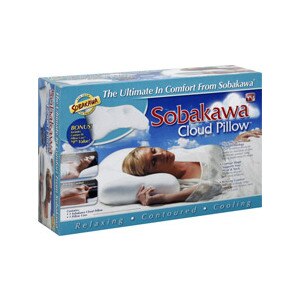 Sobakawa Cloud Pillow - Almohada
The ultimate in comfort from Sobakawa. As seen on TV. The original. Bonus! Includes custom fit pillow case. Supplied pillow cover must be used with the Sobakawa Cloud Pillow at all times. Relaxing. Contoured. Cooling. Micro-Air Bead Technology: Over 30 million micro-air beads for maximum air flow & ultimate comfort. Long lasting beads keep its shape. Relaxing Comfort: Anatomical design helps relieve muscle tension, neck and back pain. Contoured: Conforms perfectly to support head & neck. Relaxing Comfort: Helps relieve muscle tension, neck and back pain. Contour Shape Supports Your Head & Neck: Conforms to your individual anatomy. Contains: 1 Sobakawa Cloud Pillow; 1 pillow case. Made in China.
Care: Sobakawa Cloud Pillow: Do not machine wash. Do not machine dry. Spot clean only. Do not hand wash. Do not dry clean. Pillow Case: Note: The pillow case must be used with Sobakawa Cloud Pillow at all times. Machine washable. Hang dry. Do not machine dry.
The fabric and enclosed beads are flammable. Do not expose this product to open flames or any other direct or indirect high temperature ignition source such as burning operations, welding, burning cigarettes, space heaters or naked lights. Once ignited, fabric will burn rapidly, releasing great heat and consuming oxygen at a high rate. In an enclosed space the resulting deficiency in oxygen will present a danger of suffocation to the occupants. Hazardous gases released by the burning fabric can be incapacitating or fatal to human beings if inhaled in sufficient quantities. Please read the following warning before using the product. This product is not a toy and should not be used by children under 5 years of age. Choking Hazard: Keep product away from infants, children and pets. Use caution to avoid inhaling beads. If inhaled seek immediate medical attention. Keep away from sharp objects. Avoid excessive pressure onto or stretching the pillow as this may cause the fabric to tear exposing the enclosed beads. Discard cushion and beads immediately if product tears. This pillow must be used in conjunction with the bonus pillow cover. Do not use pillow without the supplied cover zipped shut. Cover should only be removed for cleaning.