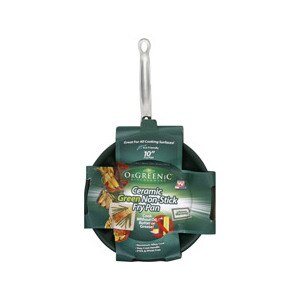 Orgreenic Ceramic Green Non-Stick Fry Pan
10 inch fry pan. Cook without oil, butter or grease! Aluminum alloy core. Stay-cool handle. PTFE & PFOA free. Great for all cooking surfaces! Eco friendly. Broil. Bake. Braise. Fry. Steam. Saute. The future of non-stick cookware. Now you can enjoy the convenience of a space age non-stick surface as well as the performance and features of professional cookware. PFOA is used in the manufacturing of most non-stick cookware. To protect our environment the Environmental Protection Agency has requested a 95% reduction in the amount of PFOA used in the manufacturing of such products as non-stick coatings by the end of 2010. Additionally, the EPA has requested the total elimination of PFOA use in manufacturing by 2015. Features: Aluminum alloy core. Stay-cool handle. PTFE & PFOA free. Great for all cooking surfaces. OrGreenic is eco-friendly. It contains no harmful PFOA. What it does contain is a space age structural coating composed with ceramic. Ceramic is composed of Mother Nature's own natural minerals. OrGreenic's ceramic non-stick coating is bonded to aluminum. Aluminum allows for even heat and avoids hot spots so you cook evenly and efficiently. OrGreenic Ceramic withstands high temperatures, allowing you to cook with high heat - therefore your food cooks quicker. Your cooking becomes faster and more efficient. This unique high heat ability of the OrGreenic Ceramic also allows you to take your cookware directly from the stove top to the oven. The ergonomic handles, diffuse heat and provide excellent weight distribution. With OrGreenic cookware you save energy, save money, save time and save the environment. You will never need or want another cookware set again. Made in China.
Before you start. Just as professional chefs do with the finest high quality cookware, OrGreenic needs to be seasoned before you use it for the first time. Seasoning your OrGreenic is simple. 1. Spread a light coating of vegetable oil over the entire inside green surface of the pan. 2. Place it on your stovetop over Medium heat. 3. Watch carefully and remove once it begins to smoke. 4. Let it cool completely. 5. Wipe away excess oil with cloth or paper towel. 6. You are now ready to start cooking! To maintain the exceptional performance of OrGreenic, we recommend that you repeat this process at least twice a year. We also recommend hand washing your cookware in warm water using a mild dish soap and towel dry.