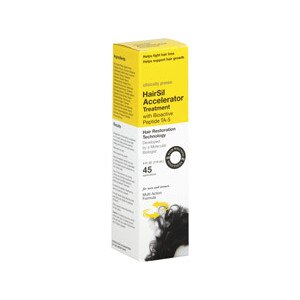 Hair Wellness Solutions - Tratamiento acelerador HairSil
Multi action formula. 45 applications. Developed by a molecular biologist. Clinically proven. HairSil accelerator treatment with bioactive peptide TA-5. Helps fight hair loss. Helps support hair growth. Beauty and wellness through the vision of advanced science. Promotes: Supports and promotes healthy hair; cleans the follicle and scalp to give the look of stronger, healthier hair; will promote and maintain a thick full look; gives strong-looking hair; moisturizes hair and scalp; safe for men and women; HairSil Accelerator Treatment results may vary by individual. Developed by a molecular biologist who is committed to developing scientifically proven, non-prescription skin, hair and health care products offering unparalleled efficacy and results. Results: Independent clinical testing, conducted in a 12 week case study shows safe results that helps promote positive looking hair for both men and women. Helps fight hair loss. helps support hair growth. Use of most common hair styling, curling, and coloration products does not diminish the effectiveness of HairSil Accelerator Treatment. Try HairSil Accelerator Treatment to see the results for yourself! Helps support nutrient blood flow to the hair follicle.
De-Ionized Water, Algae Extract, Propylene Glycol, Glycerine, Margosa, Hydrolysate of Milk Protein, Solanum Tuberosum Extract, Silanediol Salicylate, Butylene Glycol, Triethanolamine, Peptide TA-5, Sulphured Amino Acid, Sulfomucopolysaccharide Extract, Celastrus Paniculata Extract, Colloidal Sulphur, Spondios Amara Extract, Rubus Bramble Berries, Trichomonus Japonicum Maxim, Chinese Wormwood Extract, Homotaurine, Maiden Hair Fern Extract, Henna Extract, Barosma Betulina, Sodium Benzoate, Potassium Sorbate, Phenoxyethanol.
Dispense a small amount onto fingers, then apply to scalp each night, two-to-four hours before bedtime in order to allow sufficient time for skin to absorb product. Wash hands following application, but do not shampoo hair for at least four hours. Resume daily procedure as soon as possible after any unintentional lapse. The four-ounce bottle provides approximately 45 applications.
For external use only. Avoid contact with eyes. If contact occurs, rinse well with cool water. Discontinue use if irritation appears.