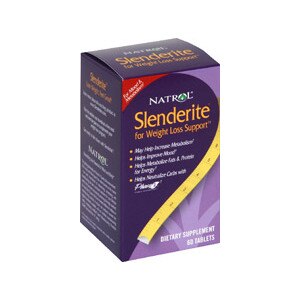 Natrol Slenderite - Tabletas de suplemento dietético
Dietary Supplement. May help increase metabolism. Helps improve mood. Helps metabolize fats and protein for energy. Helps neutralize carbs with phase 2. How does Slenderite work? Slenderite is a unique combination of 5 key and clinically tested ingredients that support your healthy lifestyle and weight loss goals. Slenderite contains phase 2, which is clinically tested to neutralize carbohydrates, EGCG (Green Tea) plus caffeine, which may help burn excess calories and boost metabolism, 5HTP, which helps improve mood while dieting, and Chromium Picolinate, which helps metabolize carbohydrates, fats and protein for energy and maintain healthy blood sugar already in the normal range. These 5 ingredients stack the power of one another to make a truly unique formula for weight loss support. Slenderite should be combined with a healthy calorie reduction diet and exercise program to achieve best results. The guiding philosophy of Natrol is quality uncompromised. This is what sets Natrol apart from other brands on the market - our total commitment to researching, developing and manufacturing the best nutritional solutions for your lifestyle needs. We have been successfully achieving this high standard for more than 25 years. We have invested millions of dollars on manufacturing controls to ensure our products exceed the highest standards available, and our certified manufacturing facility, employing certified Good Manufacturing Practices (cGMP), has earned an a rating. (This product is to be used in conjunction with a healthy reduced calorie and exercise program. These statements have not been evaluated by The Food and Drug Administration. This product is not intended to diagnose, treat, cure or prevent any disease). No yeast, wheat, milk, egg, glutens, artificial colors or flavors, added sugar or preservative.
Other Ingredients: Cellulose, Cornstarch, Acacia, Silica, Stearic Acid, Cellulose Gum, Magnesium Stearate, Methylcellulose.
Take 2 tablets, two times daily, with a meal.
Consult your healthcare professional prior to use if you have or suspect a medical condition, are taking prescription drugs, or are pregnant or lactating. Keep out of reach of children. Each serving contains as much caffeine as about three - quarter cup of coffee. Too much caffeine may cause nervousness, irritability, sleeplessness, and, occasionally, rapid heartbeat. Not recommended for use by individuals under the age of 18. Store in a cool dry place.