Los miembros de CarePass
TM
Mostrando 1-10 de
10 productos
Baño y cuidado de la piel
Tratamientos para eccema, para bebé
o
en pedidos de $35 o más.
California - Champú y gel de baño terapéutico para bebé, para el alivio de eczema
California Baby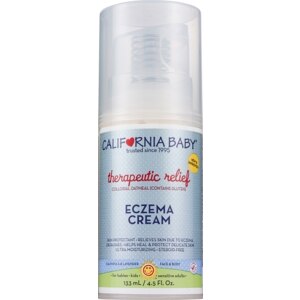 California Baby - Crema terapéutica para bebé, para el alivio de eczema
California Baby
Los precios en línea puede ser diferentes a los precios en tiendas.
Baby Eczema
Baby eczema can be a frustrating and uncomfortable condition for babies and parents to deal with. The first step is to talk to your baby's pediatrician. He or she can provide you with a professional diagnosis and advice tailored especially for your little one. You should always follow your doctor's advice over anything you read online, but as a helpful reference, we've put together some information on what baby eczema is and what you can do to help your little one feel more comfortable.
What are the Best Baby Eczema Cream Brands?
What Causes Eczema In Babies?
Baby eczema is thought to occur when the body doesn't make enough ceramides (fatty cells), which can cause skin to lose water and become dry and itchy. Winter weather can worsen eczema by further drying out the skin, while heat and sweating can worsen irritation. External irritants such as household detergents, soaps, and allergens like pollen, dust, and pet dander may also contribute. Because eczema can run in families, babies that have a parent with eczema are much more likely to develop the skin condition, too.
What Does Baby Eczema Look Like?
Baby eczema looks like red, scaly patches on your little one's skin. These patches of very dry, itchy skin can show up almost anywhere on your baby's body. Some of the most common areas that babies get eczema include facial cheeks and the skin around their arm and leg joints.
How to Treat Baby Eczema?
Baby eczema is fairly common, affecting around 20 percent of children. If your little one has eczema, don't despair - there are things that you can do to help treat the symptoms of this uncomfortable skin condition. The first and most important step in baby eczema treatment is to make an appointment with your baby's doctor. He or she can give you a professional diagnosis and judge the severity of the condition. Often, a mild case of eczema will require nothing more than a moisturizing baby eczema cream or lotion, like Aveeno Baby Eczema Therapy Moisturizing Cream. For more severe cases, your pediatrician may recommend a prescription-strength cream.
What To Use For Baby Eczema?
Applying baby eczema lotions regularly will help your little one's skin retain its natural moisture. In addition, there are things you can do to help ease symptoms and reduce the chances of another breakout. Dress your baby in loose clothing made of breathable cotton, and only use mild, unscented laundry detergents to reduce the risk of irritating your baby's sensitive skin. While it may be tempting to skip bathing your little one, there is no need to put a pause on bath time. In fact, a lukewarm bath that lasts no longer than 10 - 15 minutes can actually help soothe your baby's skin. After bath time, be sure to pat your baby dry - don't rub the towel against your little one's skin - and apply a baby eczema ointment generously. During the bath, consider using an eczema baby wash like Aveeno Eczema Baby Wash, which is formulated with oatmeal to help soothe and heal your baby's extra dry skin.
The Best Treatment for Baby Eczema
There is no single best treatment for baby eczema that works for all babies. In fact, there are many baby eczema remedies to try, because different babies have different needs. Talk to your little one's pediatrician to find out which treatment options are right for your baby. If your baby's rash persists or worsens even with proper treatment, you should check back in with your doctor. He or she can reevaluate your baby's condition and help you formulate a new treatment plan.
Búsquedas relacionadas
aveeno baby eczema, eczema cream for baby, aquaphor baby eczema, cerave baby eczema, unscented baby lotion, unscented baby soap