Accesorios de alimentación
Los miembros de CarePass
TM
Mostrando 1-19 de
19 productos
Accesorios de alimentación
Dr. Brown's - Biberón de plástico para bebé, estándar, 8 oz
Dr. Brown's
o
en pedidos de $35 o más.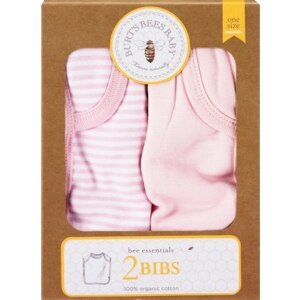 Burt's Bees Baby Bee Essentials One Size Bibs
Burt's Bees
Los precios en línea puede ser diferentes a los precios en tiendas.
Productos relacionados
Ver categorías relacionadas
Baby Bibs
Baby bibs are essential accessories for feeding your little one. Bibs can help to protect your baby's clothing from food stains and spit up. Many cloth bibs are made of soft material like terry that is highly absorbent, yet gentle enough to wipe your baby's mouth with. Bibs for babies come in multiple colors and styles, so you can choose your favorite. It's a good idea to look for a bib with a snap-on clasp, because these are much easier to get on and off of your baby, especially when the bib is dirty.
Burp Cloths
In addition to baby bibs, baby burp cloths are another must have item when feeding your child. Burping cloths are designed to protect your clothes as well as your baby's during burp time after a feeding, when spit up is very likely. You'll want to have multiple burp cloths on hand, since you may find yourself going through them much more quickly than you originally expected. Keep in mind that as your baby grows, you'll want to size up your burp cloths, too. In general, the larger and more absorbent the burp cloth is, the better it will protect your clothes. CVS carries a selection of the best baby bibs and burp cloths, priced affordably to keep you, your wardrobe, and your wallet happy!
Sippy Cups & Baby Food Containers
CVS also carries a variety of sippy cups, baby dishes, and baby food storage products. Sippy cups and other no spill cups are great for little ones who are learning to grasp cups and drink on their own. CVS also offers baby dishes in a variety of sizes and styles, so that you can find one that works for your needs. If you are going out and need to pack your little one some snacks or even a meal, be sure to look for baby dishes with a secure lid to prevent spilling. If you have leftover food or want to portion out your little one's meals in advance, baby food storage containers can be very helpful. Having a set of baby food containers on hand makes it easy to prepare healthy meals for your little one in batches. Simply cook the food, portion it out into the containers, and freeze until ready to reheat and use. They also double as great snack containers for day trips!
Cups for Toddlers
Spills with a toddler are bound to happen, but having the correct sippy cup can help set a toddler up for success. Some of the elements of a good choice of cup for toddlers include:
Sealed lid: A no-leak top (either screw-on or snap-on) should keep the beverage inside rather than in a puddle on the floor.

Handle: An easy-to-hold handle or simply a no-slip grip keeps the sippy cup firmly in the child's grasp.

Durable: Cups for toddlers should be made to endure wear and tear, including dropping on the floor.

Other options: Some sippy cups also come equipped with a straw, and many different color options are available.
Baby Washcloths
Whether a child needs cleaning up during or after their mealtime, having plenty of baby washcloths on hand is crucial. Choosing a material that's soft against the child's skin but absorbent of moisture should be the first consideration. Then, determine such factors as the size of the baby washcloth, color options, and quantity needed.
Búsquedas relacionadas
baby bib, baby bottles, nuby sippy cup, baby dishes, breast milk storage, nipple shields