Los miembros de CarePass
TM
Mostrando 1-20 de
58 productos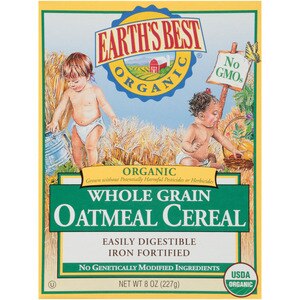 Earth's Best, Organic Whole Grain Oatmeal Cereal, 8 oz Box
Earth's Best
o
en pedidos de $35 o más.
Los precios en línea puede ser diferentes a los precios en tiendas.
Productos relacionados
Ver categorías relacionadas
Toddler Food
CVS carries a variety of baby and toddler food, including baby cereal, baby food pouches, and toddler snacks. There are multiple baby food stages that are based on age. Stage 1 baby food includes products like Gerber carrots, oatmeal cereal for baby, y rice cereal for babies. Stage 2 baby food includes pureed baby food, baby jar food, and baby food pouches. Stage 3 baby food often has a chunkier texture to help babies transition to eating solid foods. Gerber 3rd Foods and Earth's Best both offer options for older babies. Keep in mind that babies should always be supervised while eating, especially with stage 3 foods that may have very small bits of solid food in them.
Baby Food By Age
To make shopping easier for parents and caregivers, baby food brands label their products with a number that represents the baby food stage; simply check the packaging to be sure that it's the right one for your child's age group. CVS offers a wide variety of baby food flavors within each stage, so you can have fun introducing different tastes to your baby and learning what his or her favorites are! Even if your baby has food allergies, you will most likely still be able to enjoy introducing your little one to different flavors. Work with your doctor to determine the safest way to introduce new foods and tastes to your baby.
Organic Baby Food
If you are worried about additives and GMOs, organic baby food may be the right choice for you. Organic baby food pouches are available from multiple brands, including Earth's Best Organics, and Ella's Kitchen. If you prefer organic baby food in jars, there are plenty of flavors and brands for you to choose from as well. We recommend Earth's Best Organics for their wide selection that is available in a variety of flavors and baby food stages. For babies 6 months and older, organic baby cereal made from quinoa may be a good choice.
Food For Kids
For older babies, CVS carries plenty of toddler food and snacks for you and your child to choose from. Foods for toddlers are designed to encourage self-feeding. Finger foods for toddlers are formulated for nutrition while still being easy to pick up, chew, and swallow. Cookies, infant puffs, crackers for babies, and squeezable pouches are popular toddler snacks. Gerber toddler meals are designed especially for toddlers and prepared with small pieces and soft textures so that kids can easily feed themselves. Healthy toddler meals and snacks are available in non-GMO and organic varieties. Try 123 Sesame Street for a tasty alphabet lesson, or introduce your toddler to a fruit yogurt smoothie in a convenient squeezable pouch. Toddler oatmeal is another popular choice among healthy foods for toddlers.
From baby's first cereal all the way through to toddler cookies, CVS has you and your child covered with a variety of foods and snacks available in multiple flavors and preparations. While most baby foods are safe for most babies, always talk to your child's doctor before moving to a new baby food stage. Additionally, if you are ever concerned about your baby's reaction to a certain food, trust your instincts and speak to your pediatrician.
Búsquedas relacionadas
beechnut baby food, non gmo baby food, baby rice cereal, baby food