Fruit Juice, Nursery Water & Kids Drinks
Los miembros de CarePass
TM
Mostrando 1-15 de
15 productos
CVS Health Pediatric Electrolyte Solution
CVS Health
Compre 1, lleve 1 al 50% - ¡Agregue 2 o más para recibir la oferta!
o
en pedidos de $35 o más.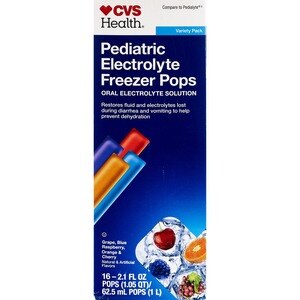 CVS Health - Helados pediátricos con electrolitos, surtidos
CVS Health
Precio con CarePass
™
$4.47
o
en pedidos de $35 o más.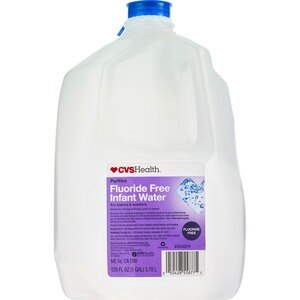 CVS Health Purified Fluoride Free Infant Water, 128 OZ
CVS Health
Precio con CarePass
™
$1.67
o
en pedidos de $35 o más.
Kinderlyte Natural Advance Raspberry Lemonade
Kinderlyte
o
en pedidos de $35 o más.
Los precios en línea puede ser diferentes a los precios en tiendas.
Kids Drinks
CVS carries a selection of healthy drinks for kids that are formulated to address a variety of hydration needs that may arise as your child grows.
Nursery water is designed for mixing with baby formula powder to make a bottle. Infant water, sometimes called distilled water for babies or nursery purified water without fluoride, undergoes a detailed process to ensure purity and quality. Purified water for babies typically contains no sodium and no added fluoride. Certain brands of baby water may still contain trace amounts of fluoride however; if you are concerned, talk to your doctor to learn more about what kind of water for baby formula is best for you and your little one. It is important to know that distilled or bottled water for formula is not sterile, so you may wish to boil the water before use. Just be sure to let it cool before mixing it with formula and giving it to your baby!
Nursery Water
Regular hydration is an important part of any diet. As your baby grows, he or she will eventually begin drinking juice. There is a lot of conflicting advice out there about the appropriate age to introduce juice to your little one, so it's best to talk to your child's pediatrician directly. He or she can give you guidance tailored to your unique little one's needs. When your baby is ready to try juice, start off with something simple that is 100% fruit juice and has no added sweeteners. Gerber's apple juice for babies constipation is a well-known option. The best juice for toddlers has similar qualities to baby juice. When searching for healthy drinks for toddlers, you'll want to look for 100% fruit juice that has little to no added sugar but contains plenty of vitamins and nutrients. Honest Kids juice boxes are a popular toddler juice option for their convenience. These kids drinks are often a staple of day bags or lunchboxes.
Kids Hydration Drink
If giving juice isn't an option, other kids' hydration drinks are available, such as pediatric electrolytes. An alternative to juice or water, electrolytes can come in various flavors and may even be found in a frozen popsicle form. Whatever your child's age or hydration needs, CVS has you covered with a variety of drinks tailored for every stage of growth. Browse our selection of water and juice online or in store today.
When Can Baby Have Juice?
Promoting good health in children includes incorporating essential nutrients in their daily diet and ensuring they are staying hydrated. While water is always an excellent source of hydration, offering juice can be a more appealing alternative to a child's palate. Knowing when to introduce new food and beverages to infants is essential for their overall well-being. This includes all flavors and types of juice for kids, and remember to consult with a pediatrician to ensure medical safety. Currently, the general recommendations for when babies can have juice are:
0-6 months: Water, breast milk, or formula only. No infant juices are recommended in the first stages of life.

6-10 months: Begin introducing natural juice slowly, watered down, and using mild flavors (like apple or pear).
Juice for Baby Constipation
When constipation becomes a problem for kids, drinking apple, pear, or prune juice can help. Using 100 percent juice (with no added sugars or flavorings) along with small amounts of water can help stimulate the baby's digestive system to work correctly. Be cautious not to give too much too fast, as it could cause diarrhea, stomach aches, and vomiting. Also, always contact medical help if the situation persists.
Búsquedas relacionadas
organic juice boxes, liquid baby formula, powder baby formula, baby cereal, electrolytes for kids, nutrition for kids, similac pro sensitive, similac pro advance