BD Veritor - Kit de prueba en el hogar contra el COVID-19, 2 u.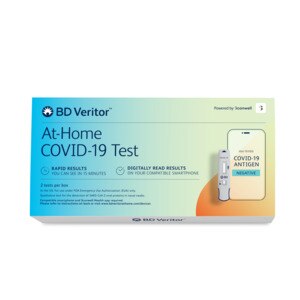 BD Veritor - Kit de prueba en el hogar contra el COVID-19, 2 u.
2 u., 0.18 lb. N.° de artículo 199716
El suministro es muy limitado. Tenga presente que no estamos aceptando devoluciones de kits de prueba de COVID-19.

Algunos planes de seguro ahora cubren pruebas de COVID-19 para hacerse en casa*. Comuníquese con su proveedor de seguro para confirmar su elegibilidad y acceder a información sobre el proceso de presentación de reclamaciones de su aseguradora. La pruebas de COVID-19 para hacerse en casa no son elegibles para descuentos con cupones y promociones, incluso recompensas ExtraBucks Rewards y CarePass.
*Se aplica a cobertura particular y grupal de personas totalmente aseguradas o autoaseguradas, incluyendo planes FEHB hasta que se termine la emergencia de salud pública. No se aplica a cobertura de planes Medicare y Medicaid.


Most insurers now cover the cost of at-home COVID-19 tests, including Medicare and Medicaid
Elegible para HSA/FSA
RESULTADOS INTERPRETADOS POR UN SMARTPHONE: el primer kit de prueba rápida del COVID-19 para hacer en el hogar que usa un smartphone para interpretar, entregar y mostrar los resultados; no se requiere la interpretación humana; Autorización de Uso de Emergencia de la FDA
RESULTADOS LEÍDOS Y GUARDADOS EN FORMA DIGITAL: proporciona un simple resultado positivo o negativo de la prueba en solo 15 minutos, mediante palabras, no líneas; guarda los resultados automáticamente en la aplicación gratis de Scanwell Health; verifique que su dispositivo móvil sea compatible con la aplicación (ver las imágenes del producto para conocer una lista completa de los dispositivos compatibles)
VERIFIQUE LA COMPATIBILIDAD DEL SMARTPHONE: funciona con iPhone, Google y ciertos modelos de smartphone Samsung y sistemas operativos. Mire las imágenes destacadas del producto o visite el sitio web BD Veritor™ At-Home para obtener una lista completa de los dispositivos compatibles. Tenga en cuenta que con frecuencia se agregan nuevos dispositivos a la lista
HISOPO NASAL EN LA PARTE INFERIOR INDOLORO Y FÁCIL DE USAR: 5 pasos fáciles con instrucciones escritas y en video incluidas; no se requiere receta ni laboratorio
DETECTA MÚLTIPLES VARIANTES: la prueba del COVID-19* BD Veritor™ para hacer en el hogar es capaz de detectar múltiples variantes, incluida la Delta**, y basada en análisis preliminares, la Omicron***
RESULTADOS CONFIABLES: utiliza la misma tecnología de calidad hospitalaria en la que confían los médicos
ELEGIBLE PARA FSA Y HSA: ¿Tiene alguna pregunta? Llame al 844-4-VERITOR para comunicarse con el fabricante entre las 8:00 a. m. y las 8:00 p. m., hora del este
From BD Veritor
See all BD Veritor products
Productos relacionados
Convatec
ConvaTec Esteem Synergy 2-piece Professional Kit Non-sterile, 5CT
Convatec
Convatec Natura 2-Piece Ostomy Surgical Post Operative Kit, 5CT
EverlyWell
Everlywell Cholesterol & Lipids Test 1 EA
*Las reseñas y calificaciones de los clientes reflejan únicamente la opinión y punto de vista de los contribuyentes individuales y no son creadas ni avaldas por CVS Pharmacy. Revise las etiquetas del producto y consulte a su médico si tiene alguna pregunta médica o de salud.
What does "digitally read" mean?
The BD Veritor™ At-Home COVID-19 Test uses computer vision technology to interpret the results for you, so you can read words not lines. Within 15 minutes, the app converts your results into the words "negative" or "positive," reducing the risk of user interpretation error.
Is the test painful?
No, the nasal swab should not be painful, but it is normal to experience some minor discomfort. If at any point you experience sharp or severe pain, you should stop and not insert the swab any further.
Can this test be performed on children?
Yes, adults can administer the test on children older than 2 years of age. Individuals aged 2-13 years of age should always be tested by an adult (18 years or older), with an adult collecting the sample and utilizing the test.
Will the BD VeritorTM At-Home COVID-19 Test tell me if I have been infected with COVID-19 in the past?
The BD VeritorTM At-Home COVID-19 Test is an antigen test that only detects an active infection. This test cannot detect past infections or current antibodies.
Can I use the BD VeritorTM At-Home COVID-19 Test to meet travel requirements?
This test is a self-collected antigen test and may be used in some situations for travel. However, it does not currently meet the CDC Order for international air passengers traveling to the US. It's always best to check the test requirements with your airline.
Does the BD VeritorTM At-Home COVID-19 Test expire?
Yes, there is an expiration date on every product box. The test should not be used after the date printed on the box.
* Este producto no ha sido evaluado ni aprobado por la FDA, no obstante, ha sido autorizado por la FDA al amparo de una EUA. Este producto está autorizado solamente para la detección de proteínas de SARS-CoV-2, y no para ningún otro virus o patógeno. The emergency use of this product is only authorized for the duration of the declaration that circumstances exist justifying the authorization of emergency use of IVDs for detection and/or diagnosis of COVID-19 under Section 564(b)(1) of the Federal Food, Drug and Cosmetic Act, 21 U.S.C. § 360bbb-3(b)(1), unless the declaration is terminated or authorization is revoked sooner.
What is included in the box?
The BD Veritor™ At-Home COVID-19 Test includes the following components:
1 kit box with tube holder
2 nasal swabs
2 tubes (with liquid) in a foil pouch
2 test sticks
2 scan cards
Guía de inicio rápido
Product Information Leaflet
Fact Sheet for Individuals
A compatible smartphone is required to perform the test but is not included in the box.
What variants does the test detect?
The BD Veritor™ At-Home COVID-19 Test is able to detect multiple variants, including Alpha1, Beta1, Gamma1, Iota1, Kappa1, Lambda1, Delta1, and based on preliminary analysis, Omicron2.
Testing was performed on a representative sample for each variant.
Based on preliminary in-silico analysis. BD realizará pruebas del virus vivo cuando las muestras clínicas de la variante estén disponibles.
How many tests come in one BD VeritorTM At-Home COVID-19 Test kit?
Each box contains two tests.
Should I use this test if I do not have symptoms?
The BD Veritor TM At-Home COVID-19 Test can be used for people with and without symptoms.
I've been fully vaccinated, do I need a test for COVID-19?
It is possible for a fully vaccinated individual to become infected and transmit COVID-19 to other individuals, as none of the currently approved vaccines are 100% effective in preventing infection with COVID-19. CDC recommends that fully vaccinated individuals get tested if they are experiencing COVID-19 symptoms if they had close contact with a confirmed positive individual. For more information on current CDC recommendations for COVID-19 testing, please visit: https://www.cdc.gov/coronavirus/2019-ncov/hcp/testing-overview.html
How long should I wait between taking two BD Veritor TM At-Home COVID-19 Tests?
The BD Veritor™ At-Home COVID-19 Test is intended to be used for serial testing, or used twice by the same individual over 2 or 3 days with at least 24 hours and no more than 48 hours between tests.
Do I need to consult a healthcare professional before purchasing a BD Veritor™ At-Home COVID-19 at home test?
The BD Veritor TM At-Home COVID-19 Test does not require a prescription from a medical professional. It is recommended to contact your healthcare provider if you have any questions about the results of your test. If you receive a positive result, you should contact a healthcare professional for next steps.
What does an invalid result mean?
An invalid test result means that an error occurred, and as a result could not be reported. An invalid test result can occur for reasons such as not collecting enough sample from your nose or applying too little liquid to the test stick. Following the app instructions carefully decreases the chance of an invalid test result.
How long will it take to perform the test?
The BD Veritor™ At-Home COVID-19 Test will provide results in 15 minutes.
How to Use the BD Veritor TM At-Home COVID-19 Test?
To begin, you will need to download the Scanwell® Health app on your compatible smartphone and locate a clean, well-lit working surface (such as a desk) away from air flows such as fans or open windows. The app will provide step-by-step instructions. Please ensure your smartphone is charged or charging and you have at least 20 minutes free to complete the test. Wash your hands with soap and water prior to starting the test.
What is the Scanwell® Health App?
The Scanwell® Health app is a free app that can be downloaded from the Apple App Store® or Google Play™ store. The app displays step-by-step testing instructions and analyzes, interprets, and delivers the results. The Scanwell® Health App stores a digital record of your test results that can be accessed at any time. All information collected and stored in the digital record is encrypted, and your privacy is always maintained.
Is my data secure?
We take your data privacy and security seriously. All data transfer is secured using encryption during storage and transmission. We implement security procedures that include anti-hacking and industry standard security systems. Please see the BD Privacy Statement and Scanwell® Privacy Policy for more information.
What should I do if I am having trouble scanning?
Find a clean, flat, non-reflective surface indoors in an area with bright and even lighting. Do not test outside. Natural light next to a window is preferable, but avoid harsh light and nearby shadows. If using household light, you should be close to, but not directly underneath, the light. If you continue to have issues, try moving to another room-it's ok to move to a better location.
Where should I place my light source to help with scanning?
Overhead or ceiling lights can cause shadows. Your camera can detect faint shadows that you may not see. If you experience persistent issues, move to a different room, or try switching off any overhead or ceiling lighting and use a desk lamp instead. You may need to move the scan card away from intensely bright lights due to glare.
Am I allowed to move while testing?
Yes, absolutely. If you are having trouble scanning, try moving your scan card around on a flat, clean surface in the area that you are in. If that doesn't work, please move to a different room with better lighting.
How should I position my smartphone when trying to scan?
Make sure the entire scan card is visible on your screen when scanning. Your smartphone should be almost parallel to the scan card. Point your phone at the scan card like you are taking a picture and the app will automatically take the scan for you. Moving your phone closer or farther away from the scan card can help you get a better scan.
BD Veritor - Kit de prueba en el hogar contra el COVID-19, 2 u.