Los miembros de CarePass
TM
Mostrando 401-407 de
407 productos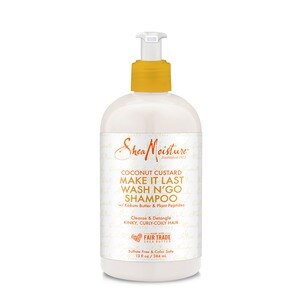 SheaMoisture Coconut Custard Make It Last Wash N' Go Shampoo, 13 OZ
SheaMoisture
Carol's Daughter Black Vanilla Moisture + Shine - Champú sin sulfato
Carol's Daughter
Los precios en línea puede ser diferentes a los precios en tiendas.
What Is Shampoo?
Shampoo is used to remove dirt, oil, and build up from daily life or styling products. Many shampoos contain detergents to help clean the hair and scalp, but newer formulas offer gentler options. Specially formulated shampoos are designed to target specific needs, such as controlling dandruff or adding moisture to parched hair follicles.
How Often Should You Shampoo Your Hair?
How often you should shampoo your hair varies based on your hair texture, skin type, and lifestyle. If you have curly or coily hair, you should aim to shampoo once a week. If you have wavy or straight hair, aim for once every 2 to 3 days. If you work out frequently, have very oily skin, or style your hair using a lot of products, you may want to shampoo your hair more often. Keep in mind that you should avoid shampooing your hair daily or too frequently, as certain ingredients in the shampoo may start to strip the natural oils out of your hair, causing dryness and breakage.
What Shampoo Should I Use?
With so many options available, it can be hard to discern which shampoo you should use. Don't look for the most expensive shampoo or go by a friend's recommendation. When choosing a shampoo, you'll want to focus on finding the best product for your individual needs. There are many products geared to specific concerns, like natural shampoo, shampoo for colored hair, and ethnic hair care essentials. For damaged hair, try a repairing shampoo formulated with strengthening ingredients like protein and honey. If you have dry hair, revive it with moisturizing shampoo containing grape seed extract. Have curls? Shampoo for curly hair is specially formulated to hydrate and tame your locks without weighing them down. Whatever your needs, we have a shampoo for you! Browse our extensive collection of the best drugstore shampoo to find the right formulation for your needs.
What Is the Best Shampoo?
The best shampoo for you depends on a variety of factors, including hair type, skin type, hair styling practices, lifestyle choices, and any hair or skin concerns you may want to address. Here are some of the most popular types of shampoo designed to address common hair care needs:
Does Shampoo Expire?
Technically, yes, shampoo does expire. However, it is not mandatory for manufacturers to label shampoo bottles with an expiration date. If you want to know whether a specific bottle of shampoo has expired, first check the packaging for either a printed date, or a little graphic of an open container with a number inside it. If you see a printed date or this graphic, it means that the manufacturer has elected to label their products with an expiration date. Wondering how to interpret the graphic? The number inside the little graphic pertains to the number of months the product will stay fresh once opened. If your bottle doesn't have this label or a printed date, a good rule of thumb is to keep open bottles for no more than 12 - 18 months and unopened bottles for no more than 3 years. If you are using a natural shampoo formulated with fewer preservatives that help keep it fresh, those numbers shrink considerably. And if you notice that your shampoo has changed in color, smell, texture, or just doesn't seem as effective, trust your instincts and replace it.
Clarifying Shampoo
First off, what is clarifying shampoo? Clarifying shampoo is a special type of shampoo that's formulated with extra intense cleansing power - enough to cut through the built up gunk that can result from using styling products, frequent exposure to chlorinated water, and even just regular shampoo and conditioner over time. Clarifying shampoo is recommended for occasional use by all hair types. However, be sure to follow up after a clarifying shampoo session with a good conditioner or moisturizing treatment.
Sulfate Free Shampoo
Sulfate ingredients such as sodium lauryl sulfate and sodium laureth sulfate are cleansing agents found in traditional shampoo. Sulfates help to strip dirt and grime out of your hair, but they also remove necessary oils, which can cause dryness, breakage, and frizz. If you have color treated hair, you'll want to use a sulfate free shampoo for color treated hair. You may also want to choose a champú sin sulfato if you have coarse, damaged, or curly and frizz-prone hair, as sulfates may exacerbate your hair woes.
Dandruff Shampoo
If you struggle with dandruff and itchy scalp, champú para la caspa may be able to help. CVS carries a wide selection of the best dandruff shampoo, formulated with ingredients to help control flakes and reduce itching. But, how does dandruff shampoo work? Dandruff shampoo contains ingredients that kill the yeast fungus on your scalp that causes dandruff and helps to remove flakes as well. Ketoconazole and coal tar shampoo are two popular options. If you have dandruff, washing your hair more frequently may help. Use a dandruff shampoo until the condition is under control. Then you can return to your regular shampoo as long as you rotate your dandruff shampoo in once in a while. However, if you've been using shampoo for dandruff for a few days and aren't seeing results, don't hesitate to talk to a dermatologist about your flakes.
Organic Shampoo
If you want to avoid chemicals and live an organic lifestyle, champú orgánico may be right for you. Organic shampoo is available from a variety of brands and comes in multiple formulations designed to address many different hair care needs.
There are other ways to shop for shampoo as well. Here are a few popular examples:
Shampoo by Lifestyle or Sensitivity
If you have olfactory or skin sensitivities to fragrances, you may want to try a fragrance free shampoo. Many top brands offer an unscented shampoo, so you won't be missing out! If you want to avoid gluten or are a vegan, try either a certified gluten free shampoo or vegan shampoo. And if you follow a cruelty free lifestyle, cruelty free shampoo is available.
Shampoo by Hair Type
Many brands offer shampoo that is specially formulated for specific hair types. Shampoo for oily hair is ideal for anyone who deals with oiliness, while shampoo for fine hair is targeted to those who have thin locks. Shampoo for wavy hair is designed to help bring out your natural waves, while the best volumizing shampoo is designed to help your locks look fuller. No matter what hair type you have, chances are good that there's a shampoo out there just for you!
Shampoo by Ingredient
Certain ingredients have a beneficial effect on specific hair care needs. So why not shop for shampoo based on ingredients? Many people swear by tea tree oil shampoo, which is thought to help reduce dandruff and scalp itching and unclog hair follicles. Argan oil shampoo is another popular product that may help hydrate and soften your hair. Keratin shampoo infuses hair with keratin protein, helping to repair damage and safeguard against future breakage.
Búsquedas relacionadas
champú seco, nizoral shampoo, redken shampoo, coconut shampoo, champú para piojos, shampoo for eczema