Mostrando 1-8 de
8 productos
Bare Republic Mineral Body Sunscreen Spray SPF 30, Coco-Mango, 6 OZ
Bare Republic
Los miembros de CarePass
TM
Bare Republic Mineral Sport Sunscreen Lotion SPF 50, 5 OZ
Bare Republic
Los miembros de CarePass
TM
Bare Republic Mineral Body Sunscreen Spray SPF 50, Vanilla-Coco, 6 OZ
Bare Republic
Los miembros de CarePass
TM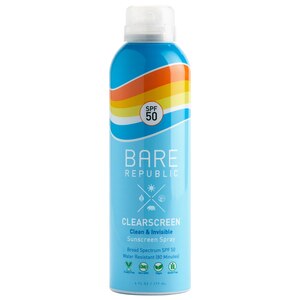 Bare Republic Clearscreen Sunscreen Body Spray, 6 OZ
Bare Republic
Los miembros de CarePass
TM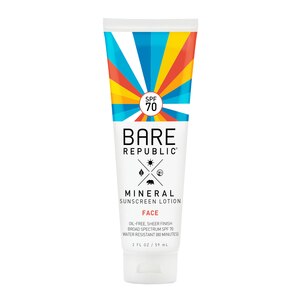 Bare Republic Mineral Face Sunscreen Lotion SPF 70, 1.7 OZ
Bare Republic
Los miembros de CarePass
TM
Bare Republic Clearscreen Sunscreen Body Lotion, 5 OZ
Bare Republic
Los miembros de CarePass
TM
Bare Republic Mineral Tinted Face Sunscreen SPF 30, 1.7 OZ
Bare Republic
Los miembros de CarePass
TM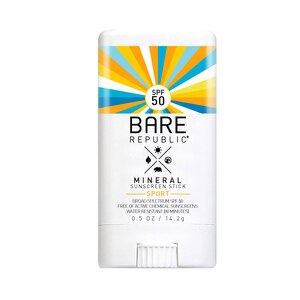 Bare Republic Mineral Sport Sunscreen Stick SPF 50, 0.5 OZ
Bare Republic
Los miembros de CarePass
TM
Los precios en línea puede ser diferentes a los precios en tiendas.
What is Bare Republic®?
Bare Republic® is a brand of environmentally conscious sun protection products. Bare Republic® products are made without unwanted chemicals and thoughtfully formulated. Made to protect your skin during large and small outdoor adventures, the Bare Republic® product line features an impressive assortment of mineral-based sprays, lotions and bold neon-colored sticks. The company also makes gentle sun protection products for babies, hydrating after-sun spray and high-performance Clearscreen® sunscreen.
Are Bare Republic® sunscreens cruelty-free?
Yes, Bare Republic® sun protection products are cruelty-free. No formulations are tested on animals and no ingredients are animal-derived. That means Bare Republic® products are also vegan-friendly. Plus, Bare Republic® products are made with sustainably sourced and recyclable materials whenever possible. You might also find it reassuring to know that Bare Republic® has a list of more than 1400 questionable ingredients you'll never find in their products. Parabens, sulfates and synthetic fragrances are on that list. So are octinoxate and oxybenzone, commonly used sunscreen ingredients suspected of causing harm to aquatic life.
Is Bare Republic® mineral face sunscreen non-comedogenic?
All Bare Republic® products undergo testing for safety overseen by a dermatologist. Their products are made with lightweight, gentle ingredients and formulated for all skin types. But some products are not specifically labeled "non-comedogenic." Bare Republic® Mineral Face Sunscreen Lotion (SPF 70) is. The non-comedogenic formula won't clog your pores. This super-sheer product is also hypoallergenic and fortified with anti-oxidant-rich hydrators. For best results, apply the paraben-free lotion liberally at least 15 minutes before heading outdoors.
How do Bare Republic® mineral and Clearscreen® products compare?
Both types of sunscreen will protect your skin from the damaging effects of UVA and UVB exposure. But not the same way. They work differently. Bare Republic® mineral sunscreens work by reflecting the sun's rays with the natural power of zinc oxide and titanium dioxide. Mineral sunscreens are highly effective, but some products can leave a residue on the surface of your skin. Bare Republic® Clearscreen® body sprays and lotions are transparent and non-greasy. Infused with antioxidant-rich extracts and vitamin E, the active ingredients absorb and neutralize UV radiation. Although they work differently, mineral and chemical sunscreens both need to be reapplied every 2 hours to remain effective.