Cómo conseguirlo
Recogida no disponible
Cambiar tienda
Mostrando 1-1 de
1 productos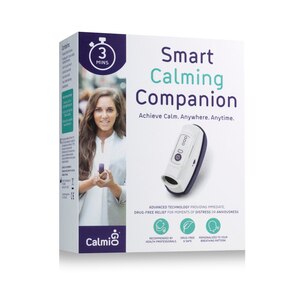 CalmiGo Smart Calming Companion - Purple
CalmiGo
o
en pedidos de $35 o más.
Los precios en línea puede ser diferentes a los precios en tiendas.
What Is Calmigo?
Mental and emotional stress constitutes some of the most destructive disease conditions in human beings. Unfortunately, most clinical solutions developed to counter anxiety, panic attacks, and adverse bio-feedbacks are ineffective because they do not target the causes of these abnormalities. However, Calmigo, a technological breakthrough created by Adi Wallach in 2016 and based in New York, is a device that leverages cutting-edge technology and relaxing scents using quad-sensory user features to achieve rapid relief from stress and anxiety. Calmigo is a small, hand-held device that can fit in your pockets, a backpack, or a purse. Apart from its portability, it is drug-free, clinically tested, and proven to offer fast and effective relief. Therefore, it is recommended for individuals in all age groups due to its safety, efficacy, and utility.
How Does Calmigo Work?
The science behind Calmigo is not complicated. Calmigo is a medical technological device that diminishes stress hormone levels in the body by activating parasympathetic nerves. Sympathetic nerves are responsible for fight and flight mechanisms due to stress or threats within our environment. However, sometimes, the human body abnormally perceives threats and stress, thus alleviating anxiety, alertness, and panic attacks, characterized by heavy breathing, a shorter period of exhalation, fear, and feeling unsettled. Similarly, the sympathetic nerves make an individual feel extremely uncomfortable due to increased anxiety. As a result, Calmigo targets the parasympathetic nerves, which act against the effects of the sympathetic nerve. Generally, Calmigo reduces stress by prolonging exhalation, stimulating sensory organs, and supplying the body with relaxing scents like lavender. Therefore, it helps control breathing and relaxation, thus offering immediate relief without drug administration.
How To Use Calmigo
Calmigo is a device designed with light and vibration feedback that allows individuals to control their breathing depending on the severity of anxiety or panic attacks. According to its CEO, the device is equipped with a learning mechanism that tracks an individual's breathing patterns and adjusts itself accordingly to slow down exhalations in about three minutes. Therefore, all you have to do is inhale and exhale into the device slowly and let it do its magic. Breathing into the device activates its scented elements, thus activating the body's nervous system and inducing body and mind relaxation. Similarly, the product's site suggests that most individuals receive a physiological and psychological response immediately after removing the cover because of association and memory, resulting in a sense of calm before using the device. Calmigo does not have contraindications because it is drug-free. Therefore, it is recommended as a long-term treatment solution for stress, anxiety, and related disorders.