Cómo conseguirlo
Recogida no disponible
Cambiar tienda
Mostrando 1-2 de
2 productos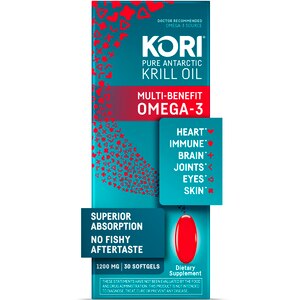 Kori - Aceite de krill, Superior Omega-3, en cápsulas blandas estándar de 1200 mg, 30 u.
Kori Krill Oil
o
en pedidos de $35 o más.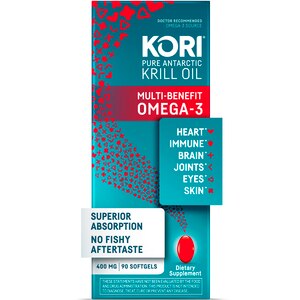 Kori - Aceite de krill, Superior Omega-3, en minicápsulas blandas de 400 mg, 90 u.
Kori Krill Oil
o
en pedidos de $35 o más.
Los precios en línea puede ser diferentes a los precios en tiendas.
What Is Kori Krill Oil?
Krill oil derives from a tiny, shrimp-like marine animal called a krill. It's rich in omega-3 fatty acids such as fish oil, eicosapentaenoic acid (EPA), and docosahexaenoic acid (DHA). It is said that the EPA and DHA in krill oil have a higher absorption rate than in fish oil because much of the EPA and DHA in the krill oil is bound by phospholipids. Krill oil is used for heart disease, high levels of certain blood fats (triglycerides), high cholesterol, high blood pressure, stroke, cancer, osteoarthritis, depression, premenstrual syndrome (PMS), and painful menstrual periods. Kori Krill Oil commits to quality and purity in that it is certified sustainably sourced from pristine Antarctic waters and has no added artificial ingredients.
Kori Krill Oil Side Effects
Kori Krill oil should be taken as indicated on the label or as prescribed by the doctor. It should not be taken in large amounts or longer than recommended. It should be taken whole when taken by mouth, and it is generally safe to take for up to three months. The side effects of more prolonged usage may include stomach upset, decreased appetite, heartburn, fishy burps, bloating, diarrhea, and nausea. Patients with fish, shrimp, or seafood allergies should not use krill oil. Tests for susceptibility to allergic reactions to krill oil are yet to be completed. Krill oil should be discontinued, and emergency medical help sought, if you think you have used too much medicine or have any allergic reaction signs such as swelling of the face, lips, tongue, and throat, hives, or experience difficulty in breathing. Stop using krill oil and call your doctor if any of these side effects are experienced:
Fever, chills, body aches, flu symptoms

Dolor en el pecho

Uneven heartbeats

Back pains

Mild skin rash
Kori Krill Oil Benefits
It is important to note that our bodies cannot make omega-3 fatty acids independently; therefore, we must consume them. The omega-3 acid helps in reducing pain and swelling and prevents the easy clotting of blood. Kori Krill Oil is proven to raise the levels of omega-3 in the body. It provides omega-3 EPA and DHA essential fatty acids to boost our immune, heart, brain, eye, joint, and skin health. Besides omega-3, Kori Krill Oil is a good source of choline, an essential nutrient that supports the brain and nervous system health, and has astaxanthin, an antioxidant. Neither of these is found in fish oil. Kori Pure Antarctic Krill Oil delivers essential omega-3 nutrients in their most natural form (called phospholipids which supports digestion, so there's no fishy aftertaste. Kori Krill Oil has superior omega-3 absorption than fish oil because omega-3 is delivered in its most natural form.