Cheerios Cereal, 12 Ounces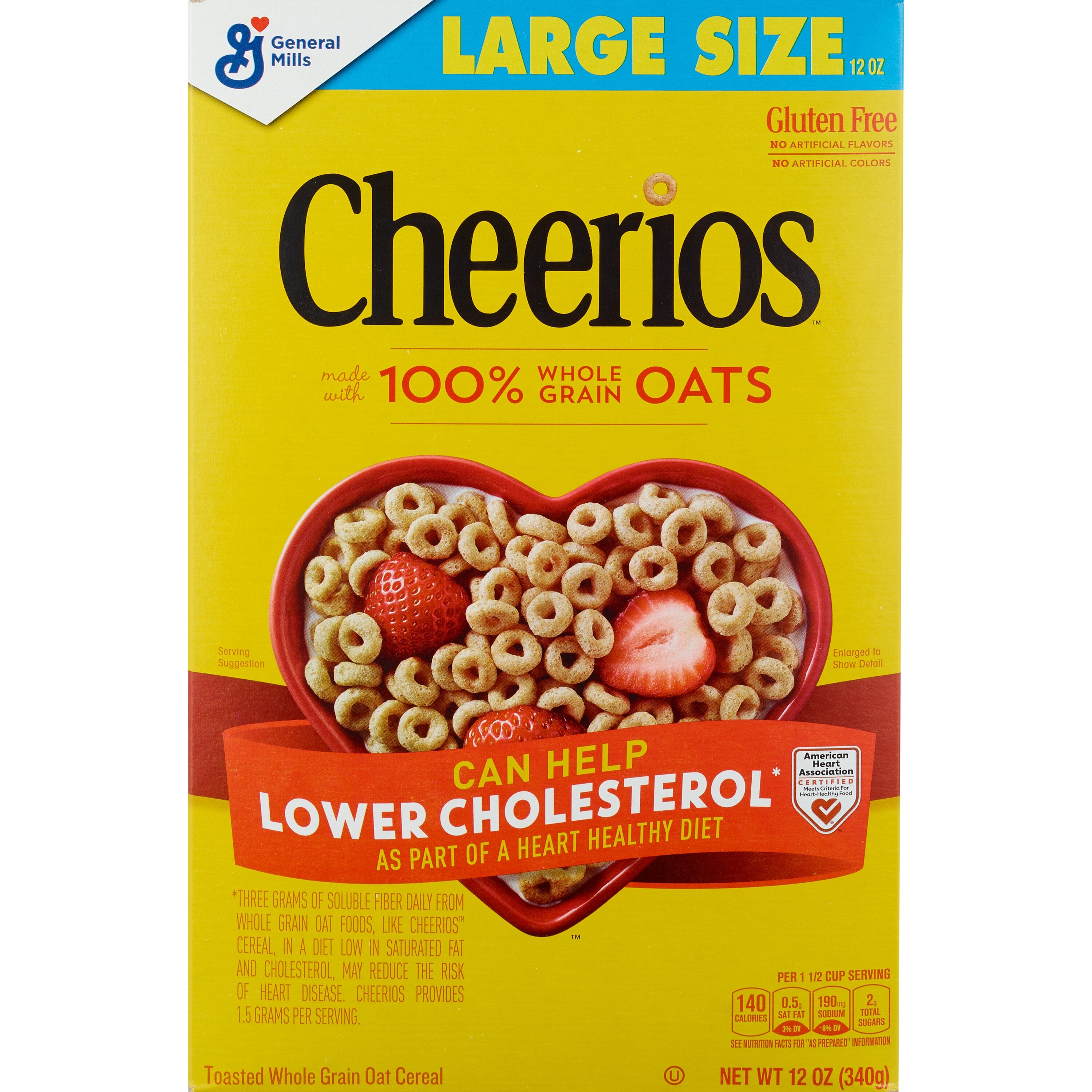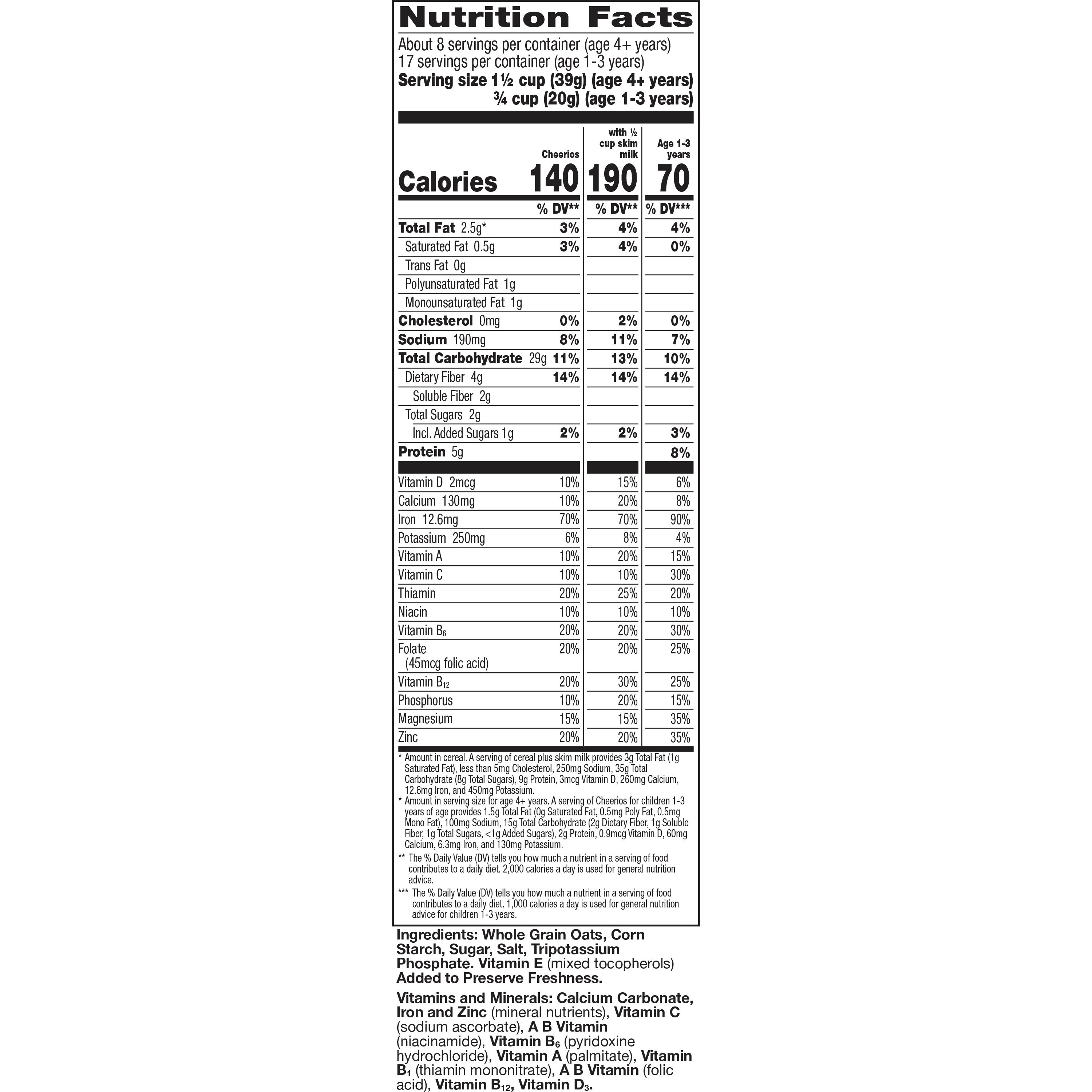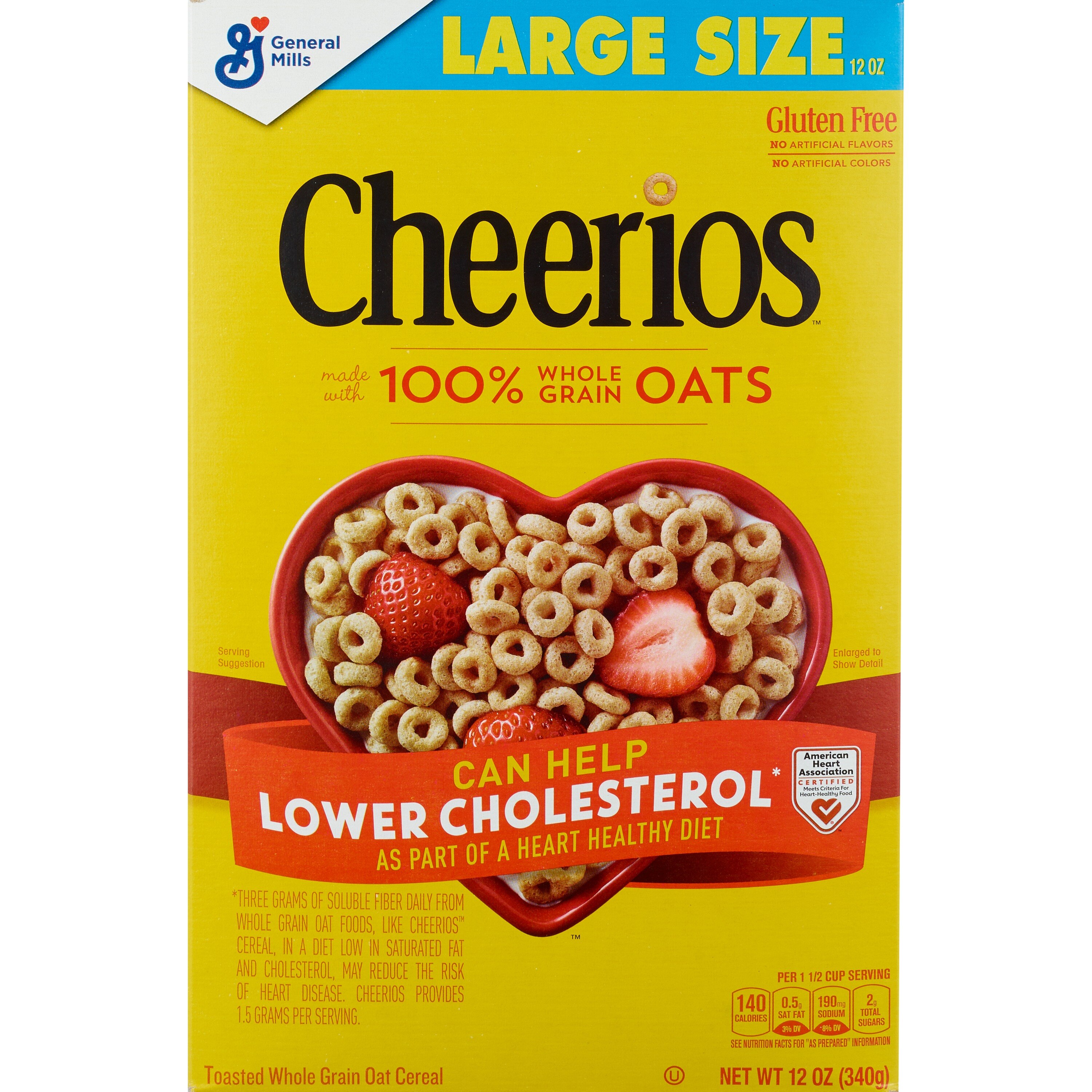 Cheerios Cereal, 12 Ounces
12 oz, 1.26 lb. N.° de artículo: 169905
Toasted whole grain oat cereal. With whole grain. Nutrition highlights: 100 calories (5%), 0 g saturated fat (0%), 190 mg sodium (8%), 1 g sugars, 3 g fiber (11%), 100 mg calcium (10%) amount and % daily value per serving. Three grams of soluble fiber daily from whole grain oat foods, like Cheerios cereal, in a diet low in saturated fat and cholesterol, may reduce the risk of heart disease. Cheerios cereal provides 1 gram per serving. Feel the wholesome goodness shine through. It's a new day. A day to get back to basics. Like real, simple food and heart health. And Cheerios is a great place to start. From the first delicious spoonful, the power of nature is working for you. Every o is made with 100% natural whole grain oats. So go ahead, enjoy with a happy heart. A whole grain food is made by using all three parts of the grain. General Mills guarantees that every box of Big G cereal has at least 8 grams of whole grain per serving (48 grams recommended daily). We believe in real, simple food. That's why we make cheerios with - 100% natural whole grain oats, 1 gram of sugar, no artificial colors or flavors. American heart association - meets American heart association food criteria for saturated fat and cholesterol for healthy people over age 2. While many factors affect heart disease, diets low in saturated fat and cholesterol may reduce the risk of this disease. This package is sold by weight, not by volume. You can be assured of proper weight even though some settling of contents normally occurs during shipment and handling. Exchange: 1 1/2 starch.
Especificaciones

| | |
| --- | --- |
| Problema | Sin gluten |
| Sabor principal | Sin sabor |
| Tipo de producto | Cereales |
| Cantidad | 1-20 oz |
Whole Grain Oats (Includes the Oat Bran), Modified Corn Starch, Sugar, Salt, Tripotassium Phosphate, Oat Fiber, Wheat Starch. Vitamin E (Mixed Tocopherols) Added to Preserve Freshness. Vitamins and Minerals: Calcium Carbonate, Iron and Zinc (Mineral Nutrients), Vitamin C (Sodium Ascorbate), a B Vitamin (Niacinamide), Vitamin B6 (Pyridoxine Hydrochloride), Vitamin B2 (Riboflavin), Vitamin B1 (Thiamin Mononitrate), Vitamin A (Palmitate), a B Vitamin (Folic Acid), Vitamin B12, Vitamin D3.
Tamaño de la porción:
1|NA|NA cup,NA,NA
Porciones por recipiente:
14NDND
Nutrientes
Cantidad por porción
Valor diario en %
Calorías
Calorías de la grasa
Grasa total
Grasa saturada
Grasa poliinsaturada
Grasa monoinsaturada
Colesterol
Sodio
Potasio
Total de carbohidratos
Fibra dietaria
Fibra soluble
Azúcares
Otros carbohidratos
Proteínas
Vitamina A
Vitamina C
Calcio
Hierro
Kosher
Sabor
Vitamina D
Magnesio
Niacina
Fósforo
Vitamina B12
Vitamina B6
Cinc
Riboflavina
Tiamina
Ácido fólico
Grasas trans
Tamaño de la porción - En gramos
Calorías
Calorías de la grasa
Grasa total
Grasa saturada
Grasa monoinsaturada
Colesterol
Sodio
Potasio
Total de carbohidratos
Fibra dietaria
Azúcares
Proteínas
Vitamina A
Vitamina C
Calcio
Hierro
Kosher
Sabor
Vitamina D
Magnesio
Niacina
Fósforo
Vitamina B12
Vitamina B6
Cinc
Riboflavina
Tiamina
Ácido fólico
Grasas trans
Calorías
Calorías de la grasa
Grasa total
Grasa saturada
Grasa poliinsaturada
Grasa monoinsaturada
Colesterol
Sodio
Potasio
Total de carbohidratos
Fibra dietaria
Fibra soluble
Azúcares
Otros carbohidratos
Proteínas
Vitamina A
Vitamina C
Calcio
Hierro
Kosher
Sabor
Vitamina D
Magnesio
Niacina
Fósforo
Vitamina B12
Vitamina B6
Cinc
Riboflavina
Tiamina
Ácido fólico
Grasas trans
Tamaño de la porción - En gramos
100
15
0 g
0 g
0.5 g
0.5 g
0 mg
190 mg
170 mg
20 g
3 g
1 g
1 g
16 g
3 g
0
0
0
0
0
0
0
0
0
0
0
0
0
0
0
0
0 g
28 g
140
20
2 g
0.5 g
1 g
-5 mg
250 mg
370 mg
26 g
3 g
7 g
7 g
0
0
0
0
0
0
0
0
0
0
0
0
0
0
0
0
0 g
80
10
1.5 g
0 g
0 g
0 g
0 mg
140 mg
130 mg
15 g
2 g
0 g
1 g
12 g
2 g
0
0
0
0
0
0
0
0
0
0
0
0
0
0
0
0
0 g
21 g
0%
0%
0%
0%
0%
0%
0%
8%
5%
7%
11%
0%
0%
0%
0%
10%
10%
10%
45%
0%
0%
10%
10%
25%
10%
25%
25%
25%
25%
25%
50%
0%
0%
0%
0%
3%
3%
0%
1%
10%
11%
9%
11%
0%
0%
15%
10%
25%
45%
0%
0%
25%
10%
25%
25%
35%
25%
30%
35%
30%
50%
0%
0%
0%
0%
0%
0%
0%
0%
0%
0%
0%
0%
0%
0%
0%
9%
10%
10%
8%
50%
0%
0%
6%
10%
35%
8%
30%
45%
30%
35%
35%
60%
0%
0%