Conair All-In-1 Rechargeable Trimmer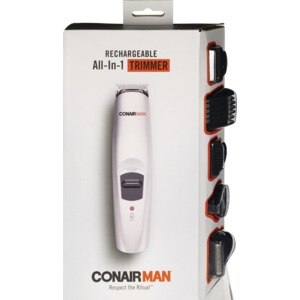 Conair All-In-1 Rechargeable Trimmer
1 EACH, 1 lbs. Item # 392226
All-In-1 Beard/Mustache Trimming System, Self- Sharpening Stainless Steel Blades, Includes 2 Jawline Combs, 5-Position Adjustable Comb, 2 Stubble Combs, Detailing Blade, Shaving Foil, Adapter.
SAVE THE INSTRUCTIONS USER MANUAL Before using the Class 2 Power Supply, read these instructions carefully. Use with adapter CA51. Rated input voltage: 100-240VAC, 50/60Hz, 0.2A Rated output: 6.0VDC, 70mA. Adaptor model: C06007-A OPERATION 1. For dry location use only. 2. Never operate this unit if the specification is out of the rating. 3. When using this unit, a warm temperature will be reached. CAUTION 1. Do not expose to liquids, vapor, or rain. 2. Do not short the polarity (output cord). Ensure jack is plugged into the trimmer unit before plugging the adapter into the outlet. 3. Do not operate any appliance that has a damaged output cord or housing. 4. Always unplug the unit before cleaning or when not in use. 5. This power unit is intended to be correctly oriented in a vertical or floor-mount position. 6. Be sure voltage is correct before plugging in. FEDERAL COMMUNICATIONS COMMISSION NOTICE
Advertencias
IMPORTANT SAFETY INSTRUCTIONS When using electrical appliances, especially when children are present, basic safety precautions should always be taken, including the following: READ ALL INSTRUCTIONS BEFORE USING FOR HOUSEHOLD USE ONLY KEEP AWAY FROM WATER DANGER - Any appliance is electrically live, even when the switch is off. To reduce the risk of death or injury by electric shock: 1. Always unplug appliance from electrical outlet immediately after using (except when charging unit). 2. Do not place or store appliance where it could fall or be pulled into a tub or sink. 3. Do not use appliance while bathing or in the shower. 4. Do not place appliance in, or drop into water or other liquids. 5. If appliance has fallen into water, do not reach for it. Unplug immediately. 6. Unplug this appliance before cleaning. DO NOT REACH INTO THE WATER WARNING - To reduce the risk of burns, electric shock, fire, or injury to persons: 1. Never leave a plugged-in appliance unattended. 2. This appliance should not be used by, on, or near children or individuals with certain disabilities. 3. Use appliance only for its intended use as described in this manual. Only use attachments recommended by the manufacturer. Do not use an extension cord to operate the appliance. 4. Never operate the appliance if it has a damaged cord or plug, is not working properly, has been dropped or damaged, or dropped into water. Return the appliance to a Conair service center for examination and repair. 5. Keep the appliance cord away from heated surfaces. 6. Do not pull, twist or wrap the cord around the appliance. 7. Never drop or insert any object into any opening of the appliance. 8. Do not place the appliance on any surface while it is operating. 9. Do not use the appliance with a damaged or broken comb or with teeth missing from the blades, as injury may result. Before each use, make certain the blades are aligned properly and oiled. 10. Do not use the appliance outdoors or where aerosol (spray) products are being used or where oxygen is being administered. 11. This product is for household use only. 12. This appliance is not a toy. Keep away from children. 13. The included adaptor automatically adjusts to the input voltage. DO NOT USE A VOLTAGE CONVERTER.
*Customer reviews and ratings solely reflect the views and opinions of the individual contributors and are not created or endorsed by CVS Pharmacy. Please review the product labeling and consult with your doctor with any health or medical questions.