Mostrando 1-1 de
1 productos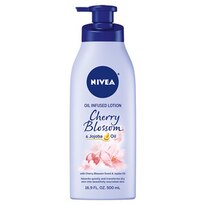 Los precios en línea puede ser diferentes a los precios en tiendas.
Lotion With Almond Oil 
Retain moisture and nourish skin by applying lotion with almond oil. Complete your collection with an assortment of must-have products, such as body scrubs, hydrating shower gels and glow-enhancing serums. 
What are the Best Lotion With Almond Oil Brands?
Where Can I Buy Almond Oil Lotion?
Explore the shelves of CVS for almond oil lotion and other skin care essentials, from limpiador facial and toner to facial exfoliators and masks. Shop online day or night, even on holidays, or visit your local store for an in-person stock-up session for skin care staples. Many stores offer same-day order pickup services, which can help you get the face and body products you need quickly. 
Does Almond Oil Work With Lotion?
Almond oil can be used alone or combined with your favorite lotion or moisturizer. Generally, you can mix body lotion with almond oil. However, take a look at the packaging in case your lotion's instructions advise against combining ingredients or layering skin care products. 
Depending on which skin care products you use, you may find that almond oil and lotion have different properties. Lotion can help moisturize dry skin by giving it more water, while almond oil helps skin retain its existing hydration levels. That's why some people prefer to mix lotion and almond oil together rather than just relying on moisturizers during their beauty routine.
Almond oil often acts as an emollient when it is applied to the skin. This means that it helps make the skin smooth by filling tiny gaps in the skin with lipids, which are fatty substances found in your body. Many moisturizers and lotions can't do this unless they include oil, such as almond oil or coconut oil. 
How Do I Use Almond Oil Lotion?
Rub almond oil gently into your skin, hair or face according to the directions on your package. Remember that you may only need a small amount of almond oil, such as the equivalent of a small piece of candy or half a dime. Otherwise, your skin may look greasy or your hair may feel heavy or hard to style.
Un poco hair care products contain almond oil, which can help fight frizz and add shine to your tresses. You may find that products made for textured hair help soften strands with emollient-rich oils such as almond oil. 
Avoid using almond oil alone or in a moisturizer with almond oil if you have an allergy to tree nuts.