Mostrando 1-4 de
4 productos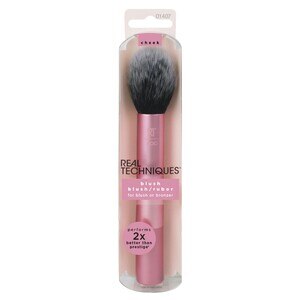 o
en pedidos de $35 o más.
Los precios en línea puede ser diferentes a los precios en tiendas.
Blush Brush
A blush brush is a makeup brush that has a similar shape and size as that of a powder brush. These brushes are slightly smaller since they need to cover a smaller area of the face. Angle blush brushes help you achieve a perfect application of blush to get a beautiful, rosy glow. To complete a glowy look, the use of highlighter can create a dewy, shiny finish on your cheeks. You can find blush brushes sold separately, included with certain brands of blush, or they may be sold as part of a complete set of makeup brushes. Often times, a set of brushes may include blending brushes, face brush, foundation brush, powder brush, and eyeshadow brush. Bristles should be soft to the touch, and the brush may have a slight angle or an arched design to ensure proper coverage and a beautiful application on the apples of your cheeks. Blush brushes may also be called a bronzer blush since they tend to be of the same or a similar size and shape.
The Best Blush Brush
The best blush brush should have long, fluffy bristles and a curved or domed shape to diffuse the makeup onto your cheeks. A quality blush brush should have a lightweight handle that feels comfortable in your hand, yet it's durable enough to handle lots of use and will stay intact in your makeup bag. You can find these brushes made of animal or synthetic hair depending on your preference. Blush brushes are made by a wide variety of brand names and come in a myriad of price points, depending on the quality and who makes them. CVS also offers cream blush and liquid blush, which may be applied with hands, a blender, or a different type of 'blush brush'. Ultimately, the best blush brush is easy to use, provides you with perfect cheek pigmentation, and is easy to clean. Choose a blush brush with synthetic bristles (like nylon) if you're looking for something vegan, eco-friendly, and sustainable. Choose a small blush brush with a shorter handle if you want to take your brush with you while traveling.
Búsquedas relacionadas
cream blush, blush brush, eyelash brush, eyeshadow brushes, makeup brush cleaner