Mostrando 1-1 de
1 productos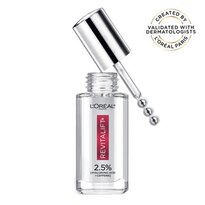 Los precios en línea puede ser diferentes a los precios en tiendas.
Eye Serum With Caffeine
Banish puffiness and dark circles with the power of an eye serum with caffeine. By constricting blood vessels, caffeine helps reduce swelling, leaving your eyes looking more refreshed and youthful.
What are the Best Eye Serum With Caffeine Brands?
What Does Caffeine Serum Do for Eyes?
Caffeine is the ingredient that helps give stimulating beverages, such as coffee and tea, their characteristic buzz and provides you with the energy to maintain a busy lifestyle. While caffeine is well-known for its ability to help you stay awake, it can also help make your eyes look more rested.
Caffeine works primarily by constricting blood vessels under your skin. By making these blood vessels less visible, eye serums with caffeine can help reliably reduce the appearance of dark circles. These products can also reduce puffiness, as the constriction helps stop fluid from building up in your eyelids and the skin underneath your eyes.
Caffeine acts as an antioxidant, allowing it to help fight free radicals from sun exposure, air pollution and other sources. Caffeine eye serum benefits may include improved skin renewal and reduced risk of premature aging as a result.
Which Eye Cream Has the Most Caffeine?
Products vary in their concentration of caffeine, but they typically contain no more than 5% caffeine at most. Extra caffeine beyond this amount likely won't constrict your blood vessels any further but may increase the risk of skin irritation.
Instead of looking for more caffeine, a better way to tackle the problem of dark circles or eye bags may be to choose a product containing other soothing ingredients, such as vitamin C or licorice root. Beyou brightening eye cream, for example, contains hyaluronic acid to help hydrate and thicken the skin under your eyes, making dark circles less noticeable. 
If caffeine itself is most effective for your needs, one of the products with the highest ingredient concentrations is Revolution Skincare Targeted Under Eye Serum. With 5% caffeine added, this eye cream can help wake even the most tired eyes. 
How to Use Caffeine Eye Serum
Under-eye serums with caffeine should generally be applied after cleansing and before your makeup routine. Most are liquid and include a dropper to dispense the product, while some are gel-based. You'll usually use both types the same way.
Apply a drop or two directly to the area under your eyes or onto a clean fingertip, and gently blot it across your dark circles. Spread the serum above your eyes along your brow bone, and allow it to absorb fully before applying delineador de ojos o sombra de ojos.