Mostrando 1-3 de
3 productos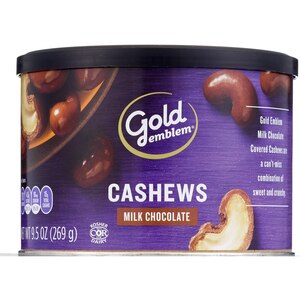 Gold Emblem - Castañas bañadas en chocolate con leche, 9.5 oz
CVS Gold Emblem
Los miembros de CarePass
TM
Limit 6 per order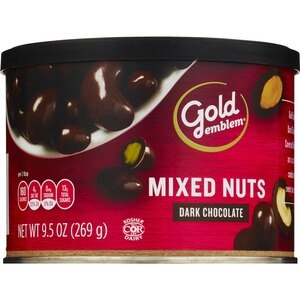 Los miembros de CarePass
TM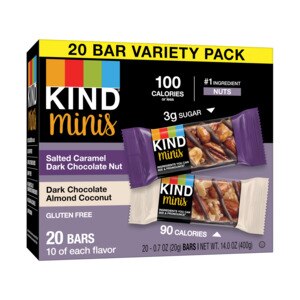 Kind Minis Bar Variety Pack, Salted Caramel Dark Chocolate & Dark Chocolate Almond Coconut, 20 CT
Kind
Los miembros de CarePass
TM
Los precios en línea puede ser diferentes a los precios en tiendas.
Cashews
If you're looking for a delicious snack, cashews are an excellent choice. These kidney-shaped nuts are actually seeds that come from the tropical cashew tree, which is native to Brazil. Cashew nuts are sold raw, roasted, and salted, and as a snack for consumers all over the world. It's best to eat cashews that are cooked, as truly raw cashews aren't considered safe for consumption. Most cashews are cooked during processing to remove the toxins, then sold as "raw." Most American consumers eat roasted cashews either alone or as an ingredient in a variety of desserts and snack mixes. You can find cashews included in a variety of mixed nuts products or sold on their own.
What are cashews?
While cashews are marketed as nuts, cashews are actually seeds. These seeds come from the cashew tree which is grown and cultivated in warm climates all over the globe, although the tree is originally native to Brazil. Cashews are commonly considered tree nuts and can be compared to nuts n terms of their nutritional value. Thanks to their delicious taste and an abundance of beneficial nutrients and plant compounds, many people consider cashews a favorite treat.
Are cashews good for you?
Cashews are rich in unsaturated fats, potassium, and vitamin B6, which may help to support a healthy heart. These low-sugar "seeds" are also a great source of fiber and contain almost the same amount of protein if you were to eat the same proportion of uncooked meat. Cashews also contain a lot of copper. This essential mineral is necessary for energy production, a strong immune system, and healthy brain development. These delicious snacks are also rich in magnesium which is an important mineral that may support bone health. Cashews are also rich in iron, which is important to support healthy red blood cells. Overall, cashews are a healthy snack when eaten in moderation. Avoid eating too many cashews since this delicious seed is calorie-dense, so a little bit of cashews goes a long way. CVS offers many types of nut snacks, including cashew nuts, almonds, pistachios, peanuts, walnuts, and even cashew fruits! Shop here today!