Los miembros de CarePass
TM
Mostrando 1-4 de
4 productos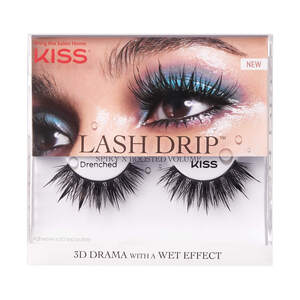 KISS Lash Drip Spiky X Boosted Volume Wet Look False Eyelashes
Kiss
Envío gratis con pedidos de $35 o más
Los precios en línea puede ser diferentes a los precios en tiendas.
Cheap false lashes
Wearing false lashes is not just meant for people who want a dramatic look. It can also help you level up your more natural makeup. If you're looking for amazing cheap false lashes, visit CVS.
If you haven't worn false lashes before, you're missing out. Many people find it hard to apply falsies, and although it can be a little challenging for beginners, practice makes perfect. Once you get used to wearing false eyelashes, you will appreciate it more.
Cheap false eyelashes do wonders to strengthen your real lashes because you won't have to use copious amounts of mascara to lengthen and curl your lashes. It's also the simplest way to change your makeup look, especially when you are heading to a big event.
Aside from all those benefits, cheap false eyelashes can also protect the skin around your eye area. If you don't wear falsies, you may wipe and rub your makeup around your eye when you're washing it off. This is not recommended since it's one of the most delicate areas of your face.
False lashes come in a lot of styles and qualities, and most cheap lashes are made from high-quality materials, so it not only makes your eye makeup look better, but it's also very comfortable to wear.
Best Cheap False Lashes
The best cheap false lashes will complete your look and can be a more affordable option compared to eyelash extensions. Before applying the best cheap false lashes, make sure to prime your eyelashes by curling them.
It is also recommended to cut the falsies to fit your lash line. If they are too long, they may look unnatural. After cutting it, shape the band by bending it. This will help the falsies hug your eyelids better.
Then, using a tweezer, hold your falsies and apply a thin coat of dark eyelash glue on the band. You can also use white glue since it will dry clear. Give it time to dry, which can take around 10 to 20 seconds. This will allow the lashes to stick better.
Finally, put the lashes in place and press them as close to your lash line as possible. If you still see the lash strip, cover it with your favorite liquid eyeliner.
Just like any makeup essential, it is recommended to experiment with different designs of lashes to see which one works best for you. Want to shop for the best cheap false lashes? Visit CVS.