Los miembros de CarePass
TM
Mostrando 1-4 de
4 productos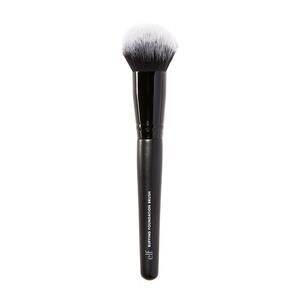 e.l.f. Selfie - Brocha difuminadora de base
e.l.f.
Los miembros de CarePass
TM
Limit 4 per order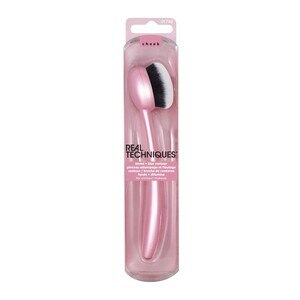 Los miembros de CarePass
TM
Los precios en línea puede ser diferentes a los precios en tiendas.
Contour brush
The type of makeup brush you use depends on what type of product you're applying and the look you want to achieve. With a contour brush, you'll get a beautiful, sculpted look thanks to its unique design. Contour brushes are large, flat-structured brushes with densely packed bristles. They're designed to apply contouring products along your forehead, jawline, nose, and cheekbones to get a beautifully sculpted look. You can also find contour brushes that blend to help you get a softer, glowing effect. These brushes are large with an angled top and have a medium bristle density to help you blend your bronzer or contouring product evenly onto the face.
What Brush to use to contour
When choosing a brush to contour, always make sure that it has a large size and soft yet densely packed bristles. The handle of your contour brush should be comfortable to use and lightweight, so it's ergonomically comfortable for proper application. Contour brushes come in several shapes that range from angled and flat to curved. You can use a variety of these brushes in different shapes to give you the look you desire. A brush with a structured shape allows for precise application, while something with an angled design is ideal for the cheeks or forehead. Contour brushes may also be listed as sculpturing brushes or bronzer brushes. As long as it is wide with dense bristles, it should work well to help you achieve that perfectly contoured look.
How to use a contour brush
To use a contour brush, start by dipping or sweeping the brush across your contour powder to apply the product to the brush, then use the contour brush to sculpt your facial bone structure. You can add the powder anywhere you want to create a shadow. Next, highlight your face using the brush to illuminate and accentuate the high points of your face. This will help to bring out your favorite facial features, whether it's your nose, cheekbones, or forehead. Once you've finished using the contour brush, complete the look by brightening up your cheeks with a beautiful blush. Use a blush brush to apply the product to the apples of your cheeks for a perfectly contoured look.