Mostrando 1-1 de
1 productos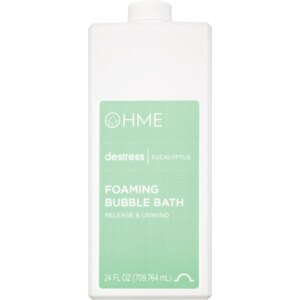 OHME Destress Bubble Bath, 24 OZ
OHME
Los miembros de CarePass
TM
Los precios en línea puede ser diferentes a los precios en tiendas.
What Causes Dry Skin?
If you have dry skin, you probably deal with a myriad of issues like tender, itchy skin, and flakiness. Thankfully, lotion for dry skin can help to remedy the issue, even if it's only temporary. You'll find lotion for dry skin for the face and body, depending on where you deal with dry skin the most. Before you purchase a new lotion for your skin, read on to learn how they work along with some helpful tips to help you get relief from the problem of dry skin.
Best Moisturizer For Dry Skin
You'll discover all kinds of different brands and formulas that claim to give you relief from your dry skin woes. When you're researching lotion for dry skin, there are a few key ingredients to be aware of so you know the product will give you the soothing hydration you need. Look for ingredients like shea or coconut oil and butter, both of which are an excellent, natural way to deliver moisture to parched skin. Vitamins are also essential in body and facial lotions. The ingredient retinoic acid is a form of vitamin A that can reduce fine lines and wrinkles by increasing your body's ability to produce collagen. This results in plumper, hydrated skin that has a youthful appearance.
Body Lotion For Dry Skin
Important vitamins in your lotion should include vitamins C and E. These two vitamins have impressive antioxidant properties. Once you've chosen the perfect lotion, try to apply it to your body after bathing or showering. When you add moisturizer to your skin after a shower, it helps the lotion trap the moisture that's already on your skin. Reapply the lotion throughout the day as needed. If your skin is especially dry, consider an ointment rather than a lotion. These treatments will absorb more deeply into the skin to help prevent very dry skin from cracking.
How to Prevent Dry Skin
Besides using lotion for dry skin, there are other things you can do to get relief. First, consider using a humidifier to make the air in your home moist. Take warm baths and showers and avoid water that's extremely hot, since this can make dry skin even worse. If you prefer a bath, use bath oil to help deliver additional moisture to your skin in one easy step. Keep the temperature in your home as cool as possible since hot air is often drier than cool air. Wear a lip balm to moisturize and soothe dry, cracked lips.
Búsquedas relacionadas
body moisturizer, loción para el cuerpo, dry skin treatmeant, skin care sale