Mostrando 1-1 de
1 productos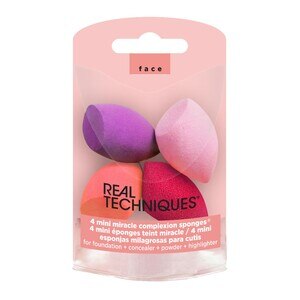 Los miembros de CarePass
TM
Los precios en línea puede ser diferentes a los precios en tiendas.
Eye Makeup Brush Set
Your eye makeup brush set could have a variety of options. Here is a beginner's guide to eye makeup brushes:
• Blending brush: This helps when you want to wear more than one color of eyeshadow. It will help you blend them together seamlessly.
• Small, dense blending brush: This brush is used to apply shadow all over your eye area as a base. 
• Fluffy blending brush: This brush can help you create a gradient that looks natural. This is good for a dramatic look or a smokey eye.
• Large, domed blending brush: Good for buffing, blending, and highlighting colors without harsh lines.
• Crease line brush: This helps put shadow in your crease, adding depth to your look. This works well on the inner corner of your eye.
• Script liner brush: Helps you create delicate patterns on your eyes. This is a good artistic brush.
• Contour brush: The angled edge of this brush helps you contour your eyeshadow. 
• Winged eyeliner brush: This is great for drawing wings and can be used with gel or liquid eyeliner. 
• Precision concealer brush: This helps you apply and blend concealer around your eyes. 
• Pencil brush: This softens and smudges outlines. 
• Smudge brush: This smudges and helps blend pigmented shadows. 
Face Makeup Brush Set
A face makeup brush set is essential for someone who does their makeup daily. Here are the most common face makeup brushes:
• Powder brush: There are different powder brushes for different powders. For light coverage, use a fluffy brush. For full coverage, use a dense brush.
• Blush brush: Base your brush on how you apply your blush.
• Contour brush: Choose a brush that is larger than an eye brush but smaller than a face brush. 
• Bronzer brush: Use in the places you want all-over dimension.
• Kabuki brush: This is good for powder, bronzer, blending, and buffing. 
• Foundation brush: Can be used with cream or liquid foundation. 
• Beauty Sponge: Applies foundation evenly. 
• Fan brush: This is for highlighting, and sweeping up mistakes. 
Travel Makeup Brush Set
When putting together your travel makeup set, you have to decide what you really need. Make it simple and choose the four brushes that are the most essential. Or, look for a travel makeup brush set that is compact to take with you.