Cómo conseguirlo
Recogida no disponible
Cambiar tienda
Los miembros de CarePass
TM
Mostrando 57-58 de
58 productos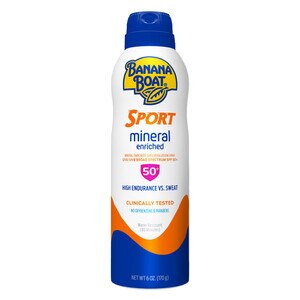 Banana Boat Sport Mineral SPF 50 Enriched Sunscreen Spray, 6 OZ
Banana Boat
o
en pedidos de $35 o más.
Bare Republic Mineral Body Sunscreen Spray SPF 30, Coco-Mango, 6 OZ
Bare Republic
o
en pedidos de $35 o más.
Los precios en línea puede ser diferentes a los precios en tiendas.
Best Mineral Sunscreen
You already know about the dangers of sun exposure and how important protector solar is when it comes to proper sun protection. When it comes to choosing a sunscreen, there are two main types: chemical and mineral. In essence, chemical sunscreens contain a wide variety of chemical compounds designed to protect you from the sun's harsh rays. But mineral sunscreen offers the same level of protection with a wide range of other benefits.
What Is Mineral Sunscreen?
Mineral sunscreen works using two minerals: óxido de cinc and titanium dioxide. These two natural ingredients sit on top of your skin, helping to reflect UV rays away from the skin's surface. With chemical sunscreen, it absorbs the UV rays and uses a chemical reaction to dissipate the sun's rays so they never hit your body. The downside to a chemical sunscreen is that it must be absorbed into the skin before it can be effective, thereby causing you to absorb potentially harmful chemicals into your body.
Best Mineral Sunscreen For Face
The best mineral sunscreen for your face should be a broad-spectrum formula with an SPF of 30 or more and protects against both UVA and UVB rays. Mineral sunscreens help deflect the rays away from your skin to protect it from damage. Choose a mineral sunscreen that contains titanium dioxide and zinc oxide for the best protection. The FDA has deemed these two ingredients to be generally safe as well as effective against sunburn and skin damage. Mineral sunscreen is usually less irritating than chemical sunscreen, which makes it a smart choice for delicate facial skin.
Natural Mineral Sunscreen
If you're looking for a more natural type of sunscreen, the mineral format is best. Since minerals are used as the active ingredients, they're considered non-harmful to your health. They create a physical barrier between your skin and the sun naturally without the need for harsh chemicals. Mineral sunscreen is safe to use on babies, and it's a great way to protect your little one in a more natural, safe way. In essence, the minerals in mineral sunscreen are like microscopic mirrors that rest on the surface of your skin and reflect the sun's harmful rays away from you.
Mineral Vs Chemical Sunscreen
You may wonder if mineral sunscreen is better than chemical sunscreen. Here are the differences between the two sunscreen types to help you choose what's best for your skin:
Chemical sunscreen absorbs UV rays, while mineral sunscreen reflects the rays and works as a protective barrier.

Most chemical sunscreens contain synthetic ingredients that aren't always great for your skin or your body. Mineral sunscreens use natural ingredients that won't cause any unpleasant side effects or dangerous issues with regular use.

A chemical reaction dissipates the UV rays when you use chemical sunscreen. This is a fairly effective way to protect your skin, but the ingredients can often cause irritation, particularly on those with sensitive skin.

Mineral sunscreen sits on top of your skin to protect it, while chemical sunscreen actually absorbs into the skin.

Chemical sunscreen feels light upon application since it absorbs into the layers of the dermis. Mineral sunscreen tends to feel "heavier" on the skin due to the way that it works to protect you from UVA and UVB rays.
Tips For Applying Mineral Sunscreen
While most mineral sunscreen is just simply the minerals you need for proper sun protection, some formulas may contain a combination of both minerals and chemicals. Always read the label and ingredients list so you can be sure that you're getting pure mineral sunscreen. You can use this type of sunscreen for a variety of activities including camping, fishing, and just general sun exposure. If you plan to spend time in the water, look for a mineral sunscreen that is also waterproof for added protection.
Since mineral sunscreen does not absorb directly into the skin, be aware that it may leave a slight residue behind after application. This can be easily cleaned with mild soap and water after you're done spending time in the sun. When it comes to natural protection, mineral sunscreen is an excellent alternative and is safe for sunbathers and outdoor lovers of all ages.
Búsquedas relacionadas
zinc oxide sunscreen,  best sunscreen for kids,  beta carotene best sunscreen for sensitive skin