Mostrando 1-3 de
3 productos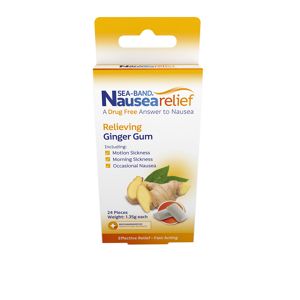 Sea-Band - Chicle antináuseas, Ginger
Sea-Band
Los miembros de CarePass
TM
Limit 4 per order
Los precios en línea puede ser diferentes a los precios en tiendas.
If you're pregnant, you may be familiar with the unpleasant side effects of morning sickness. This is a common occurrence in many pregnant women and can include an array of symptoms like nausea, dizziness, and fatigue. To help combat these issues, you can utilize a morning sickness relief treatment that works to help you feel better. Whether you're pregnant for the first time or not, it's a good idea to use a treatment that will help ensure your bouts of morning sickness are at least a little more tolerable. Prior to using any products or treatments to help combat to your morning sickness, it is important to talk to your doctor or OBGYN to make sure the treatment is right for you.
Ginger for Morning Sickness
Ginger has the ability to settle and soothe an upset stomach. You can find ginger tea, ginger preserves, and even ginger chews. As a natural healing root, ginger can be a non-prescription morning sickness. Sipping on a glass of ginger ale can settle an upset stomach, too. If you choose to take a ginger supplement, 125 to 250mg of ginger extract every 6 hours may improve symptoms of nausea and vomiting of pregnancy
Morning Sickness Bands
You can find wristbands that are meant to help fight nausea when applied directly to acupressure points. These bands are usually designed for a variety of types of nausea including motion sickness and morning sickness. One great benefit of using bands is that there are no drugs required, and there are little to no side effects. You should select a band that will fit your wrist and always follow the directions on the package for best results. While morning sickness bands aren't a guarantee, they can provide pregnant women with some relief.
Morning Sickness Relief Through Your Diet
Some foods can worsen your morning sickness, so try your best to identify which foods may make yours worse and then avoid them whenever possible. Spicy and greasy foods should be avoided in order to help avoid an upset stomach or heartburn. Avoid eating late at night if you can since late-night eating can trigger the symptoms of morning sickness. Use light foods like galletas saladas, Jell-O, and peppermint tea to help soothe your upset stomach. If you need to take medication as part of your morning sickness relief plan, be sure to consult with your doctor first to be sure what you take is safe for you and your upcoming new arrival.
Búsquedas populares