Mostrando 1-1 de
1 productos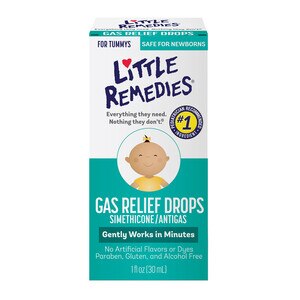 Little Remedies Gas Relief Drops, Natural Berry Flavor, Safe For Newborns, 1 fl oz
Little Tummys
o
en pedidos de $35 o más.
Los precios en línea puede ser diferentes a los precios en tiendas.
Best Natural Gas Relief
Some natural remedies for relieving trapped gas might work better for some people than others. Much of the evidence for at-home methods is anecdotal. You may have to try to see what works best and fastest for natural gas relief. Expelling trapped gas, either by burping (belching) or passing gas (flatus), is a quick way to relieve gas pressure in the digestive system.
How To Relieve Gas Pain
There are products available that can help relieve food-related gas pain and bloating. Lactase is the active ingredient in products such as Dairy Ease and Lactaid. Both products are packaged forms of the enzymes needed to break down the carbohydrates that can cause gas pain for people who cannot digest them. Consume them when eating dairy foods to help break down lactose and lessen gas. Beano helps process the indigestible carbohydrates in beans and other gas-producing foods. Over-the-counter gas remedies include:
• carbón vegetal activo
• Beano
• Enzima lactasa
• Pepto-Bismol
• Simethicone
Mild physical activity can encourage motility and help move intestinal gas and eliminate uncomfortable abdominal bloating. Movement may help you expel the gas. Even going for a walk may be sufficient movement to relieve gas and bloating in some cases. At least 30 minutes or more of exercise three or four days a week may help minimize bloating and belching.
Tips For Gas Pain Relief
Look for ways to lower your risk of developing pain from trapped gas by keeping track of what and how you eat. Try keeping a food diary. Maintaining a food diary helps to identify the foods and other factors that led to gas pain. You can pinpoint possible issues by eliminating foods one by one. Then you can avoid those foods or behaviors that appear to cause gas.
Here are some tips for gas pain relief:
• Drink plenty of water and stay hydrated.
• Choose noncarbonated beverages.