Mostrando 1-4 de
4 productos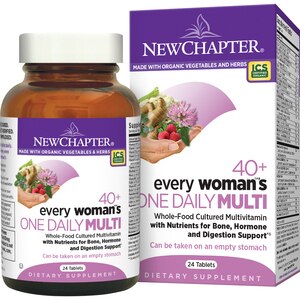 New Chapter Every Woman's One Daily Multi 40+ Tablets
New Chapter
Los miembros de CarePass
TM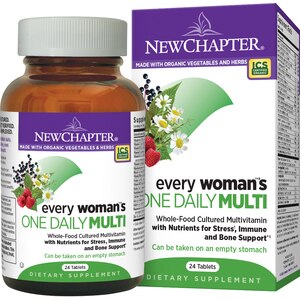 New Chapter Every Woman's One Daily Multi Tablets
New Chapter
Los miembros de CarePass
TM
Los precios en línea puede ser diferentes a los precios en tiendas.
Probiotics For Women's Health
Probiotics can promote a healthier digestive system, give you more energy, and strengthen your immune system. When it comes to finding a probiotic for women, how do you know which one to choose? Between the endless array of gummies, pills, and capsules available, finding a great probiotic might seem like a challenge. Luckily, there are some things to be aware of that can help you select the right probiotic for women to encourage a healthy lifestyle and improve your well-being.
Best Probiotic For Women
As you browse the endless array of probiotics for women, you may not be sure which one is best for your health needs. Make sure you select a product that has at least 10 billion live organisms per dosage whenever possible. This ensures that you will have ample bacteria throughout the shelf life of your product. Too little organisms mean that they could all die before you even finish the bottle! When you take the probiotic for women, be sure to do so with purified water. City water usually has some chlorine in it, which may actually kill the organisms before they can even reach your gut. You should also take them on an empty stomach for best results since this is when the level of acids in your stomach are lower.
Women's Probiotics And Prebiotics
If you really want your probiotic for women to be effective, you need to make sure you're giving it a nurturing environment. These friendly bacteria need the right environment to flourish and thrive. You can do this by adding prebiotic fiber to your diet or to your supplement routine. Some probiotic products also contain prebiotics which will make this much easier. If you prefer to get your prebiotics from food, there are plenty of great options to choose from. Onions, dandelion greens, garlic leeks, and jicama are great examples of healthy foods that contain naturally high levels of prebiotics.
Probiotics For Women Benefits
Probiotic products may contain some or all of the many different "strains" of healthy bacteria available. Some newer products could contain as many as 14 different strains in one! There are five main organisms that should always be included in your probiotic for women. That includes lactobaccilus plantarum, lactobaccilus acidophilus, lactobaccilus brevis, bifidobacterium lactis, and bifidobacterium longum. Read labels carefully and see if you can find some or all of these helpful strains. The more variety of bacteria in your probiotic, the more effective they will be. If you're not sure about taking a probiotic or you need more information, talk to your doctor before you start taking them. With regular use, you can experience a healthier gut and a healthier life.