Pumice stones are natural, unique beauty tools that can help to soften calluses and corns and give you smooth, supple feet. Pumice stones are formed when lava mixes together with water. You can find pumice stones in a variety of different sizes and formats. Before you use one, it's important to understand how to properly apply them to your skin for best results.
Los miembros de CarePass
TM
Mostrando 1-2 de
2 productos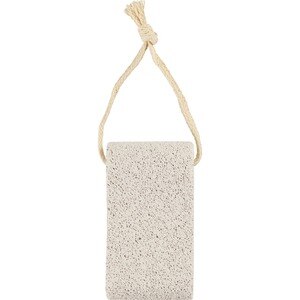 Los miembros de CarePass
TM
Limit 2 per order
Los precios en línea puede ser diferentes a los precios en tiendas.
Pumice Stone Basics
Many pumice stones feature a soft side that allows you to buff the skin and an abrasive side made to tackle rougher areas of the skin. You can use a pumice stone on your feet and hands, but if you choose to use it on the face, neck, or elbows, it's a good idea to use it while in the shower. Over time, the size of your pumice stone may decrease after heavy use. This is because the surface has become worn down. When this happens, discard it and purchase a new one so you can enjoy its effective exfoliating properties. As you use the stone, be sure to use gentle motions so as not to irritate or hurt your skin.
How to Use a Pumice Stone
Before you use your stone, you'll need to gather a few supplies including a large bowl of warm soapy water, a clean towel, and skin moisturizer. First, soak your skin in the water for at least five to 10 minutes. This process will help to ensure that your skin is soft. You can add oil or soap to the water if you choose. This process is for the hands and feet only. If you want to use the pumice stone on your face, knees, or elbows, perform this process in a warm bath or in the shower.
Soak your pumice stone in warm water while you are soaking your skin. This will help it to smoothly glide across your skin and reduce the risk of irritation. Once your feet or hands and the stone are properly soaked, you can begin running the abrasive side of the stone over your skin in a circular motion. Be sure to use gentle, light pressure and massage the skin for a few minutes. When focusing on the feet, pay special attention to the heels, sides of your toes, and other areas you notice severe dryness. Continue the rubbing process until you have removed dead skin. You should notice smooth, soft skin beginning to appear. Apply a moisturizer as needed for smooth, supple skin.
Búsquedas populares
cocamidopropyl hydroxysultaine, adhesivos, witch hazel toner, ice bags