Lotions With Salicylic Acid
Mostrando 1-1 de
1 productos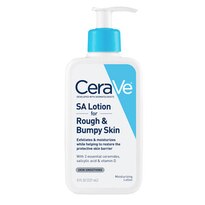 Los precios en línea puede ser diferentes a los precios en tiendas.
Lotions With Salicylic Acid 
Feel good in your skin when you apply lotions with salicylic acid after your shower. Moisturizer with salicylic acid is a dual-purpose product. The salicylic acid helps exfoliate, and the moisturizer helps hydrate. Winter can dry out your skin, but you can feel the benefits of using a lotion with salicylic acid all year. 
What are the Best Lotions With Salicylic Acid Brands?
What Are the Benefits of Salicylic Acid in Lotion?
Salicylic acid helps remove dead skin cells, which may leave your skin feeling softer than before you used it. Used alone in topical form, salicylic acid can be drying to your skin. Moisturizers with salicylic acid may counterbalance that dryness, as moisturizers help add moisture to your skin and lock it in. 
"Hidratante" refers to several products that work similarly but have some differences: 
Lotion: Tends to feel lighter on the skin than a cream or an ointment 

Cream: Tends to be thicker and more hydrating than lotion since it has a higher oil content 

Ointment: Tends to be the thickest and most hydrating compared to lotion or cream   
The function of salicylic acid is the same regardless of the type of moisturizer, so select your cuidado de la piel product based on the level of hydration your skin needs. 
What Lotions Have Salicylic Acid?
Check the product packaging to see if a lotion contains salicylic acid. Some may indicate the strength, as a percentage, of salicylic acid. A higher amount typically means a more potent product, but consult a doctor or pharmacist for clarification. Following are several examples of lotions that contain salicylic acid.
For dry skin:CeraVe SA Lotion with salicylic acid also includes ceramides to help restore your skin's protective barrier. 

For psoriasis:Gold Bond Psoriasis Relief cream contains salicylic acid and other active ingredients to help fight the itchiness and scaling caused by psoriasis. Recognized by the National Psoriasis Foundation for helping to control the recurrence of symptoms, it contains the maximum strength of salicylic acid in an over-the-counter product. 
Where Can I Buy Lotions With Salicylic Acid?
You can buy body lotion with salicylic acid at drugstores, such as CVS. Products sold in stores typically have a lower strength of salicylic acid than a product a doctor may prescribe. Visit a health care professional to find the best treatment option for your condition.