Los miembros de CarePass
TM
Mostrando 1-4 de
4 productos
Envío gratis con pedidos de $35 o más
SheaMoisture - Limpiador y exfoliante facial, African Black Soap, 4 oz
SheaMoisture
Compre 1, lleve 1 al 50% - ¡Agregue 2 o más para recibir la oferta!
Los miembros de CarePass
TM
Limit 2 per order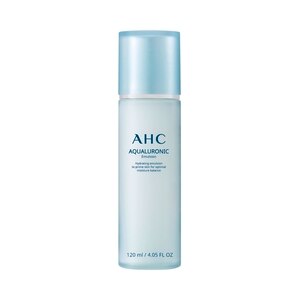 AHC Aqualuronic Emulsion Face Lotion for Dehydrated Skin with Triple Hyaluronic Acid, 4.05 OZ
AHC
Los precios en línea puede ser diferentes a los precios en tiendas.
Toner For Oily Skin
If you have a skincare routine, you're probably familiar with toner as part of a full regimen. For those with oily skin, toner can be an extremely beneficial addition to your skincare plan. If you're looking to purchase toner for oily skin, there are a few crucial things to keep in mind. Read on to discover more about toner and how it can give you a smooth, clear, and flawless complexion with regular use.
What Is A Good Toner For Oily Skin?
Toner typically comes in a liquid and may be referred to as an astringent. Most toners have a high alcohol content, which means they're quite drying on the skin. For those with an oily complexion, toner can remove excess oil and unclog your pores. However, toner with too much alcohol can actually strip your skin of its natural oils, leaving it irritated and dry. Make sure you choose a toner that's specifically formulated for people with oily skin. These toners usually contain additional ingredients that can fight blemishes and keep your skin healthy and protected.
How To Use Toner For Oily Skin
You should only use toner on clean, dry skin. If you need to remove makeup, a makeup remover or towelette is recommended. Before you apply toner to your face, make sure your skin is makeup-free and that you're not suffering from irritation like sunburn or other skin damage. When you apply the toner to your skin, use a soft cotton ball or cotton pad. Apply the toner to the cotton, then gently wipe it across your face, paying special attention to the T-zone. The T-zone is the area across your forehead, cheeks, chin, and nose. Follow the directions on the bottle to ensure that you're applying the toner according to the manufacturer's recommendations.
Applying Face Toner For Oily Skin
It's best to use toner for oily skin just once per day. You can do this in the morning after you shower and wash your face. Let the toner dry completely before you apply any makeup or other products to your face. If you notice that the toner is causing irritation or drying your skin too much, you may need to switch brands or only use toner a few times per week. Allow your skin time to adjust to toner. Even if your skin is oily, the ingredients in many types of toner can be harsh until your skin has time to acclimate. When used correctly, toner can be an extremely beneficial addition to your skincare routine.
Búsquedas relacionadas
alcohol free toner, natural toner, toner for acne, charcoal face wash, new face products