Mostrando 1-3 de
3 productos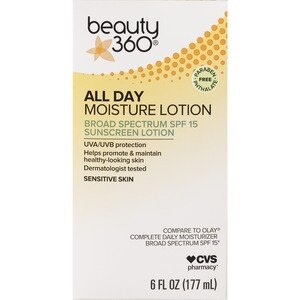 Beauty 360 All Day Moisture - Loción hidratante, 6 oz, FPS 15, para piel sensible
Beauty 360
Los miembros de CarePass
TM
Limit 6 per order
Los precios en línea puede ser diferentes a los precios en tiendas.
Vitamin E Cream
Vitamin E contains several nutrients that are an important part of good health. This compound is fat soluble, meaning that it needs fat in order to be absorbed into your body. When it comes to skin care, vitamin E cream is a popular choice since it offers a myriad of helpful benefits. You can also find it naturally in some foods including avocados, sunflower seeds, spinach, and olive oil.
Vitamin E Benefits For Skin
Vitamin E is known to have anti-inflammatory properties so it helps to prevent skin problems like redness and puffiness. It may also help to prevent the signs of aging and reduce the appearance of wrinkles. Vitamin E cream is also used to help people reduce the look of or even totally eliminate scars on the body. Some people prefer to apply pure vitamin E oil directly to the skin, but you should consult your doctor first since some people report an allergic reaction. In cream form, it is mixed with a variety of other ingredients so it's less potent.
Vitamin E Moisturizer
If you see a product sold as vitamin E cream, it simply means that the vitamin has been added to the formula. The amount of vitamin E in the cream you choose can vary depending on the manufacturer. These products are not regulated, so there's really no way to tell exactly how much of the vitamin is in the cream you select. Try a few different brands until you determine which one will work best for your needs.
Vitamin E Lotion For Anti-Aging
You'll see that most vitamin E creams are sold for anti-aging purposes. Since this valuable nutrient will smooth your skin, it should reduce the amount of damage to the layers of the dermis. It can also help protect your skin from UV radiation, according to some studies. Try a small amount of the cream on your arm or wrist to make sure you don't have an allergic reaction before you apply it to your face. Always apply it to clean, dry skin and use clean fingers.
Vitamin E cream is typically heavier than some other products thanks to its oil-soluble properties. If you have acne prone or oily skin, you may want to steer clear of using it since it may cause clogged pores. Anyone dealing with dry skin can benefit greatly from vitamin E cream since it moisturizes and protects your skin. It can also help to protect you from free radical and sun damage with regular use.
Búsquedas relacionadas
adenosine cream, alpha hydroxy acid, xilitol, flouride
,
crema de vitamina e
,
aloe vera cream