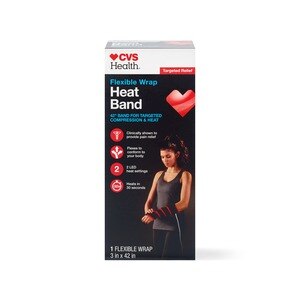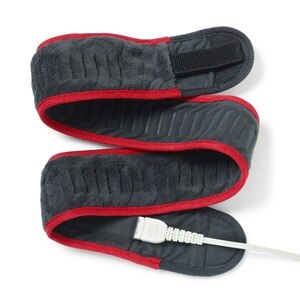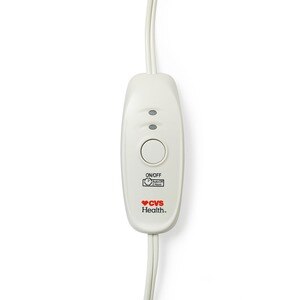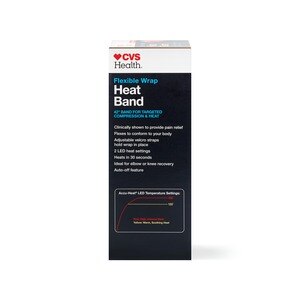 CVS Health Heat Band
1 C/U, 0.7 lb. N.° de artículo: 585523
Provides targeted heat for relief of sore muscles
Flexible to conform to your body
Heats up in just 30 seconds
42'' wrap for extended comfort
Two heat level settings
When your muscles are sore, nothing feels better than direct heat right on the area of the muscle. While a heating pad can be great, it is difficult to get the heat right where you want it in many cases. This CVS Health Heat Band lets you wrap the heat around the impacted area so that you can get the heat exactly where you want it. This will help to soothe your sore muscles faster and more effectively than ever.
Being able to wrap the heated material around your arms, legs, shoulders, knees, or even chest is a great way to get the relief and comfort that you need. This heating band is a great option whether you need relief after a hard day at work, a hard day at the gym, or experiencing some type of injury. You will love being able to apply heat directly to the area where you need it.
This heating band has two heat settings, so you get the warmth you need without being too hot. It heats up in just 30 seconds, so you can start enjoying the heat right away. It is 42'' long, so you can wrap it around the area that is needed with complete coverage.
Get the targeted heat you need by picking up this CVS Health Heat Band at your local CVS Pharmacy or order it online at CVS.com today.
Specifications

| | |
| --- | --- |
| Problema | Reparación de lesiones |
| Etapa de vida | Adulto |
| Tipo de producto | Terapia de frío y calor |
| Cantidad | Paquete individual |
Dry Heat Therapy
1. Plug the power cord into 120VAC, 60 Hz. electrical outlet.
2. Set the controller to desired setting.
3. Wrap heat band on the area needing heat.
4. Press the OFF Button and unplug power cord when finished.

Moist Heat Therapy
1. Unplug band from 120VAC, 60 Hz. electrical outlet.
2. Dampen one side of the heating pad with a spray bottle, sponge or cloth.
a. DO NOT immerse heat band in water or place under running water.
b. DO NOT spray water on the connector.
3. Follow Dry Heat Therapy steps 1 and 2 above.
4. Wrap heat band on the area needing heat.
5. Press the OFF Button and unplug power cord when finished.
DANGER: TO REDUCE THE RISK OF SERVERE BURNS, ELECTRIC SHOCK, AND FIRE, THIS
PRODUCT MUST BE USED IN ACCORDANCE WITH THE FOLLOWING INSTRUCTIONS:
1. READ ALL INSTRUCTIONS BEFORE USING.
2. DO NOT USE WHILE SLEEPING. DO NOT USE THIS WRAP ON INFANTS, IMMOBILE
PERSONS, OR ANYONE INSENSITIVE TO HEAT, SUCH AS A PERSON WITH POOR
BLOOD CIRCULATION OR DIABETES.
3. DO NOT USE ON AREAS OF INSENSITIVE SKIN.
4. BURNS CAN OCCUR REGARDLESS OF CONTROL SETTING. CHECK SKIN UNDER
PAD FREQUENTLY.
5. DO NOT TUCK IN THE WIRED AREA OF THIS PRODUCT.
6. DO NOT ROUTE ELECTRICAL CORDS BETWEEN MATTRESS AND BOX SPRING.
DO NOT ALLOW CORDS TO BE PINCHED.
7. KEEP THE CONTROL AWAY FROM DRAFTY AREAS THAT MAY BECOME DAMP
OR WET SUCH AS AN OPEN WINDOW.
8. DO NOT USE PINS OR OTHER METALLIC MEANS TO FASTEN THIS WRAP IN
PLACE – THEY MAY DAMAGE THE ELECTRICAL WIRING.
9. BE SURE THAT THIS PRODUCT IS USED ON AN ALTERNATING-CURRENT
SUPPLY CIRCUIT OF THE PROPER VOLTAGE. DO NOT USE WITH AN EXTENSION
CORD.
10. THIS PRODUCT MAY EXPERIENCE INCREASED HEAT IN AREAS WHERE WRAP IS
BUNCHED OR FOLDED WHILE IN USE.
11. DO NOT USE ON DOGS, CATS, OR OTHER PETS. THEY COULD BE INJURED
AND/OR DAMAGE THE PRODUCT.
12. TURN OFF OR UNPLUG WHEN NOT IN USE.
13. IF A MALFUNCTION OF THIS WRAP IS OBSERVED, DISCONTINUE USE
IMMEDIATELY AND CONSULT THE MANUFACTURER REGARDING ITS REPAIR.
14. NEVER PULL THIS WRAP BY THE SUPPLY CORD. DO NOT USE THE CORD AS A
HANDLE.
15. WRAPPING OF CORD AROUND THE CONTROLLER MAY DAMAGE THE CORD.
LOOP LOOSELY WHEN STORING.
16. CAREFULLY EXAMINE WRAP BEFORE EACH USE. DISCARD THE WRAP IF IT
SHOWS ANY SIGN OF DETERIORATION.
17. DO NOT USE THE WRAP WITH LINIMINT, SALVE, OR OINTMENT PREPARATIONS
THAT CONTAIN HEAT PRODUCING INGREDIENTS. SKIN BURNS CAN RESULT.
18. DO NOT USE THE WRAP WHEN SYMPTOMS OF APPENDICITIS ARE PRESENT.
CONSULT YOUR PHSICIAN.
19. CONTROLLER IS NOT WATERPROOF.
20. CONSULT PHYSICIAN FOR USE OF WRAP WHILE ON CONTROLLED
SUBSTANCES.
21. DO NOT USE WRAP WHILE CONSUMING ALCOHOL.
22. DO NOT USE WRAP WITH ANOTHER HEATING PRODUCT.
23. DO NOT USE WITH ROCKING CHAIRS, RECLINERS, CHAIRS WITH CASTERS OR
WHEELS, OR OTHER FURNITURE SUBJECT TO MOVEMENT.
24. DO NOT TUCK WRAP OR SUPPLY CORD IN A SOFA OR OTHER FURNITURE. TODOS
PORTIONS OF THE WRAP AND CONTROLLER SHOULD BE VISIBLE AT ALL TIMES.
25. DO NOT DRY-CLEAN THIS WRAP. DO NOT IRON THIS WRAP.
26. THIS APPLIANCE HAS A POLARIZED PLUG (ONE BLADE IS LARGER THAN THE
OTHER) AS A SAFETY FEATURE. THIS PLUG WILL FIT INTO A POLARIZED
OUTLET ONLY ONE WAY. IF THE PLUG DOES NOT FIT FULLY INTO THE OUTLET,
REVERSE THE PLUG. IF IT STILL DOES NOT FIT, CONTACT A QUALIFIED
ELECTRICAN. DO NOT ATTEMPT TO DEFEAT THIS SAFETY FEATURE.
From CVS Health
See all CVS Health products
Productos relacionados
Boiron
HSA/FSA EligibleTemporarily relieves symptoms of hemorrhoids suach as: burning, itching, swelling, pain, discomfort. Helps shrink hemorrhoids. Relieves hemorrhoid symptoms following childbirth. Age verification required for purchase * State restrictions apply for shipping. Below are the states that are eligible ...
Hyland's
HSA/FSA EligibleHyland's is proud to be a participating sponsor of the Arthritis Foundation's Let's Get a Grip on Arthritis, to support their research efforts to improve the quality of life for millions of Americans living in pain. Does pain and ...
Hyland's
Temporarily relieves symptoms of adult migraine headache including throbbing headache, pounding pain, dull headache, frontal headache, light sensitivity, noise sensitivity, dizziness, nausea and blurred vision.
*Las reseñas y calificaciones de los clientes reflejan únicamente la opinión y punto de vista de los contribuyentes individuales y no son creadas ni avaldas por CVS Pharmacy. Revise las etiquetas del producto y consulte a su médico si tiene alguna pregunta médica o de salud.