CVS Health - Suplemento de fibra natural, 75 dosis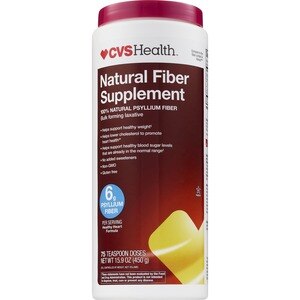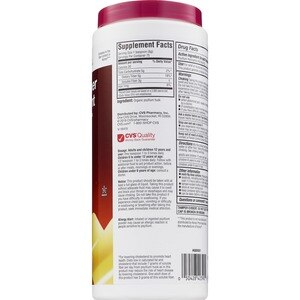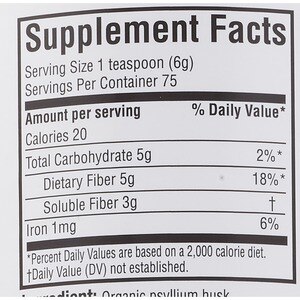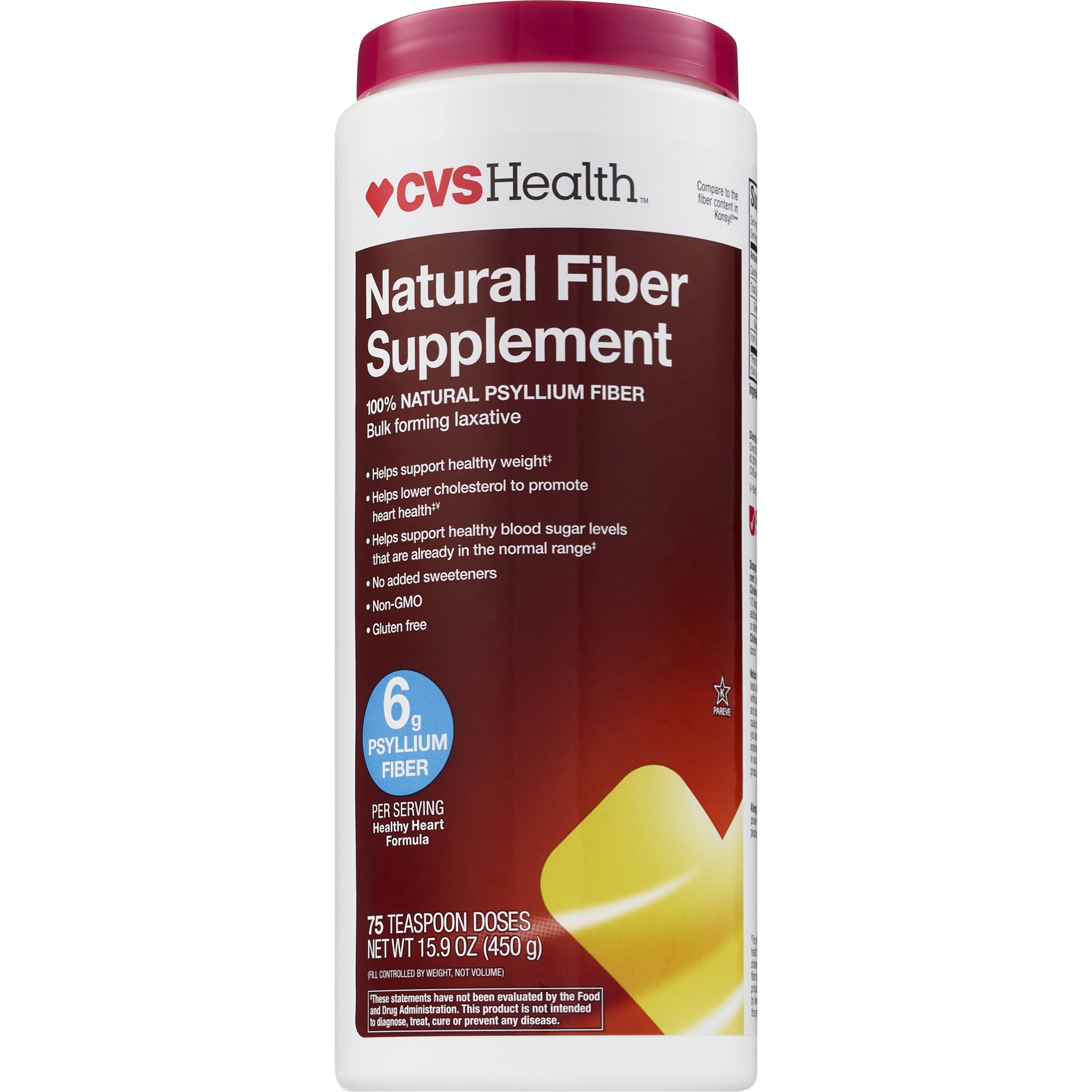 CVS Health - Suplemento de fibra natural, 75 dosis
1 u., 0.99 lb. N.° de artículo 689581
Natural fiber supplement
100% Natural psyllium fiber
Safe for pregnant women
Gluten-free
Contains no sugar or sweeteners
Helps with gylcemic and lipid control
6g Fiber per serving
Get the fiber you may need in your diet with CVS Health Natural Fiber Supplement. Diets that are low in saturated fat and cholesterol supplemented with 7 grams of soluble fiber per day may help to reduce the risk of coronary heart disease. Natural psyllium husk fiber can help to lower your cholesterol. Take this supplement to help manage your blood sugar if you have diabetes, and it contains no added sugar or sweeteners to help keep your blood sugar within optimal range.
This product is safe for pregnant women and is also recommended for adults and children ages 12 and older. Add your recommended dose of the product to eight ounces of fluid. Drink additional liquids to help aid in the product's effectiveness. You may consume this fiber supplement either before or after a meal as desired. It is non-habit forming and has no gluten or additives. Be sure to thoroughly read the directions on the container before taking this product and talk to your doctor if you have any concerns. For children under the age of 12, consult your doctor before administering the supplement.
Make sure you consume enough fluid with this product as it may cause choking. You may use water or another fluid like juice for a delicious taste. When using the fiber, start slowly and gradually increase it as you go. You may experience minor gas or bloating so start with a half-dose, increasing it over a period of several days. Follow it with another eight-ounces of fluid. It's important to note that bulk fibers might affect how your other medications work, so always wait approximately one to two hours before or after taking your other medications.
Specifications

| | |
| --- | --- |
| Problema | Diabetic support |
| Formulario | Polvo |
| Key ingredient | Calcio |
| Product type | Dietary supplements |
| Cantidad | 61-120 ct |
Serving Size (dose): 1 rounded tsp. 6.0g: Calories: 3, Carbohydrates: .05 g, Dietary Fiber: 5 g, Soluble Fiber: 3 g, Sugars: 0, Iron, * Percent Daily Values (DV) are based on a 2,000 calorie diet., + Daily Value (DV) not established. %DV*: Calories, Carbohydrates: 0%, Dietary Fiber: 20%, Soluble Fiber: +, Sugars: +, Iron: 10%, * Percent Daily Values (DV) are based on a 2,000 calorie diet., + Daily Value (DV) not established. Free From: Additives
Tamaño de la porción:
1 cucharadita colmada
Porciones por recipiente:
75
Nutrientes
Cantidad por porción
Valor diario en %
Calorías
Fibra dietaria
Fibra soluble
Hierro
Tamaño de la porción - En gramos
Dietary Fiber Supplement
Diets low in saturated fat and cholesterol that include 7 grams of soluble fiber per day from psyllium husk may reduce the risk of Coronary Heart Disease (CHD) by lowering cholesterol. One adult dose contains 3.0 grams of this soluble fiber = 6 grams of psyllium.
Adults 12 years and older: 1 rounded teaspoonful in 8 oz. fluid 2 times daily, follow with additional fluid to aid product action, before or after meals, mornings or evenings.
Niños menores de 12 años: consulte a un médico.
Starting Out
When using this product, physicians recommended a gradual increase in dietary fiber. If minor gas or bloating occurs, begin with a half-dose and slowly increase the dose over several days. Always follow with 8 oz. of fluid.
As a Fiber Laxative
Indicaciones
Mezcle este producto (dosis para niños o adultos) con al menos 8 onzas (un vaso lleno) de agua u otro líquido. Taking this product without enough fluid may cause choking. See choking warnings.
Adults and children 12 years and older: put one dose (one rounded teaspoonful) into a shaker cup or closed container; add a least 8 oz. of juice, water or other beverage; shake 3 to 5 seconds; drink promptly; if mixture thickens, add more fluid, stir; follow with additional fluid to aid product action; take 1-3 times daily.
Children 6 years to under 12 years: 1/2 adult dose, in 8 oz. fluid; 1-3 times daily.
Niños menores de 6 años: consultar a un médico.
Laxatives, including bulk fibers, may affect how other medicines work, wait 1-2 hours before or after taking other medicines.
Can be taken 1 to 3 times daily, before or after meals, mornings or evenings
Do not discard powder into any plumbing systems.
Store below 86° F (30° C)
Keep container tightly closed-protect from excessive moisture
NOTICE
Ask a doctor before use if you consider taking this product as part of a cholesterol-lowering program. See directions for use before taking this product.
ADVERTENCIAS
ALLERGY ALERT
As with any natural grain product, inhaled or ingested psyllium powder may cause an allergic reaction in people sensitive to sensitive to psyllium.
CHOKING taking this product without adequate fluid may cause it to swell and block your throat or esophagus and may cause choking. Do not take this product if you have difficulty in swallowing. If you experience chest pain, vomiting or difficulty in swallowing or breathing after taking this product, seek immediate medical attention.
DO NOT USE laxative products when abdominal pain, nausea or vomiting are present unless directed by a doctor.
CONSULTE AL MÉDICO ANTES DE USARLO SI PADECE
• a sudden change in bowel habits that persists over a period of two weeks
SUSPENDA EL USO Y CONSULTE A SU MÉDICO SI
• you experience rectal bleeding
• you fail to have a bowel movement
KEEP OUT OF THE REACH OF CHILDREN. In case of overdose, get medical help or contact a Poison Control Center right away at 1-800-222-1222
• tamper-evident bottle mouth sealed for your protection
• do not use if imprinted inner seal is broken or missing
⚠️ ADVERTENCIA: Consumir este producto puede exponerlo a químicos, incluso plomo, reconocido en el estado de California por causar cáncer. For more information, go to www.P65Warnings.ca.gov.