CVS Health Nicotine Gum Coated Ice Mint 2mg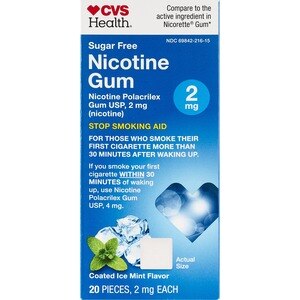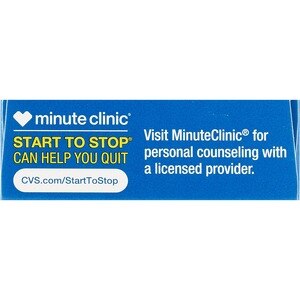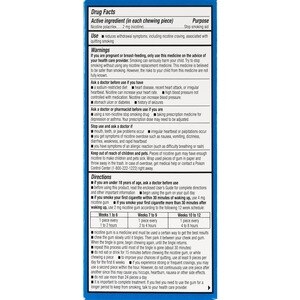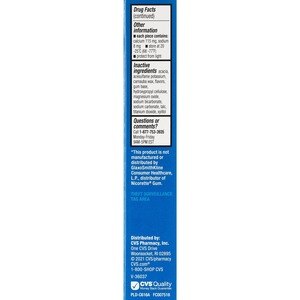 CVS Health Nicotine Gum Coated Ice Mint 2mg
20 u., 0.1 lb. N.° de artículo 978270
2mg nicotine per piece
Delicious icy mint flavor
Helps to curb cravings to help you quit smoking
Sugar-free gum
Reduces withdrawal symptoms
If you are ready to quit smoking, you will want to do everything you can to be successful.
Each piece of CVS HEalth Nicotine gum contains 2mg of nicotine. This is also a great way to break your habit of smoking since you will slowly transition from lighting up a cigarette to enjoying a piece of gum. There are multiple strengths of this gum available so you can step down the amount of nicotine you are getting over time.
Pick up a pack of this nicotine gum from CVS Health at your local CVS Pharmacy. You can compare the active ingredients to those found in Nicorette® gum and see that it is not only affordable but also very effective.
Specifications

| | |
| --- | --- |
| Problema | Adiós al cigarrillo |
| Formulario | Tabletas masticables |
| Primary flavour | Mint |
| Product type | Anti-smoking aids |
| Cantidad | 1-60 ct |
Si es menor de 18 años de edad, consulte a un médico antes de usar. Before using this product, read the enclosed User's Guide for complete directions and other important information. Begin using the gum on your quit day. If you smoke your first cigarette more than 30 minutes after waking up, use 2 mg nicotine gum. If you smoke your first cigarette within 30 minutes of waking up, use 4 mg nicotine gum according to the following 12 week schedule: Weeks 1 to 6: 1 piece every 1 to 2 hours Weeks 7 to 9: 1 piece every 2 to 4 hours Weeks 10 to 12: 1 piece every 4 to 8 hours Nicotine gum is a medicine and must be used a certain way to get the best results. Chew the gum slowly until it tingles. Luego déjelo entre las mejillas y la encía. Cuando el hormigueo desaparezca, vuelva a masticarlo hasta volver a sentir dicho hormigueo. Repita este proceso hasta que ya no sienta el hormigueo (aproximadamente 30 minutos). Do not eat or drink for 15 minutes before chewing the nicotine gum, or while chewing a piece to improve your chances of quitting, use at least 9 pieces per day for the first 6 weeks. If you experience strong or frequent cravings, you may use a second piece within the hour. However, do not continuously use one piece after another since this may cause you hiccups, heartburn, nausea or other side effects. No consuma más de 24 unidades al día. Es importante completar el tratamiento. If you feel you need to use the gum for a longer period to keep from smoking, talk to your health care provider.
Si está embarazada o en período de lactancia, use este medicamento solo bajo indicación de su proveedor de atención médica. Fumar puede perjudicar gravemente a su bebé. Intente dejar de fumar sin usar un medicamento de reemplazo de nicotina. Se cree que este medicamento es más seguro que fumar. No obstante, los riesgos para su bebé no se conocen fehacientemente. Ask a doctor before use if you have a sodium-restricted diet, heart disease, recent heart attack, or irregular heartbeat (Nicotine can increase your heart rate), high blood pressure not controlled with medication (Nicotine can increase blood pressure), stomach ulcer or diabetes, or history of seizures. Ask a doctor or pharmacist before use if you are using a non-nicotine stop smoking drug or taking prescription medicine for depression or asthma. Es posible que tenga que ajustar la dosis de su medicamento recetado. Stop use and ask a doctor if mouth, teeth, or jaw problems occur, or irregular heartbeat or palpitations occur, or if you get symptoms of nicotine overdose such as nausea, vomiting, dizziness, diarrhea, weakness, and rapid heartbeat, or if you have symptoms of an allergic reaction (such as difficulty breathing or rash). Mantener fuera del alcance de niños y mascotas. Cada pieza de chicle de nicotina puede contener suficiente nicotina como para enfermar a niños y mascotas. Envuelva los chicles ya usados con papel y deséchelos en un cesto de basura. En caso de sobredosis, acuda a un médico o comuníquese de inmediato con el Centro de Control de Intoxicaciones al (1-800-222-1222).
Productos relacionados
Ver categorías relacionadas
Does CVS Deliver CVS Health Nicotine Gum Coated Ice Mi