CVS Health, Nicotine Polacrilex Gum, Stop Smoking Aid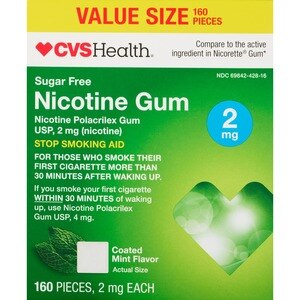 CVS Health, Nicotine Polacrilex Gum, Stop Smoking Aid
160 u., .67 lb. N.° de artículo: 456116
Elegible para HSA/FSA
Recomendado por farmacéuticos de CVS Health
For those who smoke their first cigarette more than 30 minutes after waking up
If you smoke your first cigarette within 30 minutes of waking up, consider nicotine polacrilex gum USP, 4mg
Cool coated mint-flavored gum
Smoking cessation aid
If you smoke your first cigarette more than 30 minutes after waking up, use CVS Health Nicotine Polacrilex Gum 2mg, Cool Coated Mint to help you quit. This delicious gum features a cool mint coating so it's pleasant to chew. In order to be successful when you quit smoking if using this product, you should be motivated and use this gum regularly. Chew this gum as frequently as directed, and stop smoking before you begin chewing it.
You can increase your chances of success if you use this product for as long as a healthcare provider tells you to. Be sure to use it with a support program as directed in the included user's guide. Getting both physical and mental support will help ensure that you can quit for good. Peel off the backing of the product starting at the corner with a loose edge. Begin chewing the gum until you feel a tingling sensation, then place the gum between your cheek and gums.
This product must be used exactly as directed to get the correct results. Once you chew it and notice the tingle is gone, replace it with a new piece and chew again until the tingling feeling returns. This gum will deliver a safe amount of nicotine into your bloodstream to help you decrease the feeling of nicotine withdrawal. Make sure you do not eat or drink anything for at least 15 minutes before chewing the gum and do not eat or drink while chewing it. With regular use, you'll see your withdrawal symptoms decrease and your urge to smoke disappear.
Ingredientes
Nicotine polacrilex 2 mg
Si es menor de 18 años de edad, consulte a un médico antes de usar. Before using this product, read the enclosed User's Guide for complete directions and other important information. Begin using the gum on your quit day. If you smoke your first cigarette more than 30 minutes after waking up, use 2 mg nicotine gum. If you smoke your first cigarette within 30 minutes of waking up, use 4 mg nicotine gum according to the following 12 week schedule: Weeks 1 to 6: 1 piece every 1 to 2 hours Weeks 7 to 9: 1 piece every 2 to 4 hours Weeks 10 to 12: 1 piece every 4 to 8 hours Nicotine gum is a medicine and must be used a certain way to get the best results. Chew the gum slowly until it tingles. Then park it between your cheek and gum. When the tingle is gone, begin chewing again, until the tingle returns. Repeat this process until most of the tingle is gone (about 30 minutes). Do not eat or drink for 15 minutes before chewing the nicotine gum, or while chewing a piece to improve your chances of quitting, use at least 9 pieces per day for the first 6 weeks. If you experience strong or frequent cravings, you may use a second piece within the hour. However, do not continuously use one piece after another since this may cause you hiccups, heartburn, nausea or other side effects. Do not use more than 24 pieces a day. It is important to complete treatment. If you feel you need to use the gum for a longer period to keep from smoking, talk to your health care provider.
Advertencias
If you are pregnant or breast-feeding, only use this medicine on the advice of your health care provider. Fumar puede perjudicar gravemente a su bebé. Intente dejar de fumar sin usar un medicamento de reemplazo de nicotina. Se cree que este medicamento es más seguro que fumar. No obstante, los riesgos para su bebé no se conocen fehacientemente. Ask a doctor before use if you have a sodium-restricted diet, heart disease, recent heart attack, or irregular heartbeat (Nicotine can increase your heart rate), high blood pressure not controlled with medication (Nicotine can increase blood pressure), stomach ulcer or diabetes, or history of seizures. Ask a doctor or pharmacist before use if you are using a non-nicotine stop smoking drug or taking prescription medicine for depression or asthma. Es posible que tenga que ajustar la dosis de su medicamento recetado. Stop use and ask a doctor if mouth, teeth, or jaw problems occur, or irregular heartbeat or palpitations occur, or if you get symptoms of nicotine overdose such as nausea, vomiting, dizziness, diarrhea, weakness, and rapid heartbeat, or if you have symptoms of an allergic reaction (such as difficulty breathing or rash). Keep out of reach of children and pets. Pieces of nicotine gum may have enough nicotine to make children and pets sick. Wrap used pieces of gum in paper and throw away in the trash. En caso de sobredosis, acuda a un médico o comuníquese de inmediato con el Centro de Control de Intoxicaciones al (1-800-222-1222).
*Las reseñas y calificaciones de los clientes reflejan únicamente la opinión y punto de vista de los contribuyentes individuales y no son creadas ni avaldas por CVS Pharmacy. Revise las etiquetas del producto y consulte a su médico si tiene alguna pregunta médica o de salud.