Cómo conseguirlo
Recogida no disponible
Cambiar tienda
Los miembros de CarePass
TM
Mostrando 41-47 de
47 productos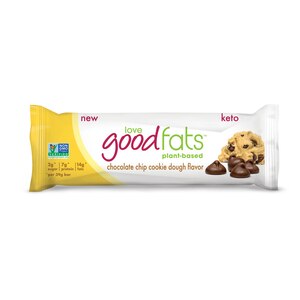 Love Good Fats Chocolate Chip Cookie Dough Keto Snack Bar, 1.38 OZ
Love Good Fats
Los precios en línea puede ser diferentes a los precios en tiendas.
Are Protein Bars Good For You?
Protein bars are a convenient, delicious way to add protein and other nutrients to your diet. Whether you are an athlete looking to fuel up before a workout or a busy worker on the go, protein bars can help you get the nutrition you need. If you're looking to get as much protein as possible within a shake or bar, try ones that have additional pea protein added. Pea protein is extracted from peas, contains 9 essential acids, and is vegan friendly! CVS offers a wide selection of nutrition bars in a variety of flavors - choose your favorite, or mix it up and try something new! Wondering where to buy protein bars? Your journey stops here - you can purchase high quality protein bars from brands you know and love at CVS. Browse our assortment and find your new go-to protein bar.
When to Eat Protein Bars
Protein bars are a great convenience item. You can throw one in your gym bag or your desk drawer at work without any effort at all. However, it is important to choose whole foods to fulfill your nutritional needs whenever possible. This means that you shouldn't regularly substitute a well-balanced meal with a processed protein bar. However, protein bars do have their place. If you are on the go, a protein bar can help to keep those hunger pangs away and may help you resist unhealthy choices like candy or unnecessary snacks on your trip. Similarly, if you are going out on a long bike ride or a similar workout, protein bars can come in handy because they are easily portable and can provide energy and nutrition on the go.
What Are The Benefits Of Eating Protein Bars?
Protein bars are also a good alternative if you are dealing with a suppressed appetite – when you just can't stomach a full meal after a hard workout, it can often be easier to nibble on a ready to eat bar. They help to boost your energy. While it is always best to get your nutrition from whole foods, if you want to use protein bars as workout and recovery fuel, you should know when to fuel up. Aim for eating a protein bar or nutritious snack roughly between 20 and 45 minutes before your workout (if your exercise routine is under 90 minutes), and refueling with a protein bar or nutritious snack within 45 minutes of ending your workout.
Best Protein Bars
There is no one-size-fits all protein bar that is best for everyone. The best protein bar for you depends on your individual needs and preferences. All natural and organic protein bars from top brands like Orgain y Aloha Foods are a good choice if you are concerned about chemicals and additives. Vegan protein bars are not just appropriate for vegans, but also make a great choice for the lactose intolerant consumer or anyone who does not want to consume dairy. If you are an athlete looking for a nutritious snack to keep you fueled up, Clif protein bars are designed to support sustained energy during activities like cycling and climbing. But you don't have to be a high intensity athlete to benefit from nutrition bars! Healthy protein bars like Think Thin and Kind Snacks are a tasty, convenient way to get a boost of energy and nutrition during your day. There are many different protein bar brands and flavors to choose from - so don't be afraid to try a few until you find one you like. Check out our selection of the best rated, top protein bars online or in store today!
Búsquedas relacionadas
atkins bars, pedometers, best protein bar for weight loss, cheap protein bars, best protein shakes