Mostrando 1-2 de
2 productos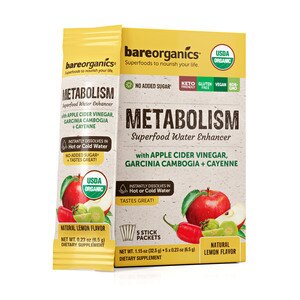 BareOrganics Metabolism Blend Superfood Water Enhancer, Natural Lemon Flavor, 5 CT
BareOrganics
Compre 1, lleve 1 al 50% - ¡Agregue 2 o más para recibir la oferta!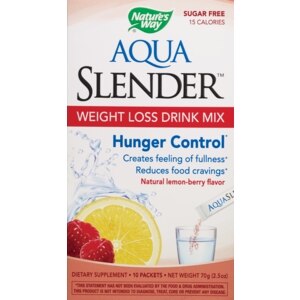 Nature's Way Aqua Slender, Hunger Control Drink Mix
Nature's Way
Los precios en línea puede ser diferentes a los precios en tiendas.
Appetite Suppressants 
Reduce your food cravings with an appetite suppressant from the CVS online store. Appetite suppressants make it easier for you to control your calorie intake with portion control and may help you feel fuller after eating.
What are the Best Appetite Suppressants Brands?
How to Control Appetite
Appetite control suppressants can reduce hunger and cravings, which may help you eat less. Appetite suppressants may also help you feel full sooner while eating, so it is easier to reduce your daily caloric intake. Because of this, many people use hunger suppressants to help support their weight loss goals.
How to Suppress Appetite
Appetite suppressants can help to curb hunger, and many varieties are available without a prescription. These over the counter appetite suppressants are easy to take. Simply follow the directions on the packaging regarding proper mixing and dosage timing. Appetite suppression products often come in powder form, such as Metamucil's Meta Appetite Control. Appetite suppressant powder is very easy to take. Simply follow the instructions on your product packaging and mix the recommended serving amount into eight ounces of water and drink. If you choose a bulk forming fiber supplement, such as Metamucil, be sure to mix the powder very well and take it with enough water (at least 8 ounces) to minimize the potential choking hazard. You can take a dose up to 3 times daily with meals. Keep in mind that bulk forming fiber supplements like Metamucil may affect how well certain medicines work. It is important to check in with your doctor before starting any dietary supplements, including appetite suppressants. If you don't want to take a fiber supplement for appetite control, there are other options. Products like Nature's Way Aqua Slender also come in powder form, but instead of psyllium husk fiber, Aqua Slender provides 15mg of Proteinase Inhibitor II (PI-2), which is thought to enhance your body's natural release of cholecystokinin (CCK), and may signal your brain to reduce hunger and create a more prolonged sense of fullness. For optimal appetite control, a dose should be taken 30 to 60 minutes before your largest 2 meals of the day.
How to Increase Appetite
In addition to OTC appetite suppressants, CVS also offers appetite stimulants. These are designed to help encourage a decreased appetite that may result from over-dieting, drug side effects, or illness. While both appetite suppressants and stimulants can help you normalize your food intake, they may not be appropriate for everyone. It is important to talk to your doctor about any changes in your appetite or if you are having ongoing difficulties with eating. He or she can help you pinpoint the cause and provide professional treatment advice.
What Is A Natural Appetite Suppressant?
If you are looking for a natural appetite control alternative, there are foods and drinks that can help you. Green tea is claimed to be able to suppress your appetite due to it containing caffeine and catechins. Another natural alternative is garcinia cambogia. This is often said to help people feel full after taking it. Other alternatives include grapefruit oil, apple cider vinegar, and coffee - just to name a few.
How do Appetite Suppressants Work?
When trying to lose weight, one of the most difficult things to overcome is the constant desire to eat. Appetite suppressants work by reducing or delaying your appetite so that you are less tempted to eat. This allows you to reduce the number of calories that you are consuming each day, which will lead to natural weight loss. Appetite suppressants work in a number of different ways. One of the ways that these products are able to help keep your appetite at a healthy level is by helping you to fill your stomach with water, which does not have any calories. Many people find that by simply drinking an appetite suppressant, they feel full and do not eat as much. Other appetite suppressants work by giving your body a supply of healthy nutrients that help to trigger a feeling of fullness much more quickly than would otherwise be the case. This is done using nutrients that have a low-calorie count, which will help to make it as easy as possible to lose weight. Appetite suppressants can be purchased either over the counter or by prescription. Either way, you should talk to your doctor or a CVS pharmacist in order to make sure that using these types of products is a good option for you.
Do Appetite Suppressants Work?
Appetite control supplements can be effective for weight loss, but the way these products work varies, and certain types of appetite suppressants may be better suited to your needs. Prescription appetite suppressants, for example, often work by altering levels of certain hormones that control hunger. Other products may work by helping you feel fuller after meals or stimulating your digestive tract to release more hunger-reducing chemicals after eating.
The effectiveness of appetite suppressants makes them an ideal product for many people, but they work best when combined with a suitable weight loss program and exercise routine. See your doctor or pharmacist if you're unsure of how to best start your weight loss journey.
Are Appetite Suppressants Safe?
Over-the-counter weight-loss supplements usually contain gentler ingredients than prescription products and are suitable for most people. As with any medicine, there's always a potential for side effects, and certain products may not be the right choice if you have heart disease or other conditions.
To minimize the risk of side effects, always ask your physician first before taking an appetite suppressant. They can help you determine which supplement will work best and ensure no drug interactions occur with other medicines you take.
Are There Any Natural Appetite Suppressants?
There are numerous herbal ingredients and foods that can act as natural appetite suppressants. Caffeine, for example, helps suppress food cravings and may let you burn more calories at rest. Green tea extract also contains caffeine and has similar benefits, but powerful antioxidants in the supplement may provide further advantages by helping your body use nutrients more efficiently. 
Insoluble fiber supplements are another popular choice for weight management. These products add bulk to your digestive tract without adding calories, helping you feel fuller after eating. They may also have the fewest side effects of any weight loss product, making them a better choice if you're sensitive to drugs and supplements or want a gentler option.