Flawless Cleanse - Masajeador y limpiador facial de silicona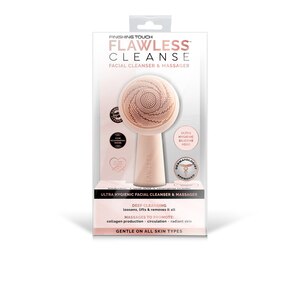 En existencia
for shipping
Flawless Cleanse - Masajeador y limpiador facial de silicona
1 c/u, 28 lb. N.º de artículo 162216
Flawless Cleanse with its silicone head is an ultra-hygienic cleanser and exfoliator that promotes the appearance of radiant, clean, more youthful skin. Flawless Cleanse has 4 modes, gentle cleansing, pulsating, massage, and deep cleanse for the ultimate facial cleaning experience.
Step 1: Wet face.
Step 2: Rinse unit under warm water.
Step 3: Apply desired cleanser to the unit.
Step 4: Place unit against skin and turn unit on. Start with mode 1 or 2 for cleansing:
Mode 1: Low Speed Vibration
For a Gentle Cleanse Mode 2: Pulsating Vibration
For a Deep Cleanse Mode 3: Massage
For a Gentle Massage Mode 4: Massage & Cleanse
For a Deep Massage & Cleanse
When you turn the unit on it starts in Mode 1. To switch to another mode, press the power button. Every time you press the power button the unit will switch to the next mode.
Step 5: Move unit in circular motion, apply light pressure.
Step 6: Press & Hold power button to turn the unit on.
Step 7: Rinse face and pat face dry.
Step 8: Rinse unit.
Step 9: Apply desired moisturizer or serum to the unit.
Step 10: Use modes 3 and 4 for massaging. Repeat steps 5,6 & 8.
Advertencias
WARNING To reduce the risk of burns, electrocution, or injury to persons:
An appliance should never be left unattended when plugged in.
The appliance is not to be used by persons (including children) with reduced physical, sensory or mental capabilities, or lack of experience and knowledge, unless they have been given supervision or instruction concerning use of the appliance by a person responsible for their safety. Children should be supervised to ensure that they do not play with the appliance.
Cleaning and user maintenance shall not be made by children without supervision.
Use this product only for its intended household use as described in this manual.
Charge only with the charging cradle provided with this product.
Charging cradle must only be supplied by a Class 2 USB charger or LPS Power Supply at voltage corresponding to the marking on the base of the cradle.
Never charge this product when it has a damaged cord or plug, operate when it is not working properly, after it has been dropped or damaged, or after charging cradle has been dropped in water. Contact Flawless customer service immediately.
Keep product, charging cord and USB power adapter away from heated surfaces.
The battery must be removed from the appliance before it is scrapped.
The battery is to be disposed of safely.
Do not use outdoors or operate where aerosol (spray) products are being used or where oxygen is being administered.
After use, the appliance should be cleaned to avoid the accumulation of grease and other residues.
This appliance contains batteries that are non-replaceable.
*Customer reviews and ratings solely reflect the views and opinions of the individual contributors and are not created or endorsed by CVS Pharmacy. Please review the product labeling and consult with your doctor with any health or medical questions.