Flawless Pedi Electronic Pedicure Tool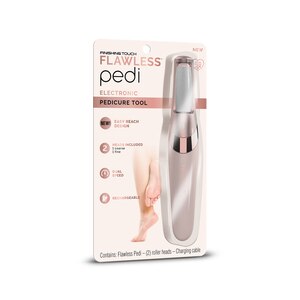 En existencia
for shipping
Flawless Pedi Electronic Pedicure Tool
1 c/u, 29 lb. N.º de artículo 543964
Introducing Finishing Touch Flawless™ Pedi This rechargeable device does all the work – removing and smoothing unsightly calluses, cracked dry skin, and rough areas instantly and painlessly.
Prior to first use, test unit on small area. If sensitivity or allergic reactions occur, discontinue use immediately. Always use on clean, dry feet. Do not use on wet feet. If, at any time, you feel pain or discomfort, discontinue use immediately It is suggested to use your Finishing Touch Flawless™ Pedi either over a garbage or towel as there may be some dead skin or residue from use.
Choose either the Coarse or Fine Roller Head .
The Unit comes with the Coarse Roller Head already attached.
Be sure the Roller Head is firmly placed into the Unit before use.
Slide the switch up one time to the LO position to turn ON the Unit.
The LED light will turn white and the unit will begin on Low Speed.
Start by holding the Roller Head gently against your skin. NOTE: Do not press the Roller Head hard against your skin, as it will affect the speed and results. Use light, gentle pressure and allow the Roller Head to do the work.
Move the Unit in a slow, back and forth motion in 2-3 second increments. NOTE: Using the Finishing Touch Flawless™ Pedi should not cause pain or discomfort. If you feel pain or discomfort, discontinue use immediately.
Stop and check to see if you have achieved desired results. If not, go over the area again or increase speed to the HI position for very rough and/or callused skin. If you feel pain or discomfort, discontinue use immediately.
To turn OFF the Unit, slide the switch down to OFF.
Once complete, take a damp cloth and wipe the area to remove any dead skin or residue from your foot. Be sure to dry promptly.
Advertencias
WARNING To reduce the risk of burns, _re, electric shock, or injury to persons:
An appliance should never be left unattended when plugged in.
The appliance is not to be used by persons (including children) with reduced physical, sensory or mental capabilities, or lack of experience and knowledge, unless they have been given supervision or instruction concerning use of the appliance by a person responsible for their safety. Do not allow children to use or play with product.
Use this product only for its intended household use as described in this manual.
Charge only with the charging cable provided with this product.
Charging cable must only be supplied by a Class 2 USB charger or LPS Power Supply at voltage corresponding to the marking on the unit.
Never charge this product when it has a damaged cord or plug, operate when it is not working properly, after it has been damaged, or after it has been dropped in water.
Do not use this product with damaged or broken heads, as it has the potential to result in injury.
Keep product, charging cord and USB power adapter away from heated surfaces.
Always attach charging cable to product _rst then to compliant power adapter, then to outlet. To disconnect, remove adapter from outlet, then remove charging cable from unit.
Appliance not intended to be used in, or around water.
This appliance contains batteries that are non-replaceable.
The battery is to be disposed of safely.
The battery must be removed from the appliance before it is scrapped.
The appliance must be disconnected from the supply mains when removing the battery.
Do not use outdoors or operate where aerosol (spray) products are being used or where oxygen is being administered.
*Customer reviews and ratings solely reflect the views and opinions of the individual contributors and are not created or endorsed by CVS Pharmacy. Please review the product labeling and consult with your doctor with any health or medical questions.