Tiras nasales para alergias
Los miembros de CarePass
TM
Mostrando 1-5 de
5 productos
Tiras nasales para alergias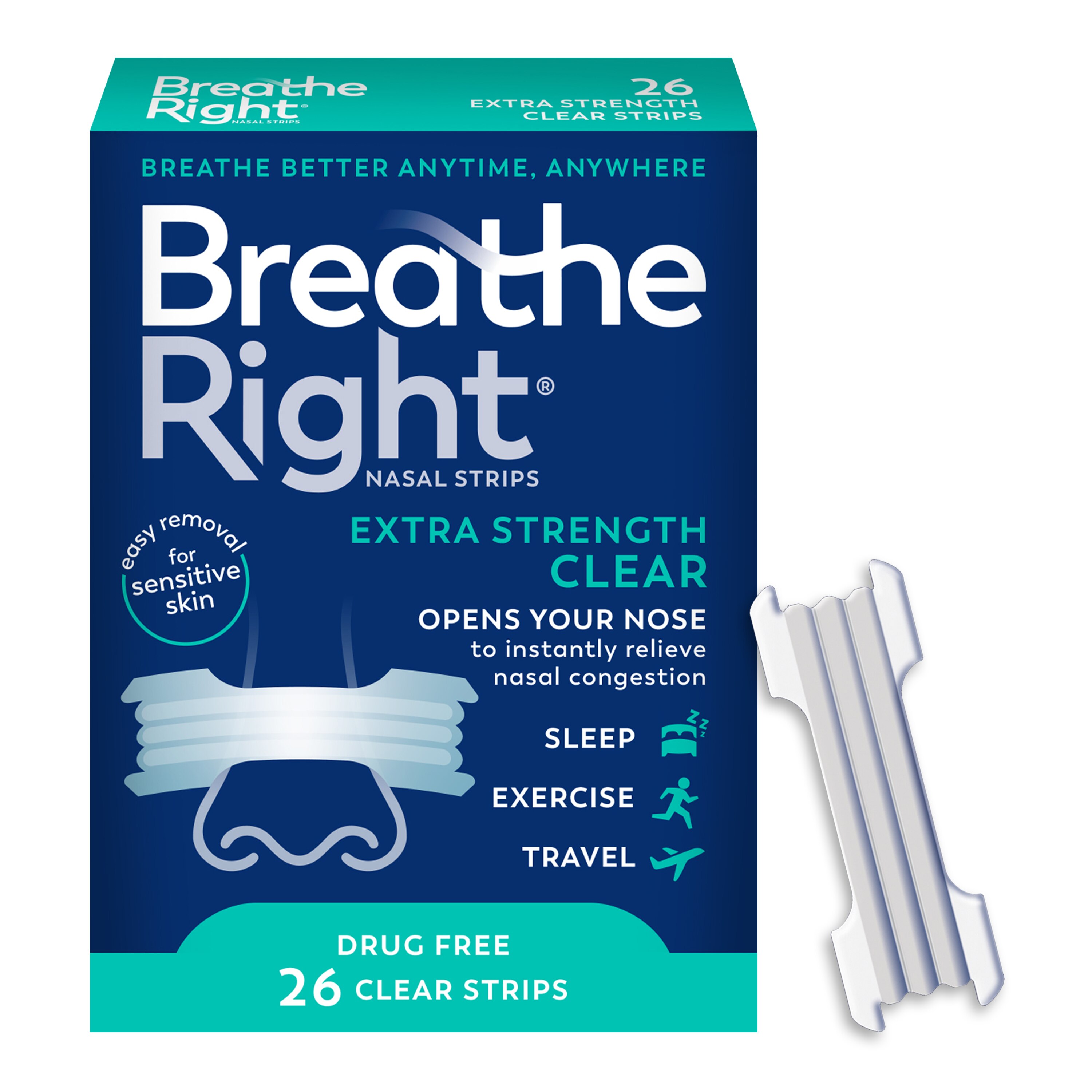 o
en pedidos de $35 o más.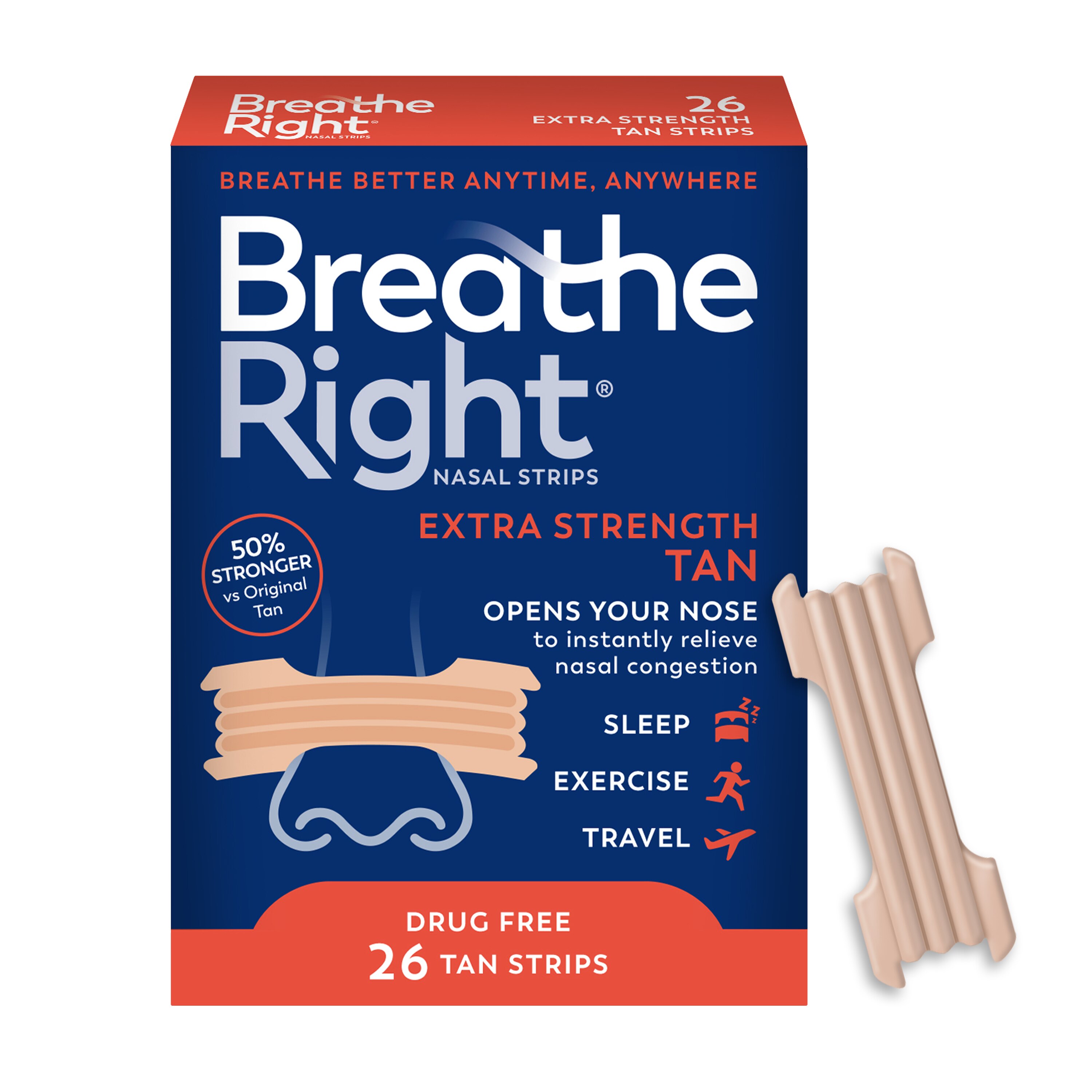 Breathe Right - Tiras nasales para dejar de roncar, sin fármacos, Extra Tan, 26 u.
Breathe Right
o
en pedidos de $35 o más.
Breathe Right Original Nasal Strips, Drug-Free, Tan, 30 CT
Breathe Right
o
en pedidos de $35 o más.
Breathe Right Extra Strength Clear Allergy Nasal Strip, 10 CT
Breathe Right
Envío gratis con pedidos de $35 o más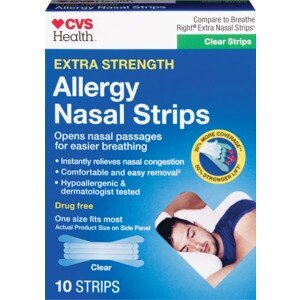 CVS Health Allergy Nasal Strips, Clear, 10 CT
CVS Health
Compre 1, lleve 1 al 50% - ¡Agregue 2 o más para recibir la oferta!
o
en pedidos de $35 o más.
Los precios en línea puede ser diferentes a los precios en tiendas.
A stuffy nose is never fun, but it can be especially annoying if it's a result of seasonal allergies. If you're dealing with nasal congestion, there are plenty of products on the market like allergy pills o spray nasal that are geared toward helping to give allergy sufferers some relief. One way you can also stop the stuffiness is by purchasing nasal strips for allergies. These products can be purchased at CVS Pharmacy, and they offer easy and fast relief of nasal congestion as a result of allergies.
Nasal Strips For Congestion
Whether it's the common cold or seasonal allergies, having nasal congestion is an extremely unpleasant experience. You may end up dealing with dry mouth and a sore nose that can make accomplishing daily tasks a chore. Another side effect of nasal congestion is possible problems with hearing and how it can interfere with your ability to sleep throughout the night. If you end up losing sleep, you can deal with a myriad of other negative symptoms, too. In order to ensure you're getting a great night of sleep and better health overall, you'll need a real solution to solve your nasal congestion woes.
How Do Nasal Strips Work?
Nasal strips come in several different formats. Most are designed as nose strips for breathing and snoring. You can find nasal strips for allergy sufferers that will offer you a bit of relief from annoying congestion. The strips work to separate and open your nasal passages, allowing for improved breathing. The strips are made of two bands of flexible plastic inside a special pad that you secure between the bridge and the tip of your nose. Once the nasal strips are applied, they gently lift the outside of your nose to open the nasal valve. This ensures better airflow and less congestion to help you breathe easier.
Nasal Strips For Allergies
Most nasal strips for allergies can be used for up to 12 consecutive hours throughout the day or night. They should provide you with both immediate and long-lasting relief. One perk to using nasal strips is that they're completely drug-free, which means you won't need to worry about any harsh side effects or negative interactions. Look for nasal strips in several sizes to fit your specific nose size. Colors include tan and clear nasal strips, and there are even strips that contain mentholated vapor to clear your nasal passages even more. Always follow the directions as indicated on the package to ensure you're applying them correctly. While it's not a miracle drug, nasal strips for allergies can help you get quick relief of annoying nasal issues.
What are the Best Allergy Nasal Strips Brands?
Does CVS Sell Nasal Strips for Allergies?
Yes, CVS sells a variety of Nasal Strips for Allergies in stores and online.
Is Nasal Strips for Allergies Available For Same Day Pickup?
Yes Nasal Strips for Allergies is available for same day pickup at most locations, check your local stores availability and add to cart to pick up today.
Is There An Age Limit To Purchase Nasal Strips for Allergies?
No there is no age limit to purchase Nasal Strips for Allergies.
Does CVS Deliver Nasal Strips for Allergies?
Yes CVS delivers Nasal Strips for Allergies to your home. Delivery is always free over $35, join Carepass to enjoy free shipping on a variety of items.
Can Nasal Strips for Allergies Be Returned?
Most unopened items like Nasal Strips for Allergies in new condition purchased from a CVS Pharmacy® store or on CVS.com® can be returned to any CVS Pharmacy store within 60 days of purchase for exchange or refund subject to the restrictions and requirements of the return policy found here.