Los miembros de CarePass
TM
Mostrando 1-18 de
18 productos
Johnson & Johnson All-Purpose Portable Compact First Aid Kit, 160 Pieces
Johnson & Johnson
Envío gratis con pedidos de $35 o más
CVS OSHA ANSI Compliant First Aid Kit
CVS Health
Precio con CarePass
™
$31.19
o
en pedidos de $35 o más.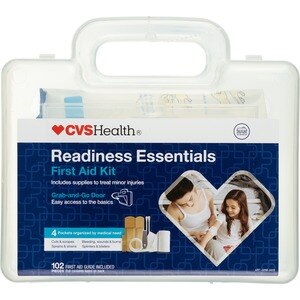 CVS - Kit de primeros auxilios familiar
CVS Health
Precio con CarePass
™
$12.63
o
en pedidos de $35 o más.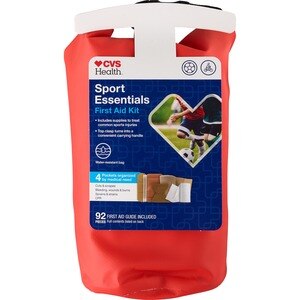 o
en pedidos de $35 o más.
o
en pedidos de $35 o más.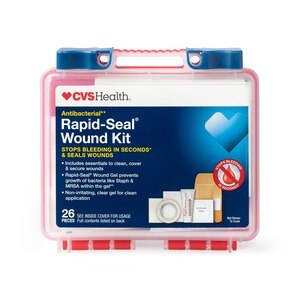 CVS Health Emergency Bleeding/Rapid-Seal Wound Kit, 26 Pieces
CVS Health
Precio con CarePass
™
$15.99
o
en pedidos de $35 o más.
CVS Health 30-Piece Wound Care Kit Assortment
CVS Health
Precio con CarePass
™
$12.39
to
$16.39
o
en pedidos de $35 o más.
CVS Health First Aid Instruments 3-Piece Kit
CVS Health
Precio con CarePass
™
$8.39
o
en pedidos de $35 o más.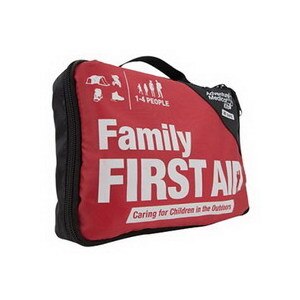 Envío gratis con pedidos de $35 o más
Envío gratis con pedidos de $35 o más
Johnson & Johnson First Aid To Go Portable Mini Travel Kit, 12 pieces
Johnson & Johnson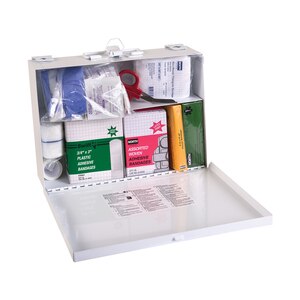 DMI Metal - Kit de primeros auxilios para 25 personas, 10-1/2 x 7-1/4 x 2-1/2"
DMI
Envío gratis con pedidos de $35 o más
Envío gratis con pedidos de $35 o más
Envío gratis con pedidos de $35 o más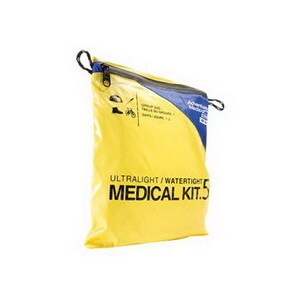 Envío gratis con pedidos de $35 o más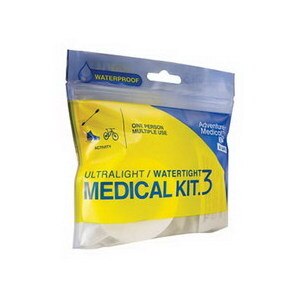 Envío gratis con pedidos de $35 o más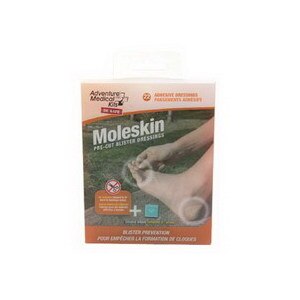 Envío gratis con pedidos de $35 o más
Los precios en línea puede ser diferentes a los precios en tiendas.
Kits de primeros auxilios
Handle any injury or emergency easily with a first aid kit from CVS Pharmacy. Home first aid kits ensure you're always prepared, whether you need to bandage a small cut, wash out your eye or immobilize a sprained arm.
What Should Be in a First Aid Kit?
First aid kits should contain various items to cover just about any injury. Depending on your individual needs, whether you have a serious allergy or a medical condition that needs prompt treatment, you might also consider storing some backup medication in your first aid kit. Keeping an emergency supply of insulin and tabletas de glucosa if you're diabetic or an epinephrine injection pen to handle anaphylaxis may help take the stress out of unexpected situations and ensure family members know exactly what to do during a crisis. 
Other important items include bandage strips and elastic wraps, an arm sling, gauze pads, cotton balls and swabs, finger splints, scissors and tweezers, a thermometer, masks and gloves, eye wash and hot and cold packs. Your first aid kit might also be an ideal place to store a copy of your medical records and a small supply of Advil or Tylenol, cough and cold medications, allergy medicines and aloe vera gel. 
When To Use A First Aid Kit
When an emergency occurs you want to feel as ready as possible to tackle the unexpected, and keeping a first aid kit close at hand is the first step in creating a level of preparedness you will welcome when the time comes. If the accident or injury will require large scale medical attention you will want to call the closest healthcare provider immediately, and then address the wound care until professional help is available. If the injury is minor you can treat it yourself with care. You will use your first aid kit in both levels of emergency. From cuts, scrapes, burns, and any kind of pain-inducing injury, to hiking disorientation, hunger, rash, and itching, you can turn to your trusty first aid kit to solve small situations.
How To Use A First Aid Kit
Now that you have your first aid kits from CVS fully stocked and tucked into your home, vehicle, and activity bags, you will want to know how to use them to ensure you are feeling fully prepared when an injury occurs. To use your first aid kit effectively, it is necessary to routinely check the expiration dates on the items within it. Keeping your medications, ointments, and gels up-to-date will prevent further scrambling when you need a fresh antiseptic cream. A general knowledge of the tools at hand in your kit will also prove to be useful so that you can properly clean and dress a small cut or burn when needed with the bandages, dressings, burn gels, and antibiotic ointments included in your kit. If your first aid kit is geared towards adventuring, it can prove vital that you know how to read the compass, thermometer, and medicine labels you have in your kit.
Where To Keep First Aid Kit
A first aid kit is an assortment of supplies that can be used to respond to a medical emergency until professional help can arrive. Experts typically recommend keeping a first aid kit stocked in your home and storing one in your vehicle. It is also wise to carry a first aid kit to sports practices and games and when you're enjoying outdoor activities. Businesses should also keep first aid kits on hand in the event of an emergency that affects an employee or customer.
What To Put in a First Aid Kit
To provide sterile care, stock your first aid kit with guantes and hand sanitizer. For wound care, include various bandage sizes, wound antiseptic and antibiotic ointment. Add burn dressing and treatments for burn care. To care for bumps and bruises, include a cold pack and pain medications, and in case of nausea, stock an emesis bag and nausea medications. For eye injuries, add eye patches and eye wash. 
How To Build a First Aid Kit
To build your first aid kit, make a list of the supplies, or find a first aid kit supply list online, and include enough of each product for the number of people in your family. To make building a first aid kit simple, buy a premade first aid kit. This convenient option ensures you can render emergency care at a moment's notice and prevents overlooking any critical supplies. 
What Are 10 Items in a First Aid Kit?
To provide immediate care to injuries and emergencies, include these 10 items in your first aid kit: 
You can add other items beyond this list to administer care for a broader range of emergencies. 
How Many Classes of First Aid Kits Are There?
ANSI and OSHA define two classes of first aid kits for workplace compliance. Suitable for small workplaces with a low-risk environment, such as offices, Class A kits include materials for minor burns, wounds and eye injuries. Class B kits require more materials for high-risk workplaces, such as construction sites and those with heavy machinery.
You can find other kits not designated under an ANSI class, such as home and family first aid kits, survival first aid kits and baby first aid kits. These convenient kits provide all the supplies a single family may need.
Does CVS Sell First Aid Kits ?
Yes, CVS sells a variety of First Aid Kits in stores and online.
Are First Aid Kits Available For Same Day Pickup?
Yes First Aid Kits are available for same day pickup at most locations, check your local stores availability and add to cart to pick up today.
Does CVS Deliver First Aid Kits ?
Yes CVS delivers First Aid Kits to your home. Delivery is always free over $35, join carepass to enjoy free shipping on a variety of items.
Can First Aid Kits Be Returned?
Most unopened items like First Aid Kits in new condition purchased from a CVS Pharmacy® store or on CVS.com® can be returned to any CVS Pharmacy store within 60 days of purchase for exchange or refund subject to the restrictions and requirements of the return policy found here.
Should You Keep a First Aid Kit in Your Car?
First aid kits in cars leave you prepared to handle emergencies that occur away from home, whether an injury occurs while you're on a road trip, on a campout or at work. Not only is it a great idea to have one, but it's also an ideal place to store some emergency items you may need during travel, such as a linterna, matches, a backup cell phone, protector solar and medical information for first responders.