Cómo conseguirlo
Recogida no disponible
Cambiar tienda
Los miembros de CarePass
TM
Mostrando 21-28 de
28 productos
Tratamiento para hemorroides
CVS Health - Hidrocortisona al 1%, máxima potencia
CVS Health
Compre 1, lleve 1 al 40% - ¡Agregue 2 o más para recibir la oferta!
o
en pedidos de $35 o más.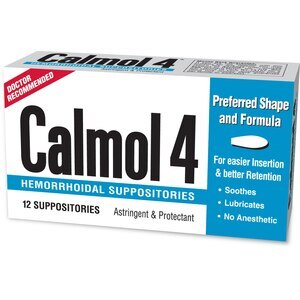 Calmol 4 Hemorrhoidal Suppositories, 12 CT
Calmol
o
en pedidos de $35 o más.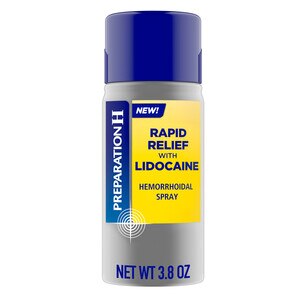 Preparation H Rapid Relief with Lidocaine Hemorrhoidal Spray, 3.8 OZ
Preparation H
Envío gratis con pedidos de $35 o más
CVS Health - Gel refrescante hemorroidal, con vitamina E y aloe
CVS Health
Compre 1, lleve 1 al 40% - ¡Agregue 2 o más para recibir la oferta!
o
en pedidos de $35 o más.
CVS Health Hemorrhoidal Relief Cream Maximum Strength Lidocaine Formula 5%, 1 OZ
CVS Health
Compre 1, lleve 1 al 40% - ¡Agregue 2 o más para recibir la oferta!
Envío gratis con pedidos de $35 o más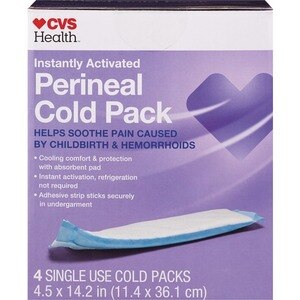 CVS Health - Compresa fría para el área perineal, se activa al instante, 4 u.
CVS Health
Precio con CarePass
™
$10.39
Los precios en línea puede ser diferentes a los precios en tiendas.
Tratamiento para hemorroides
Itching and pain caused by hemorrhoids can make it difficult to get through your day, but you usually don't have to simply suffer until hemorrhoids heal. With over-the-counter hemorrhoids treatments, you can help ease symptoms and promote healing to help hemorrhoids resolve more quickly. CVS carries a diverse assortment of hemorrhoid relief and treatment products. You can shop online and have the products you need discreetly shipped to your home.
Hemorrhoid Wipes
Often, doctors may recommend pads and wipes for external hemorrhoid relief. These over-the-counter products often contain hamamelis. This natural substance derived from the bark of the Hamamelis virginiana shrub has long been used to help reduce swelling and soothe burning and itching associated with hemorrhoids. To use a wipe or pad, you simply rub the product over the external hemorrhoids and then throw it away.
Best Hemorrhoid Treatment
There are a number of other over-the-counter treatments available for addressing hemorrhoids. Creams and ointments that contain corticosteroid drugs can ease inflammation to help reduce swelling and discomfort. Gels that contain cooling ingredients like áloe vera and witch hazel are also available for reducing symptoms. For hemorrhoids that are difficult to reach because they are located inside of the rectum, suppositories may be helpful. A suppository is a small pellet that is inserted into the rectum through the anus. Once the suppository is in place, heat from the body causes it to soften and release its active ingredients to help soothe irritation associated with hemorrhoids.
What are the Best Hemorrhoid Treatments Brands?
What Are Hemorrhoids?
Also known as piles, hemorrhoids are swollen veins in the anal area and lower rectum. Straining too hard during bowel movements, staying on the toilet for long periods of time, chronic constipation and diarrhea, anal sexual intercourse and pregnancy, for example, can cause hemorrhoids. People with low fiber diets and obese individuals are typically at an increased risk for hemorrhoids. Symptoms of hemorrhoids may include itching inside or outside the anus, small amounts of bright red blood on toilet paper after bowel movements and swelling or lumps around the anus. There are both external hemorrhoids as well as internal hemorrhoids. Consult your doctor to learn which type of hemorrhoids you may have as well as the proper way to treat them.
How To Get Rid Of Hemorrhoids
If you suspect that you have hemorrhoids but have yet to receive an official diagnosis, it is wise to see a medical professional before using any type of hemorrhoid treatment. While many over the counter treatments are offered, you should still consult your health care provider before using any new hemorrhoid treatment or hemorrhoid relief product for the first time. To ensure best results, only use over-the-counter hemorrhoid products as directed by the manufacturer or your medical provider.
What Is the Best Over-the-Counter Hemorrhoid Treatment?
Home treatments for hemorrhoids usually contain one or more ingredients that soothe irritation from the condition. Many products, such as Preparation H y CVS Health Hemorrhoidal Cream, include a numbing agent that can help reduce pain temporarily to keep you comfortable throughout healing. Combining these ointments with a high-fiber diet and other pain-relief medications, such as Tylenol o Motrin, may help mild hemorrhoids heal quickly at home. 
Soaking the affected area in warm water for 10 to15 minutes, up to three times a day, is another way to aid the healing process. You can combine regular soaks with external hemorrhoid treatment creams and other medications as recommended by your doctor.
What Is a Thrombosed Hemorrhoid Treatment?
A thrombosed hemorrhoid occurs when you experience a blot clot in the area, leading to swelling and pain. This kind of hemorrhoid usually still responds to conservative treatments, such as medicated wipes y lidocaine creams, but may take longer to resolve. Consider seeing your doctor first before treating the symptoms at home as they can determine whether over-the-counter products are suitable for your condition.
What Is the Treatment for a Thrombosed External Hemorrhoid?
Treatment for a thrombosed external hemorrhoid consists of managing the pain and other symptoms until your body heals. As the condition is associated with swelling, anti-inflammatory medications, such as ibuprofeno o naproxeno are often effective for the pain. Hydrocortisone creams and other topical options may be a better choice if you're sensitive to non-steroidal anti-inflammatory drugs, but you shouldn't use these treatments for more than a few days unless recommended by your doctor. 
If you're struggling with the symptoms or your hemorrhoid doesn't respond adequately to over-the-counter treatments, your doctor may suggest sclerotherapy or laser coagulation. These minimally invasive treatments cause the thrombosed hemorrhoid to shrink, speeding up its resolution. Little pain occurs afterward, but it may still take a few days before the symptoms resolve completely.
Most people don't require surgery, but your doctor may recommend it if other hemorrhoid treatments fail. Recovery is usually quick, and you can expect to start easing back into your regular activities after a day or two. Taking painkillers and other medications prescribed by your doctor can help keep you comfortable while you heal.