Los miembros de CarePass
TM
Mostrando 1-5 de
5 productos
Ayuda para dormir y ronquidos
Ayuda para energía y estado de alerta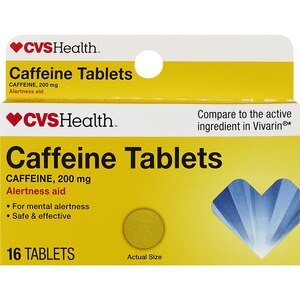 CVS Health Caffeine 200mg Tablets
CVS Health
Precio con CarePass
™
$3.83
to
$10.23
o
en pedidos de $35 o más.
Alka-Seltzer Hangover Relief Effervescent Tablets Formulated for Fast Relief of Headaches, Body Aches and Mental Fatigue, Orange Fizz, 20 CT
Alka-Seltzer
Envío gratis con pedidos de $35 o más
Los precios en línea puede ser diferentes a los precios en tiendas.
What are the Best Energy Pills Brands?
What Are Supplements For Energy?
When you're running low on energy, every part of your day can be negatively impacted. You may find it hard to concentrate, notice yourself drifting off and feel like every step you take is difficult. Over-the-counter medications can give you a quick energy boost to help you get through your daily routine. CVS carries a diverse assortment of OTC energy supplements for alertness and makes it easy to compare and buy products online.
What Are Energy Pills For?
Energy pills are designed to enhance your energy levels so that you can put more oomph into whatever task you need. From athletic endeavors to an afternoon meeting, playdates to late-night studying, energy pills can be a welcome tool for increasing your alertness. Energy pills, caffeine tablets, energy drinks, and herbal supplements such as ginseng, all offer varying levels of an energy boost. Some increase your energy while others work to boost your metabolism to help you burn more calories or make your workout more efficient in your efforts towards weight loss.
What Is In Energy Pills?
Most energy supplements use caffeine as their active ingredient. Caffeine is a natural chemical that is found in plants like coffee, tea and cacao. The caffeine found in supplements may be naturally derived or manufactured in the lab. When caffeine enters the body, it acts on the brain and nervous system, working as a energy booster. As a result, caffeine can provide a temporary energy boost and increase levels of alertness.
What Are The Strengths Of Caffeine Pills?
As you shop for energy and alertness supplements, it is important to consider their strengths. The strength of an energy supplement is determined by how much caffeine it contains, and this is measured in milligrams, abbreviated mg. Most products provide 100 to 200 milligrams of caffeine per single dose. For your reference, one 8-ounce cup of freshly brewed coffee contains 95 to 165 of caffeine, and one 8-ounce cup of black tea has about 25 to 48 milligrams of caffeine.
How Do You Choose The Best Vitamins For Energy?
Another point of comparison between energy vitamins is their forms. For ease of use on the go, most energy and alertness products are pills. Tablets tend to be larger in size and slightly more economical, while capsules may be easier to swallow due to their shape and coating. You may also want to compare how many pills you receive in one bottle of each of the energy and alertness medications.
Are Caffeine Pills Safe?
Although you can purchase over-the-counter caffeine pills without a prescription, you should always consult your health care provider before trying any new drug. Caffeine does have the potential to cause side effects like jitteriness, shaking and rapid heartbeat and can trigger allergic reactions. As a result, medicines that contain the product are not ideal for everyone. To reduce your risk of side effects and ensure best results, use the product that you purchase according to the instructions provided by the manufacturer unless you are given other advice from your medical provider.
How Long Does It Take For Energy Pills To Work?
Energy pills must first go through your digestive system, so many recommend taking them about 20 minutes prior to your workout or desired activity. For those suffering from chronic fatigue, energy aids may be recommended to take each morning for a few days until the sleep slump has passed. In both scenarios, your healthcare provider can help you to determine when to take your energy enhancers. When deciding on an energy pill to incorporate into your day, look to see if the product contains theanine, which can disperse energy more evenly instead of in a single burst. Green tea can also help to offset caffeine jitters. If you are vegan, consider whether the capsule is made from beeswax or a synthetic coating, as that will also affect how quickly it is absorbed.
Does CVS Sell Energy Pills?
Yes, CVS sells a variety of Energy Pills in stores and online.
Are Energy Pills Available For Same Day Pickup?
Yes, Energy Pills are available for same day pickup at most locations. Check your local stores availability and add to cart to pick up today.
Is There An Age Limit To Purchase Energy Pills?
No, there is no age limit to purchase Energy Pills.
Does CVS Deliver Energy Pills?
Yes, CVS delivers Energy Pills to your home. Delivery is always free over $35, join Carepass to enjoy free shipping on a variety of items.