Bath Benches & Shower Stools
Los miembros de CarePass
TM
Mostrando 1-16 de
16 productos
Cuidado de la salud en el hogar
Bancos y banquitos para baño
CVS Health - Silla para baño y ducha
CVS Health
Precio con CarePass
™
$47.19
o
en pedidos de $35 o más.
o
en pedidos de $35 o más.
Guardian by Medline Shower Stool, 300lb Weight Capacity
Medline
Envío gratis con pedidos de $35 o más
Elements - Silla para ducha con tecnología antimicrobiana
Medline
Envío gratis con pedidos de $35 o más
Drive Medical - Silla tipo banco de seguridad para ducha/bañera con respaldo, gris
Drive Medical
Envío gratis con pedidos de $35 o más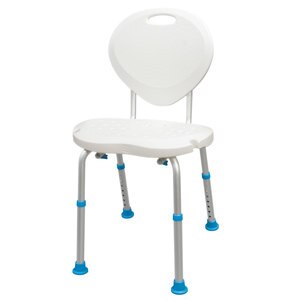 AquaSense - Silla para baño y ducha ajustable con respaldo
AquaSense
Envío gratis con pedidos de $35 o más
Medline - Banca de transferencia de material compuesto con respaldo
Medline
Envío gratis con pedidos de $35 o más
DMI Heavy-Duty Sliding Transfer Bench Shower Chair with Cut-out Seat and Adjustable Legs, Gray
DMI
Envío gratis con pedidos de $35 o más
HealthSmart - Banqueta liviana y compacta para ducha con protección contra gérmenes, blanco
HealthSmart
Envío gratis con pedidos de $35 o más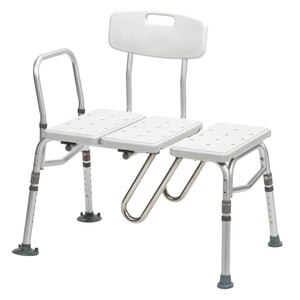 Splash Defense - Banca de transferencia con protector de cortina
Drive Medical
Envío gratis con pedidos de $35 o más
Drive Medical Knock Down Bath Bench with Back and Padded Arms
Drive Medical
Envío gratis con pedidos de $35 o más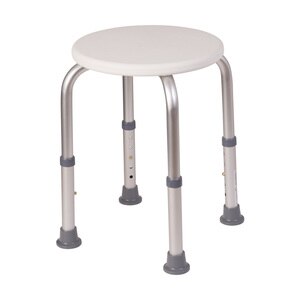 HealthSmart - Banqueta para ducha liviana y compacta con altura ajustable, blanco
HealthSmart
Envío gratis con pedidos de $35 o más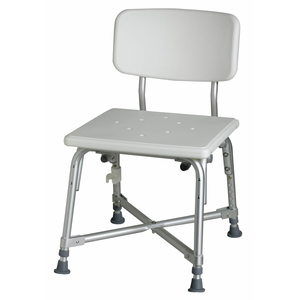 Medline Bariatric Aluminum Bath Bench with Back
Medline
Envío gratis con pedidos de $35 o más
Los precios en línea puede ser diferentes a los precios en tiendas.
Bath Benches
Falls can pose a risk for serious injuries. Every year, roughly 3 million seniors visit emergency rooms for care following serious falls, and many of these accidents occur before, during or after showering or bathing. Bath benches, also referred to as shower chairs, shower stools, transfer benches, etc., can make bathing and showering safer and easier for seniors and individuals with limited mobility. If you or your loved one can benefit from a shower bench, CVS can help you find the best option with a diverse assortment of products that you can buy online.
Shower Bath Benches
A shower bench, or transfer bench, is a type of bathing aid that can help people with disabilities bath independently by providing a safe and comfortable place to sit. Most bathing chairs are designed to be water resistant and are equipped with a suction style tip to prevent the chair from moving while on slippery surfaces. Bath benches are also available with height adjustable seats to meet the needs of a wider range of users. In the bathtub, a bath seat eliminates the need to lower oneself down all the way into the tub. This can make it easier for users to transfer in and out of the tub with or without assistance. In the shower, bath chairs let users sit down while bathing, helping to reduce the risk of slipping.
Shower Stools
There are two main types of bath and shower seats: those with backs and backless models often referred to as bath stools and bath chairs, the backless seats being the bath stools. Their design is very compact, allowing for easy handling. This type of bath seat can be a convenient option for shared bathrooms where the safety aid will need to be removed when other people use the tub or shower. Bath seats with backs provide extra support for users and can be a better choice for individuals who lack upper body strength or have balance issues.
Shower Safety Bars
Some bath chairs have grab bars built into their sides. When a user is transferring to or from the seat, the bars can provide stability and support some of their weight to simplify the process. The bars also help keep users from slipping off the sides of the bath seat.
What are the Best Bath Benches & Shower Stools Brands?
Does A Shower Chair Fit In A Tub?
Most shower chairs will fit inside of most standard bathtubs. They are designed to be used while taking a shower and are made with slip-resistant bottoms to help keep them firmly in place. If your bathtub is narrower than normal, or you choose a shower chair that is extra wide, you will want to take measurements to make sure that it is going to fit in place without a problem. For most people, however, this will not be a problem.
What Are Shower Stools For?
Shower stools or chairs are used by many people for a variety of different reasons. They allow you to sit down while in the shower, which can be helpful for safety. If you are unable to stand for long periods of time, for example, being able to sit down for some, or all, of your shower can be very helpful. Other people find that the warm water of a shower causes them to feel weak, in which case being able to sit down is helpful. Shower stools and showers chairs can also help to provide you with stability while showering so you do not slip and fall. Many people with disabilities or those care for other with disabilities find shower chairs and transfer benches to be extremely helpful in the shower as needed support.
How To Use A Shower Chair
A shower chair is placed directly into your bathtub and positioned so that you can sit in it while letting the water flow over you. Some people will want to keep the shower chair or shower bench firmly in one place at all times, and others would rather have the ability to move the chair around as needed. Once it is in the tub, you can use it to sit down either throughout the entire shower or only as needed. Having this option available will make it easier and safer for you to be able to take a shower. These devices can also help to make it safe for you to shower on your own without the help of a caregiver. Make ure to review the installation directions and weight capacity before installing your bathroom safety device.
What Is The Best Shower Seat?
Once you have decided that a bath seat is right for you or your loved one, you can compare the features of the shower seats to find what works best for yours or their needs. Choose the material you or your loved one would prefer, many shower seats are made out of aluminum for durability as a heavy duty option. Be sure to check the maximum weight limits and select a model that is strong enough for the intended user. Some bath seats are height adjustable, allowing them to be raised or lowered to suit users of different heights. Models with small holes in the seats allow water to drain off to help reduce the risk of mold and mildew growth. Folding seats are easy to store when not in use.