Los miembros de CarePass
TM
Mostrando 1-5 de
5 productos
Cuidado de la salud
en el hogar
Cuidado de la piel y los pies
Envío gratis con pedidos de $35 o más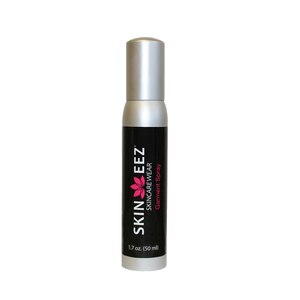 Skineez Replenishment Sock Spray
Skineez
Envío gratis con pedidos de $35 o más
Los precios en línea puede ser diferentes a los precios en tiendas.
Productos relacionados
Ver categorías relacionadas
What are the Best Diabetic Foot Cream Brands?
What Foot Cream is Best for Diabetics?
There are plenty of lotions available that can help with dry skin. However, people with diabetes need to take extra care of their feet. There are several lotions that diabetics can choose from to use for their feet. Some examples are:
Eucerin Diabetics' Dry Skin Relief Foot Creme

Gold Bond Ultimate Diabetics' Dry Skin Relief Skin Protectant Foot Cream

Flexitol Diabetic Foot Balm

Miracle Foot Repair Cream

O'Keeffe's for Healthy Feet Foot Cream
The main thing diabetics should look for in a foot lotion is ingredients that will effectively moisturize. If they contain ingredients such as shea butter, urea, or jojoba oil then this will probably help.
How Do You Soften Diabetic Feet?
Having diabetes is difficult for your feet. The blood flow is reduced, meaning any sores on your feet will take longer to heal. When your feet are dry and hard, they can crack and you may not know it. Bacteria and viruses can get into these cracks, causing heel fissures. This can lead to bigger problems down the road. Keeping your feet soft is key when you have diabetes. It will help your feet look better, feel better, and keep them healthy. Here are some tips on how to do this:
Clean your feet: Wash your feet every day. Use warm (not hot) water and mild soap. Dry both feet completely when finished.

Remove dead skin: File dead skin off your feet using a pumice stone. You can exfoliate your skin with a foot scrub, too. These will both clear the way for the moisturizer.

Moisturize: Find a moisturizing lotion with ingredients (see above) that will penetrate the skin and moisturize your feet deeply. Target the problem areas of your feet, but do not put it between your toes as fungus can grow there. Massage it in to help circulation.

Wear cotton socks, especially after moisturizing.
If you have any cracked or dry skin that isn't healing, consult your doctor.
Diabetic Foot Cream
Diabetes affects more than just your blood sugar levels. Whether you have Type 1 or Type 2 diabetes, you're at an increased risk for foot problems and skin care concerns due to the condition. Fortunately, you can take steps to reduce your risk of complications and address symptoms of diabetes with the right diabetic care products. CVS can help you find the diabetic foot and skin care products that your medical provider recommends with a huge assortment of options that you can easily shop and buy online.
Diabetic Itching
Diabetes is a disease in which blood sugar, or glucose levels, is elevated either because the body does not produce insulin or does not respond to insulin properly. When blood glucose levels are elevated, the body can become depleted of water, leading to dry skin symptoms like itchiness and roughness. In addition, high levels of blood sugar can lead to damage to blood vessels. This can cause poor circulation and foot care problems like slow-healing wounds and pain.
Diabetic Foot Pain Relief
There are a number of products available to help you manage foot care concerns associated with diabetes. Diabetic socks help to promote circulation by applying gentle pressure that may help widen vessels and increases blood flow. Foot creams can reduce diabetic foot pain, soften calluses and address itching, flaking skin on the feet. Specialty shoes can offer the extra support needed for comfort.
Diabetes And Itchy Skin
If your skin is dry and itchy due to diabetes, creams and lotions can help to ease the discomfort. These products contain moisturizing ingredients that may increase hydration levels in the skin tissue. Over time, these diabetic skin care moisturizers can promote softer, smoother and healthier skin. Some also contain over-the-counter corticosteroid medications may help inhibit the immune system processes that give rise to itching.
Diabetes Foot Care
Keeping your blood sugar levels within normal range can go a long way toward addressing foot care and skin care problems associated with diabetes. That's why it's important to talk to your doctor about your treatment plan and follow it carefully to minimize possible complications. Your health care provider can also recommend the right foot care and skin care products to address symptoms of the disease. Be sure to use these products only as directed by the manufacturer or a medical professional for best results. If you notice a wound on your feet, alert your medical provider as soon as possible.
Búsquedas relacionadas
moisturizer for sensitive skin, deodorant for sensitive skin, talco para bebé, facial skin care, setting spray for oily skin