Comida y golosinas para gatos
Los miembros de CarePass
TM
Mostrando 1-20 de
58 productos
Comida y golosinas para gatos
Fancy Feast - Paquete variado de comida gourmet para gatos en rodajas
Fancy Feast
Envío gratis con pedidos de $35 o más
Temptations Classic - Bocadillos para gatos, sabor Seafood Medley, 16 oz
Temptations
o
en pedidos de $35 o más.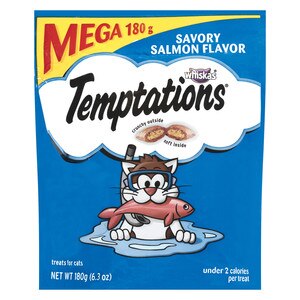 Envío gratis con pedidos de $35 o más
Blue Buffalo Healthy Gourmet Natural Adult Pate Wet Cat Food, Variety Pack, 12 3 oz cans
Blue Buffalo
o
en pedidos de $35 o más.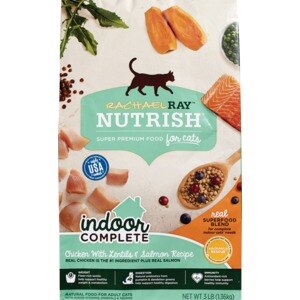 Rachael Ray Nutrish Super Premium Natural Foods For Adult Cats Indoor Complete, 48 OZ
Rachael Ray
Envío gratis con pedidos de $35 o más
Los precios en línea puede ser diferentes a los precios en tiendas.
Cats are very interesting creatures that make for some pretty amazing pets. If you're a cat owner, choosing the right cat food and treats is important for their health and well-being. From new kittens to older felines, how do you know which type of food or treat to choose? Read on to learn more about some helpful cat food and feeding tips so you can take great care of your furry friend.
Cat Food Basics
Cats have very specific nutritional needs, so make sure that they're getting the proper amount of protein in their diet. Look for cat food that contains protein from either a meat, fish, or poultry source and that the food includes taurine. This essential amino acid is crucial to good cat health. Quality cat food should also contain a small amount of water since cats get most of their daily moisture directly from food. Additional vitamins, minerals, and fatty acids should be included to round out their diet in a healthy way. Corn, wheat, and rice can be used as fillers in some wet and dry cat food. Binders, flavors, and coloring may also be added which is not always necessary to keep your cat healthy.
Best Cat Food For Your Pet
In order to ensure that your cat is happy and healthy, you should practice a few habits to keep their diet in check. First, most cats need a variety of food that contains both dry and wet formats. Dry food is a great way to feed your cat when you're away, but most cats don't drink water regularly, so they also need wet canned food, like Friskies canned cat food. Make sure every food you use has plenty of minerals and vitamins for optimum health. Many cats tend to get bored with the same food, so try your best to mix things up. You can do this by switching flavors or brands, combining wet and dry food together, or with the occasional treat.
Cat Treats
Remember, cat treats are always fun to give, but they should never be used as a substitute for regular food. Just like dogs, your cat can become overweight if you feed him too many treats and not enough healthy food. Cats are very picky and recognize specific flavors in their food. Try to avoid food addiction by mixing things up on a regular basis. Otherwise, your picky cat might end up turning his nose up at other foods you try to feed him. Read labels carefully and make sure that the cat food and treats you choose, like temptations cat treats are packed with nutritious ingredients. Avoid preservatives when possible and ask your vet if you have any questions.
Canned Cat Food
Even though they are domesticated, cats are strange creatures with their own preferences and finicky personalities. This translates into their eating habits as well. There is a constant debate over whether cats should be fed dry food, canned food or a combination of the two. Here are some benefits to feeding canned (or wet) cat food.
Canned Cat Food For Urinary Tract Problems
Canned cat food is as rich in nutrients as quality dry food. There are also just as many wet food formulas to meet your cat's needs--organic, sensitive stomach, novel protein and more--as there are dry foods. One of the unique benefits of wet food is that it has a higher moisture content. Wet food has up to a 78% moisture content, which easily beats the 10% moisture content of dry food.
The high moisture content can be especially beneficial to cats dealing with urinary tract problems, diabetes or kidney disease. If you have ever noticed, cats don't drink a lot of water. They have a low thirst drive, which may be partly due to their evolution as desert animals. The higher moisture content of wet food is thought to help keep your cat hydrated and perhaps keep these issues in check without further medication or intervention.
High Protein Canned Cat Food
Canned cat food also may have more fat and protein, especially animal protein, in it than dry food. Many formulas also have fewer carbohydrates than dry food. The composition of the food may benefit strict carnivores like cats, who require up to three times the protein of omnivores and whose ancestors survived by consuming animals. If your cat is strictly inside, a wet food may help provide the dietary essentials he or she is lacking.
While canned cat food does have some potential benefits to it, including being more appetizing to finicky eaters, there are some downsides as well. Canned food is less energy dense than dry food, meaning that your cat may not eat as many calories in a serving as they would in dry food. Dry food also has a slight advantage in that it could help to prevent dental disease. It is also less expensive and more convenient than canned food.
Both canned and dry cat food offer benefits for your feline friend. But if your cat suffers from a lack of protein or has frequent urinary tract infections, canned cat food, like urinary cat food may help alleviate those issues.
Búsquedas relacionadas
pet toys, Friskies wet cat food, iams cat food, fresh step cat litter, cat shampoo