Mabis NebPak Ultrasonic Nebulizer 2-3/8 in. x 4-5/8 in. x 6-1/2 in.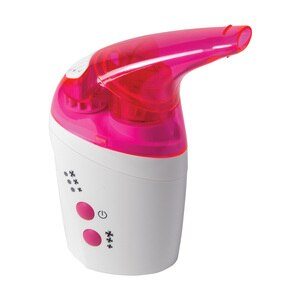 Mabis NebPak Ultrasonic Nebulizer 2-3/8 in. x 4-5/8 in. x 6-1/2 in.
1 c/u, 5 lb. N.º de artículo 604454
Elegible para HSA/FSA
Created especially with children and young adults in mind, this super lightweight ultrasonic nebulizer makes breathing treatments available in the car, at work, school, a friend's house, while traveling or anywhere you need them
Small and compact, it fits perfectly in your hand and packs easily into its cool-looking camouflage backpack
Produces a fine 1 to 10 mist with an average treatment time of only 6 minutes
3 Power source options: Rechargeable battery pack, AC or DC - provide maximum convenience
Weighs only 46 LB
Whisper quiet: 36dBa
Includes: Mouthpiece, extension tube, connector, nasal piece, adult mask, child mask, 7.5mL medication cups, air filters, nebulizer stand, rechargeable battery pack, AC adapter, DC adapter, camouflage backpack and detailed guidebook in English and Spanish
Includes a 5-year limited warranty
Measures 4-5/8 in. x 2-3/8 in. x 7-3/4 in.
Can only be sold in states that don't require a doctor's prescription
Este artículo es elegible para FSA (cuenta de gastos flexible).
Advertencias
To avoid electrical shock Keep unit away from water. Do not handle the unit or power cord with wet hands. Do not Immerse the AC adapter or unit in liquid. Do not use while bathing. Do not reach for a unit that has fallen Into water-immediately unplug the unit. Do not use the unit if it has any damaged parts gni-hiding power cord or plug), if it has been submersed in water or dropped. Promptly send the unit for examination to us. The unit should not be used where flammable gas, oxygen or aerosol spray products are being used. Keep the air vents open. Do not place the unit on a soft surface where the openings can be blocked. If the water reservoir or medicine cup is empty, do not attempt to operate the unit. Do not attempt to remove the transfer cone located in the base of the water reservoir. If any abnormality occurs, discontinue use until the unit has been examined and repaired. The unit should not be left unattended while plugged in. Do not use solutions other than water In the reservoir. It may damage the transducer. Do not tilt or shake the unit when in operation. Opening the cover during operation may cause a severe injury. Disconnect the unit from the electrical outlet before cleaning, filling and after each use. Do not use attachments unless recommended by the manufacturer. The unit should not be used for more than 30 minutes at a time. Wait 30 minutes before reusing. Operating cautions. Close adult supervision is highly recommended when this unit is used by children or invalids. Keep your eyes away from the output of medication mist. Change the water after each use. The maximum capacity of the medicine cup is 7.5mL and should not be overfilled. Dilute dense medications or medication volumes 2mL or less with distilled water or saline solution to obtain a volume of at least 4mL. Do not use this unit while operating a vehicle. If any discomfort or abnormality occurs, stop using the unit immediately. Storage cautions do not store the unit in direct sunlight, high temperature or humidity. Keep the unit out of reach of small children.
*Customer reviews and ratings solely reflect the views and opinions of the individual contributors and are not created or endorsed by CVS Pharmacy. Please review the product labeling and consult with your doctor with any health or medical questions.