ORS Olive Oil Normal Strength - Alisador para cabello, para nuevo crecimiento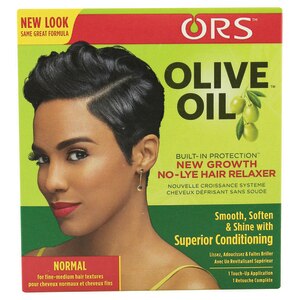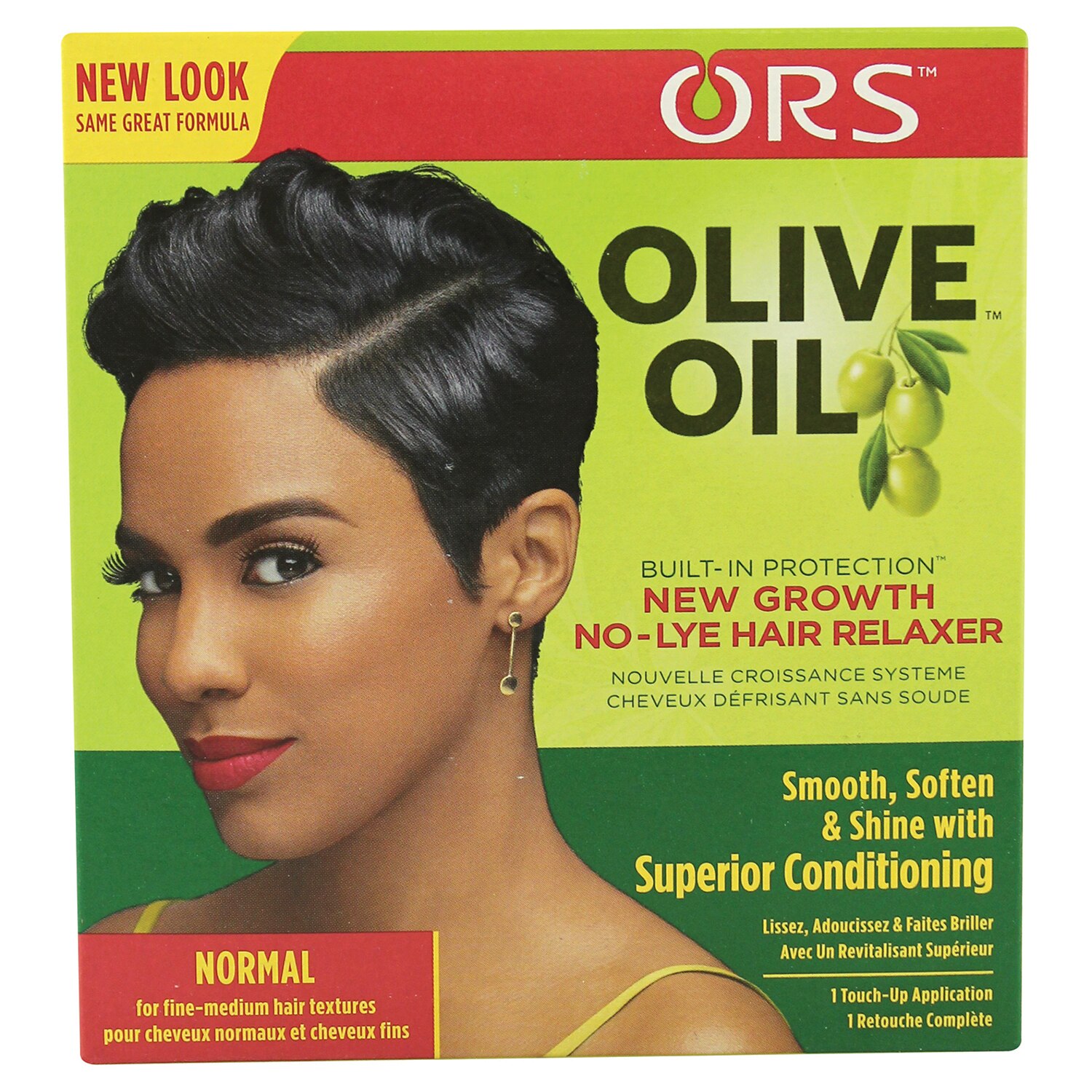 ORS Olive Oil Normal Strength - Alisador para cabello, para nuevo crecimiento
1 u., 0.66 lb. N.° de artículo 996466
NUEVO LOOK
SAME GREAT FORMULA
BUILT-IN PROTECTION™
Smooth, Soften & Shine with Superior Conditioning
1 Touch-Up Application
NORMAL
for fine-medium hair textures
ORS™ OLIVE OIL BUILT-IN PROTECTION™NEW GROWTH NO-LYE HAIR RELAXER SYSTEM
offers superior conditioning. That's the ORS™ Olive Oil difference. Infused with moisturizing olive oil, our relaxer system helps protect the hair from damage during processing. The result is
stronger, smoother, softer
hair with beautiful
shine.*


*Reduces hair breakage, imparts more shine and results in softer hair based on instrumental or consumer testing vs. control.
KIT CONTAINS
Relaxer Base & Activator
protects and relaxes hair.
Neutralizing Shampoo with Color Cue Protection
neutralizes, detangles, and softens hair.
Replenishing Pak™Penetrating Nair Conditioner

increases moisture and fortifies hair.
Pair of Gloves, Wooden Spatula and Step-By-Step Instructions
See Carton for Stamped Manufacture (MFG) and Best Used Before the End of Dates (BB)
Dabur
¿Preguntas?
Call 1-888-766-8784 or email customerservice@namastelabs.com
www.orshaircare.com

ORS, Built-In Protection, Replenishing Pak, ORS Logo and Olive Oil Design are registered and common law trademarks of Namaste Laboratories, L.L.C. in many countries
Distributed in USA by
Namasté Laboratories, LLC., Chicago, IL 60607
Distributed in South Africa by
Urban Laboratories International LLC., S.A. 10 Bradford Rd. Bedfordview, Gauteng South Africa 2007
TRC 2511 VJThe Hague, Netherlands (RP in EU)
©10/2017 Namasté Laboratories L.L.C.


Country of Origin: U.S.A
Specifications

| | |
| --- | --- |
| Beneficio | Hidratante |
| Problema | Curly hair |
| Formulario | Líquido |
| Product type | Tratamientos para el cabello |
| Aroma | Con perfume |
Contains alkali. Caution: This product contains ingredients that will cause irritation when it comes into contact with the skin and or eyes. Evite el contacto con los ojos. Can cause blindness. If the product comes in contact with the eyes flush immediately with water and contact medical practitioner if irritation persists. Do not rub eyes. Do not use if there has been reaction to a similar product. Carefully follow the instruction sheet provided. Do not shampoo the hair 24-hour before using the relaxer. To avoid skin and scalp irritation, hair loss and hair breakage, and or eye/ear injury, do not use this product if scalp is irritated or on hair that is breaking, splitting or otherwise damaged. Do not use on bleached, frosted, color lifted, damaged, or curly permed hair. Do not use on hair that has been treated with natural relaxers containing metallic salts or ammonium bisulfite/bisulfate. Wait 2 weeks between relaxing hair and using permanent/semi-permanent color. Rinse the scalp and the hair thoroughly with water as soon as the relaxing process is complete or if hair loss occurs. Consult a medical practitioner. Solo para uso externo. Serious injury may result if the relaxer is ingested. If ingested or internal contact occurs consult a medical practitioner immediately. Do not induce vomiting. Relaxer product contains ingredients which chemically restructure curly hair and should not be used as a conditioning treatment. Mantener fuera del alcance de los niños.