Odor-Eaters - Polvo para pies
Mostrando 1-1 de
1 productos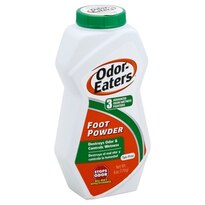 Los precios en línea puede ser diferentes a los precios en tiendas.
Odor Eaters Foot Powder 
Keep your feet fresh with Odor-Eaters foot powder. It fights odors and wetness to help you feel confident all day.
Foot Washes to Use Before Odor-Eaters Powder 
Although you don't have to use a specific foot wash or foot scrub before using Odor-Eaters, there are products that may also help reduce odor and perspiration. Some foot washes may have additional benefits that go beyond preventing sweat and odor.
Por ejemplo, Kerasal Daily Defense Foot Wash contains tea tree oil for its antifungal and antibacterial properties, along with soothing Epsom salt and shea butter to moisturize. CVS Health Tea Tree Foot Scrub can be used in the shower or a foot bath to refresh and exfoliate while it helps keep foot fungus and bacteria at bay.
How to Use Odor Eaters Foot Powder
Odor-Eaters medicated foot powder is easy to use. Just like with talco para el cuerpo, shake the dispenser to sprinkle the product on your feet. You can rub it in with your hands or use a powder puff to distribute the product all over your feet and in between your toes. Sprinkle it in your shoes to diminish unwanted odors.
This foot powder has usage instructions and ingredients on the packaging. You can use Odor-Eaters powder after bathing or showering, and you can sprinkle it on throughout the day as needed for a refreshing pick-me-up.
What Are the Active Ingredients of Odor Eaters Foot Powder?
Odor-Eaters powder for shoes and feet contains active ingredients to fight perspiration and odor. Corn starch is included for its moisture absorbing properties, which is why you'll also find it in some body and face powders. Another hard-working ingredient in this product is sodium bicarbonate - aka baking soda. This foot powder is scented to enhance its odor-busting qualities.
Does Odor-Eaters Medicated Foot Powder Work?
The Odor-Eaters brand is specifically made to help keep feet fresh and dry. When used as directed, this foot powder may prove effective for some people with sweating and foot odor. For other concerns such as athlete's foot, visit a CVS MinuteClinicfor diagnosis and consider using an antifungal foot spray or cream.