Facial Hair Removal for Women
Los miembros de CarePass
TM
Mostrando 1-11 de
11 productos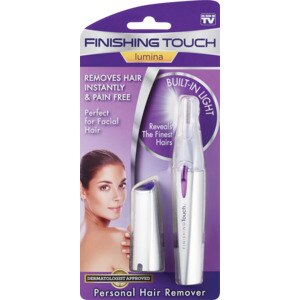 Finishing Touch Lumina - Eliminador personal de vello, para mujer
Finishing Touch
Envío gratis con pedidos de $35 o más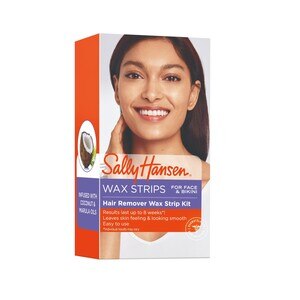 Sally Hansen - Kit de tiras para depilación con cera para cejas, rostro y labios
Sally Hansen
Envío gratis con pedidos de $35 o más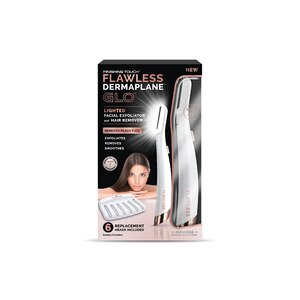 o
en pedidos de $35 o más.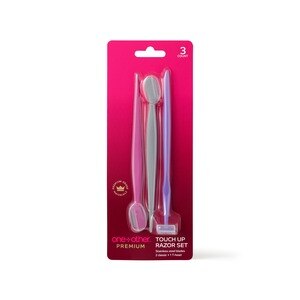 o
en pedidos de $35 o más.
Los precios en línea puede ser diferentes a los precios en tiendas.
Facial Hair Removal
There are many different options for hair removal today. These options allow for hair to be removed from the legs, bikini line, face, underarms and almost anywhere else you want. But perhaps the most sensitive, and noticeable, parts of the body that hair is removed from is the face. Chin, upper lip and eyebrows are all places that are bleached, waxed, lasered and otherwise subjected to hair removal treatments. But the skin on your face is more delicate than other parts of your body, so it is important to carefully consider the hair removal methods you use there.
At Home Laser Facial Hair Removal
If you have dark hair growing on your face, and it is noticeable in contrast to your lighter skin tone, you might be a perfect candidate for laser hair removal. Because there isn't as much hair on the face, and the areas that you would be lasering--upper lip, chin, etc.--aren't large, you can see results fairly quickly.
There are also at-home laser hair removal solutions that you can actually carry around in your pocket, so don't discount this solution.
Best Facial Hair Removal For Women
Just like other areas of the body, there are a number of hair removal options for the face. Depending on what method you choose, you will experience anywhere from a few days to a few weeks of being hair-free.
For shaving, apply a layer of soap or shaving cream and then shave in the direction of hair growth. Results will last one to three days, but ingrown hairs are a common side effect of shaving.
Tweezing is an easy and effective way to remove facial hair, though it is time-consuming and usually contained to the eyebrow area. You can enjoy three to eight weeks of hair-free results, though using tweezers is not always comfortable.
An epilator is an in-between method for shaving and tweezing. Epilators grab multiple hairs at a time and remove them from the root, giving you a few weeks before hair starts to grow back. Waxing will give you a similar hair-free time frame but could also cause acne and ingrown hairs.
Facial Hair Removal Safety
Your face has some of the most sensitive skin on your body, so it is important to choose the right hair removal method. No matter what method you are using for facial hair removal, just remember that sensitivity, ingrown hairs, bumps or other issues are not normal. If any of these issues occur, it could mean it's time to try a different option.
What are the Best Facial Hair Removal for Women Brands?
Does CVS Sell Facial Hair Removal?
Yes, CVS sells a variety of Facial Hair Removal in stores and online.
How To Remove Facial Hair
There are many options available when it comes to removing facial hair. The most common, of course, is to simply use a razor. Modern razors are able to quickly and safely remove all types of facial hair, leaving your skin smooth in most cases. However, some people do not like using razors because the results only last about a day before the hair begins to grow back noticeably. An alternative option is to use a hair removal cream that is designed for the face. This cream will gently weaken the hairs so that they can be wiped away with a clean cloth. For most people, this will keep the hair away for several days at least. Others choose to use wax to get rid of facial hair. This option lasts the longest as it pulls the hair out from the skin entirely so that it takes a long time to return. Always make sure to follow facial hair removal with a moisturizer and your regular skincare routine.
What Can I Use to Remove Facial Hair?
You can use a variety of different things to remove unwanted facial hair. You can use standard razors, electric razors or trimmers, wax, tweezers, laser hair removal tools, or hair removing creams. All of these options can be very effective and provide a proven way to get rid of facial hair that you do not want. Give each of them a try to see which one works best for you.
Does CVS Deliver Facial Hair Removal ?
Yes, CVS offers free fast shipping on Facial Hair Removal orders over $35. Most orders are delivered within 1-4 days.
Is Facial Hair Removal Available For Same Day Pickup?
Facial Hair Removal are available for same day pickup at most locations, check your local stores availability and add to cart to pick up today.
How To Save On Facial Hair Removal From CVS?
Join CarePass today to save on Facial Hair Removal products. Enjoy great offers and deals when you sign up. Check the weekly deals and download the CVS App today for exclusive coupons!